In the coastal region of Taranaki, there's something in the air with the amount of talented women in the design and creative industry. Take award winning Annika Rowson of Rowson Kitchens who needs no introduction to the design scene.
Following a strong love of interior design and the completion of her own home renovation, Annika and her husband Brad founded Rowson Kitchen in 2009. "My husband and I were renovating our own home and everything just grew from there. He was a joiner, so we had that background knowledge of joinery and the construction side was really helpful getting started," Annika explains.
Seeking a better work-life balance with a three year old and newborn at the time, the couple craved more flexibility. Researching New Plymouth, they identified the need for a custom design and quality focused manufacturing joinery business
After nine years in their old building, Rowson Kitchens debuted their new showroom and workshop before Christmas. "It was incredible not to have any restrictions to work around. It was a seamless process, apart from realising how much stuff we had accumulated over time when it came to moving."
Given the building was a complete rebuild, they opted to keep the existing concrete floor which has a real industrial feel to it and a feature Annika was keen to retain. "I knew our kitchens would be quite bold and I didn't want any flooring to compete with them. The kitchens are the key feature and the flooring melds in nicely. I had sheer curtains made to soften the glass frontage and provide a homely feel. We've had this commented on so many times so I'm pretty pleased we've achieved this."
Lighting selection was also key, as a New Zealand stockist of Soktas pendants Annika notes "a spiral of their beautiful volts was a must-have. Having a high stud (4.8m) has offered us the flexibility to play with suspension."
Their steel kitchen is clearly a showstopper. Working closely with Rivet (their local industrial engineering company who were an integral part of the process), custom steel patinas were created in various finishes including the showcased blue steel, and this has been very well received. A product Annika feels will be very popular given both it's texture and durability.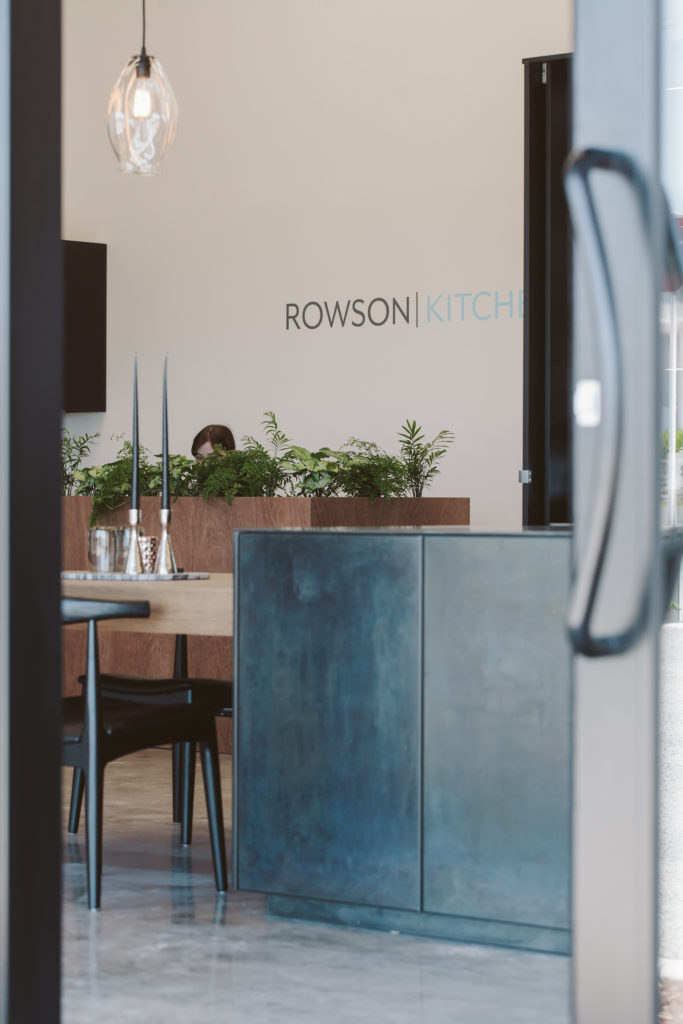 A glimpse of blue steel and the cantilevered dining table and a hint of the rad Soktas lighting installation.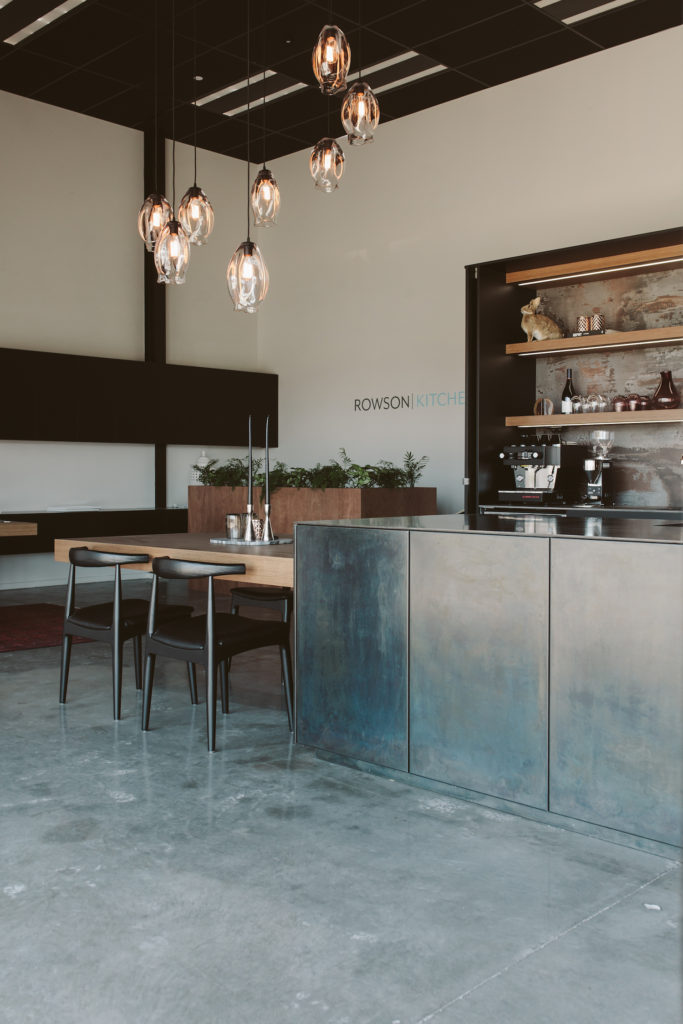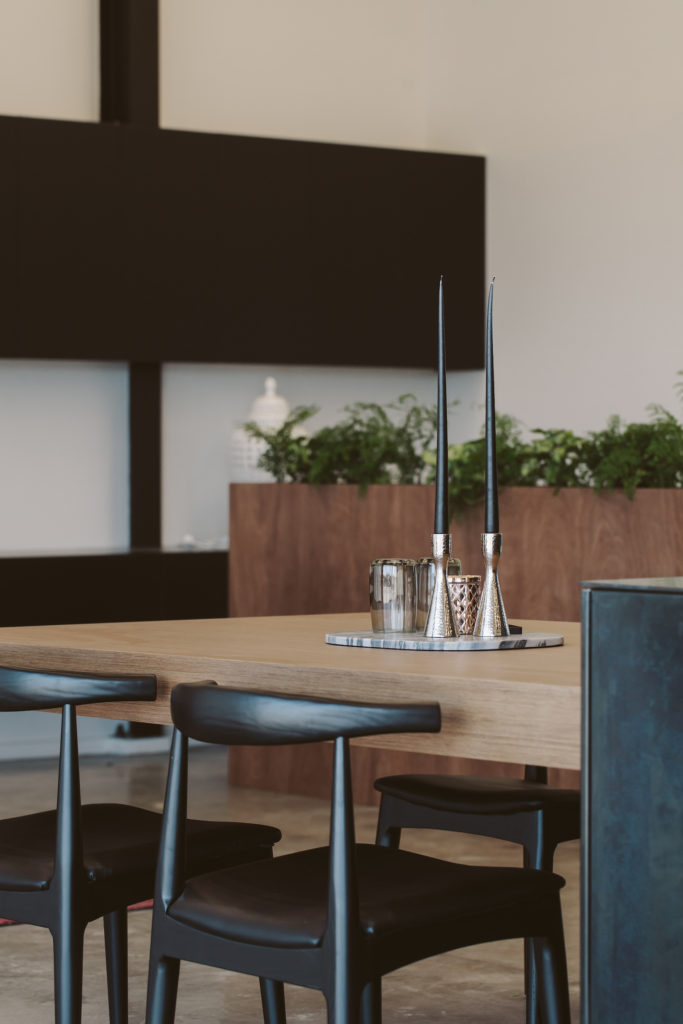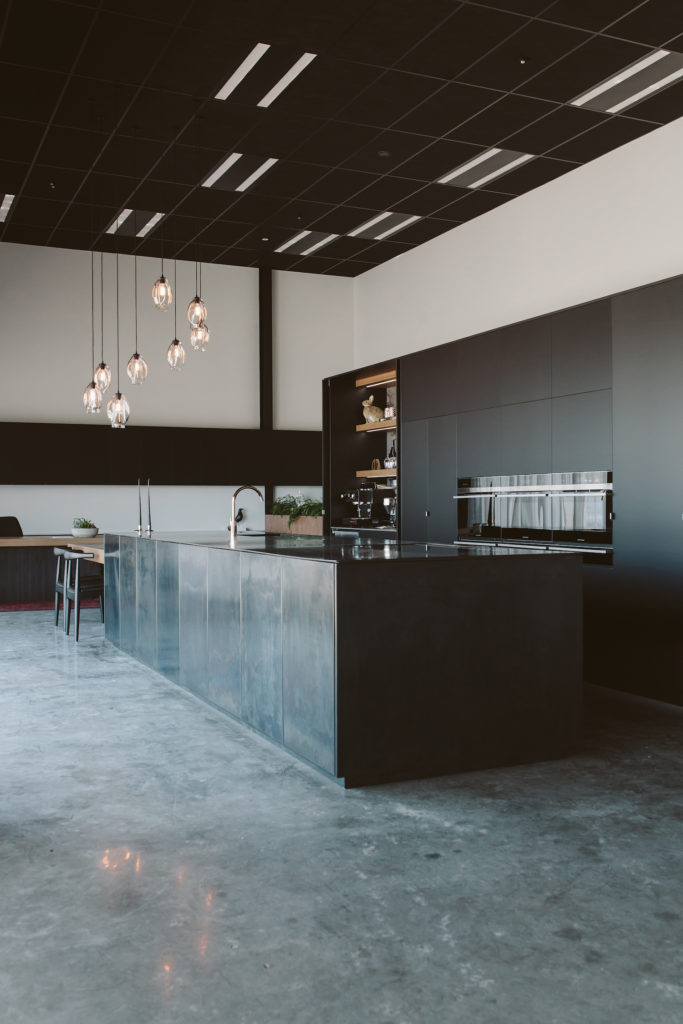 A mix of Blue Steel, Acrymatte, Teak Veneer and Dekton  – set off perfectly by Fisher & Paykel appliances.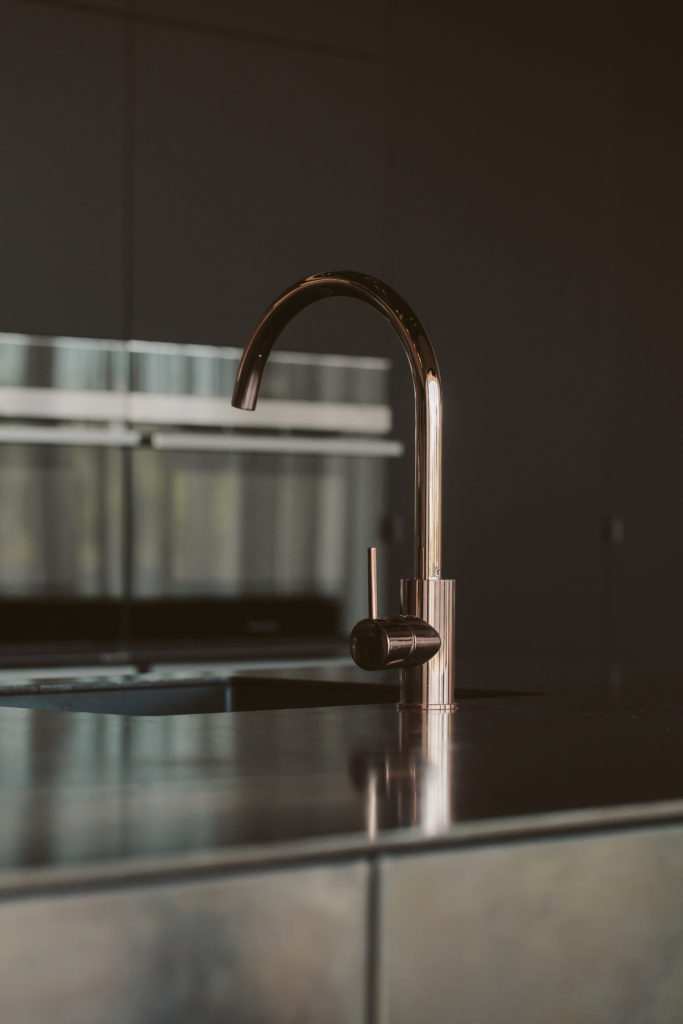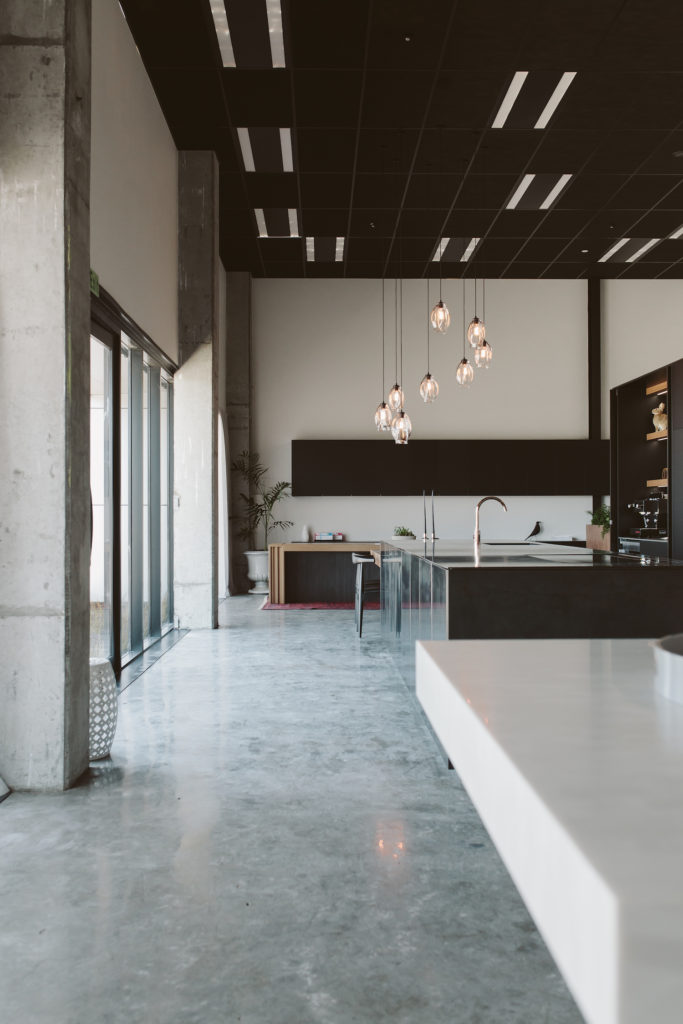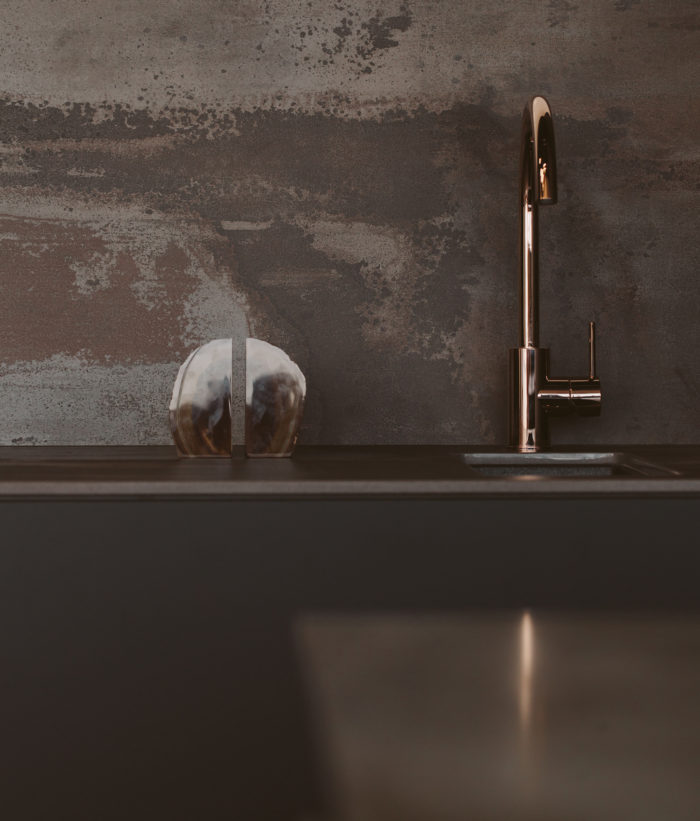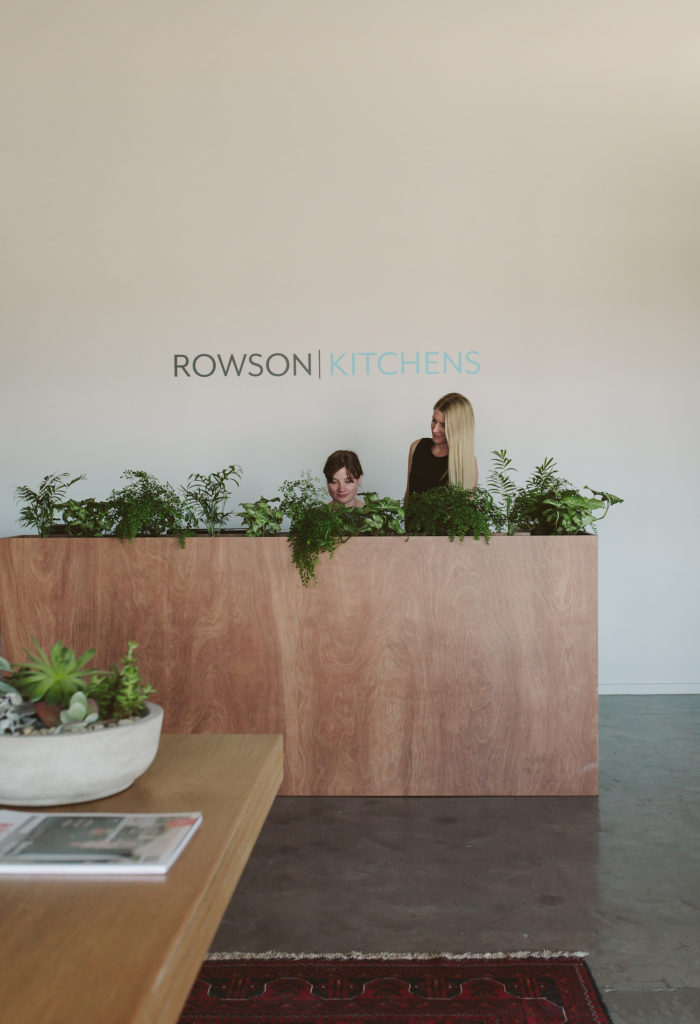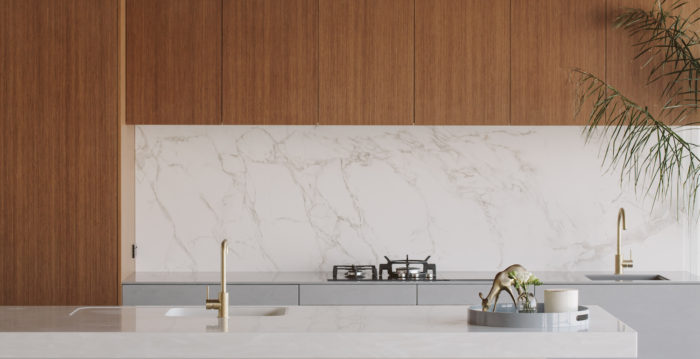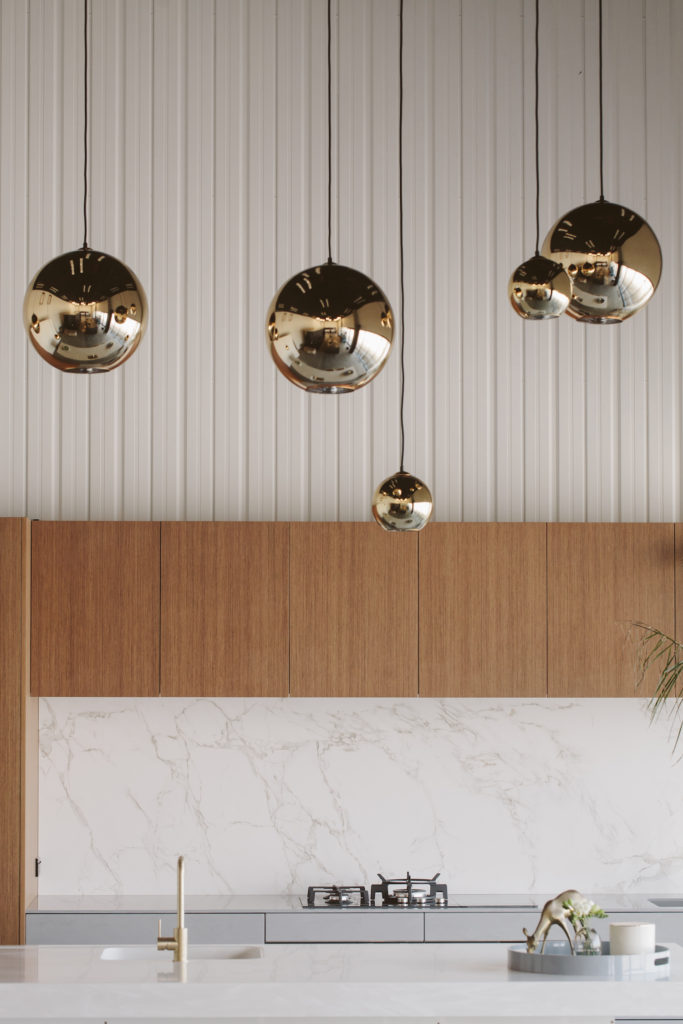 The showrooms generous 4.8 metre stud allows for the application of various pendant lighting. A great way to finish a space. Gold pendants from Mr. Ralph.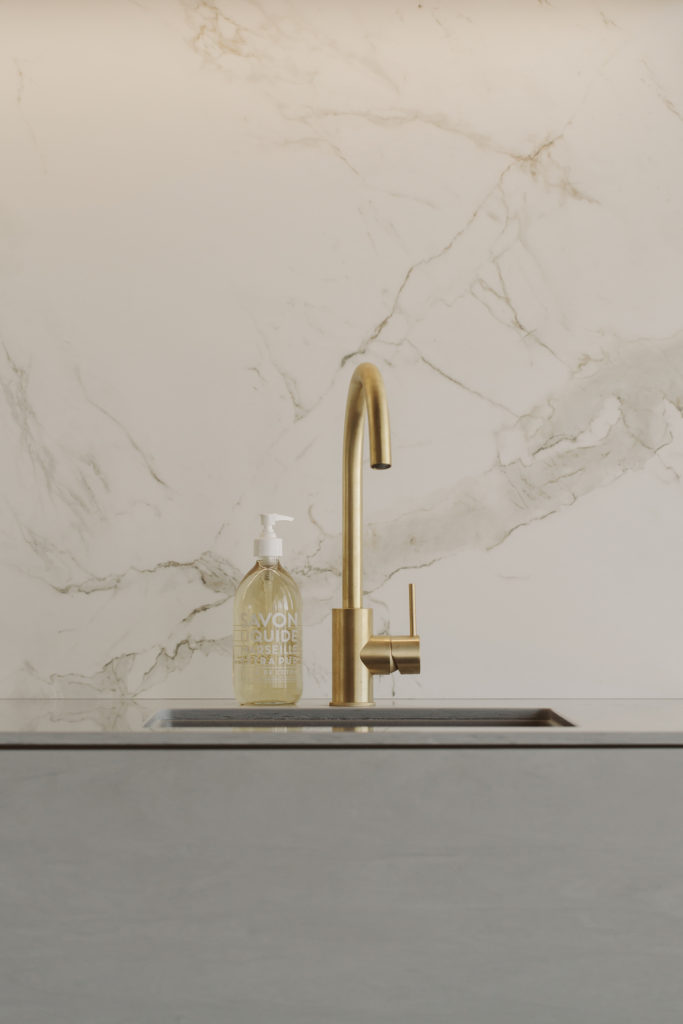 Natural Grey Corian top and cabinetry fronts create a monolithic look, complimented by the Dekton splash back in Entzo and finished by the brushed brass Buddy tap by Plumbline.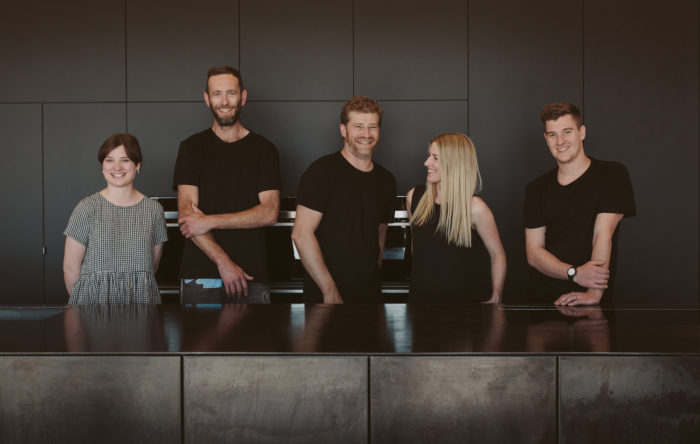 The talented Rowson Kitchen team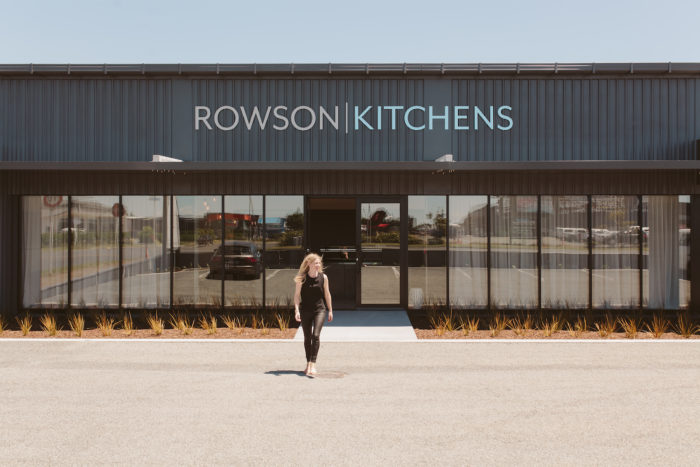 + What does a typical day look like for you?
Every day is so varied which is what I love about my job. I start my day at 9am after completing the school run, check my emails with a coffee and run over the day ahead with Brad and Charlotte. I try to book only one appointment in the morning and one in the afternoon so I have time to edit while everything is still fresh.
I spend a good part of each week on site – checking progress, measuring new projects and checking completed work off. I try to only check my emails 3 times during the day. I find I am far more productive not being distracted by my inbox.
I manage my day around our children so I finish at 3pm and then it's after school activities until dinner and homework. I am aiming to fit in more time for myself so often it's headphones in and a walk with our dog, before tucking the boys in. Often I design in the evenings; I find it's my only time with zero distraction and is my best time to focus.
+ What is it about Kitchens you find special?
Kitchens are an integral and connecting area of the home. So much happens in this space. It's where we meet, eat, communicate, entertain, laugh and share our day. You can tell a lot about a person from their kitchen; it's one part I love about site visits. The whole conversation changes once you whip open a client's pantry and fossick around in their drawers. It's even better with a coffee or tea in hand. You learn about them, their family, kids, animals… and most importantly what their needs are and how you can help them to achieve an ideal space that will suit their requirements.
+ Where do you source your inspiration from?
I always find inspiration in both travel and nature. I always bring something back from my travels that I incorporate into my designs. I also have a close group of very talented friends that I collaborate with. It is beautiful, inspiring and so important to support other woman in business.
+ Do you have a signature style?
I am definitely eclectic and textured. I like my kitchens to look like furniture so elegant design and careful material selection is key to achieving this. I am a huge fan of timber, Matt Black, metals and raw materials. Given that I also think you can't beat a fresh white kitchen, both are very popular and equally in demand right now.
+ How would you describe your approach to designing a client's kitchen?
It's very organic yet structured. I listen to my clients needs and I also take the time to see how they function in their spaces. I don't put a time limit on my initial consultations. It's important to gather as much information as I can which ultimately benefits the design process so I let meetings flow.
I focus on design layouts first, which includes any structural changes to the space and appliance specification. Once this is confirmed we then focus on materials and pricing. It's really important to discuss budgets early on in the process; it ensures everyone is on the same page and allows the best result possible to be achieved.
+ Do you have a favourite kitchen you designed in 2017?
I honestly have so many! I feel very lucky to have worked with such amazing clients and with many beautiful results it's impossible to pick a favourite. But I am super proud of our blue steel kitchen featured in our new showroom. We spent months perfecting this finish with Rivet, well known for manufacturing the stainless steel facade of the acclaimed Len Lye Centre. Trail blazing is their jam along with ours so together with their talented and driven team we now have a truly unique product that is available in various colour tones and in both vertical and horizontal applications and finishes.
 + What does 2018 hold for you and Rowson Kitchens?
We are looking forward to a really exciting year. Stunning projects, overseas travels, finishing our own renovation and planning a unique new build, along with both NZ and global publications which I am really proud to see come to fruition.
I had a real pinch me moment on an incredible site recently that made me stop and really acknowledge how lucky I am to have this job and the opportunities it gives. I can't wait to share more of my projects and adventures – the year ahead is looking pretty rad!
Details:
R0wson Kitchens | Instagram: @annika_rowson | Photography: The Virtue