The May issue of New Zealand House & Garden features one New Plymouth bungalow that's undergone a major transformation. What once was boring and beige, the home now pays homage to colour, texture and an eclectic eye for design.
Owned by Michelle and Michael Matangi, the couple, share the three-bedroom 130sqm home with Pepper, a three-year-old  griffon.  Multi-talented Michelle – a seamstress, blogger and podcaster. She is constantly changing the New Plymouth bungalow she owns with husband Michael, a civil engineer. "My family used to laugh when I was a child because the other kids would be out playing and I'd be inside styling my bedroom," says Michelle. "I've done it in every place I've lived, even rundown rentals."
So when they bought their 1928-built house, she admits her decorating gene kicked into overdrive. "My poor husband never knows what the house is going to look like when he gets home!"
Fortunately, DIY is in Michelle's DNA. Her parents designed and built two houses while she was growing up, so the thought of turning the space into a comfortable family home didn't daunt her.
"Every room was a boring beige colour and at the time I really liked dark, moody shades, so initially I painted the bedroom dark navy, the sewing room black and the fitting room charcoal," says Michelle, who has operated her clothing alteration business from home for almost a decade.
Today, most walls have been repainted in blushes and taupes and Michelle's sewing room sports a bright pink. "Pink is the colour of happiness and productivity," she says of the room that holds seven industrial sewing machines and is overlooked by a vintage Bally poster and a street scene of Cuba, bought from local design store The Virtue. It seems appropriate that Michelle, along with artist Evie Kemp, produces a local design podcast called The Pink Room.
Around the time that Michelle started repainting, Michael took a sledgehammer to the wall separating two tiny bedrooms at the rear of the house, turning them into a spacious living room. The former living room is now the couple's bedroom.
Here, as throughout the house, Michelle's knack for saving money is evident, from the retro brass light bought for $5 from a hospice shop to two red leather club chairs that she reupholstered herself using gold velvet curtains. "I put a photo of them on Instagram and a local upholsterer asked me if I wanted a job."
The dramatic glass and silver light was another bargain, bought from a hairdressing salon that was relocating. "They paid $1000 for it and I got it for $250, which is a steal for such a beautiful light."
The couple also removed a dated archway in the hall and widened the entrance to the kitchen/dining room. Although Michelle would love to replace the kitchen, the budget doesn't allow for it at this stage.
"The previous owner was a tiler, so the kitchen features lots of dark tiles everywhere. But it's perfectly functional," says Michelle.
"I'm lucky that I grew up with two handy parents but I've also taught myself to do everything from wallpapering to upholstering. A good eye and some determination can take you a long way."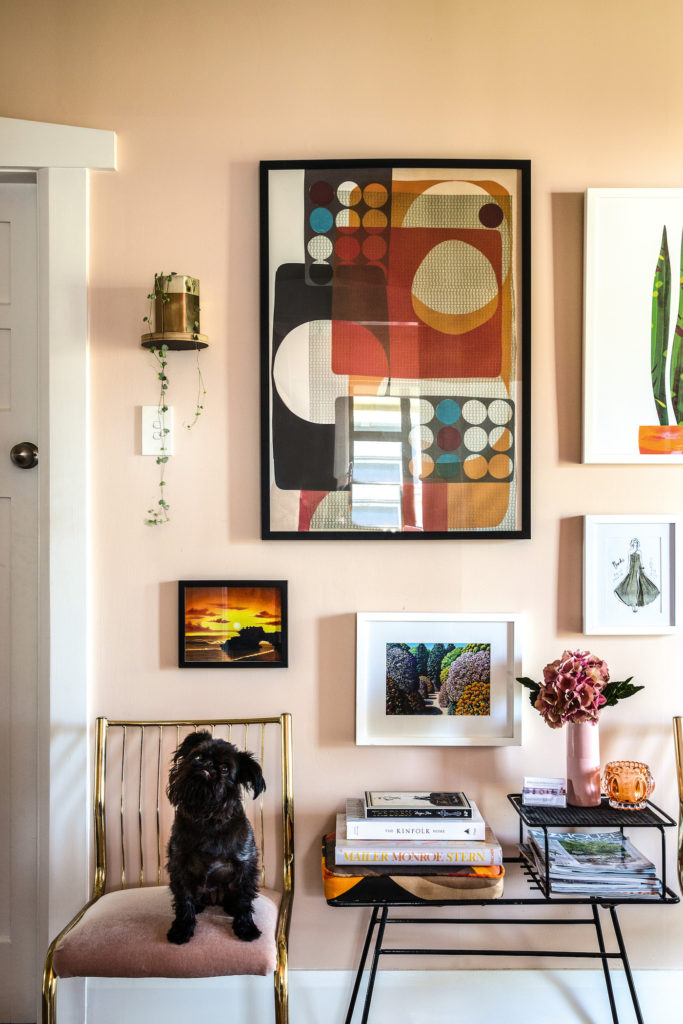 Pepper, a griffon, in the hallway; the telephone table was from Michelle's childhood home; its seat was originally covered in "bobbly orange fabric", so she reupholstered it with vintage material found on Trade Me; the large print by Claire O'Hea was found on art.com.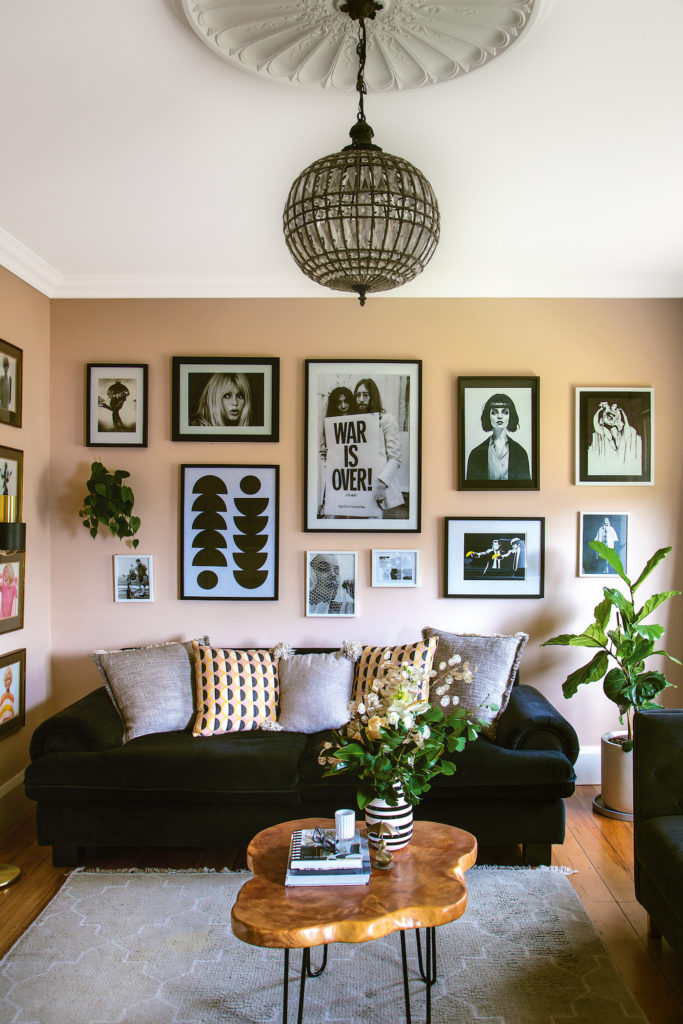 The kauri table in Michelle and Michael Matangi's living room was made by an arborist friend; the wall is painted in Resene 'Just Right'; Michelle is a big fan of gallery walls but to keep costs down she usually buys old frames at second-hand stores and spray- paints them.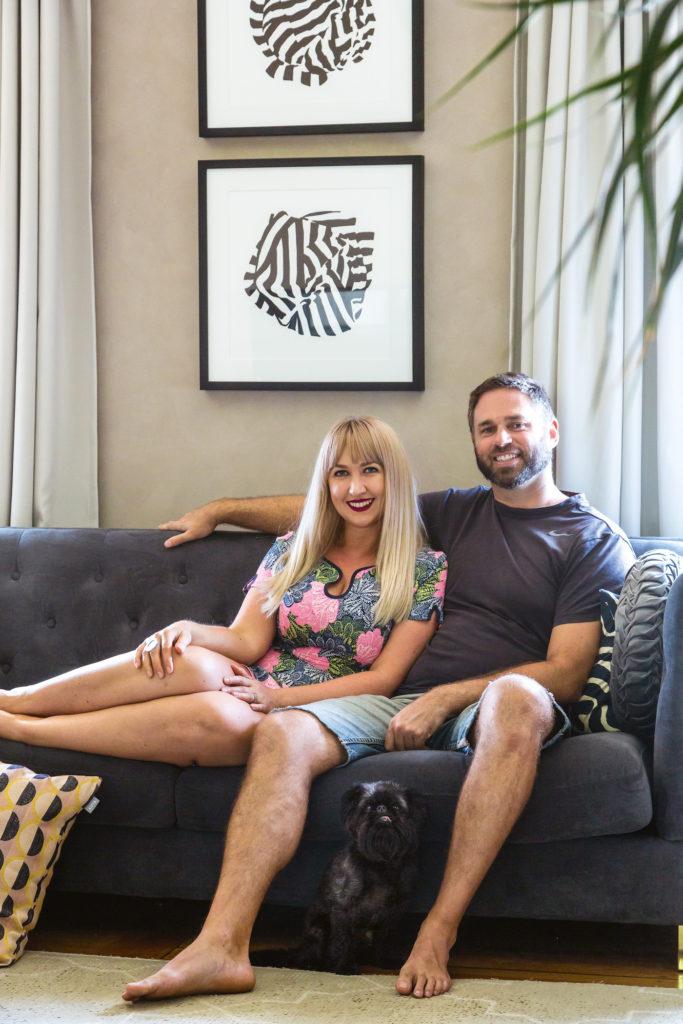 Michelle and Michael Matangi in front of the two black and white "knot" prints spotted on Instagram; Michelle tracked down the US- based artist Angela Chrusciaki Blehm who sent her the last copies.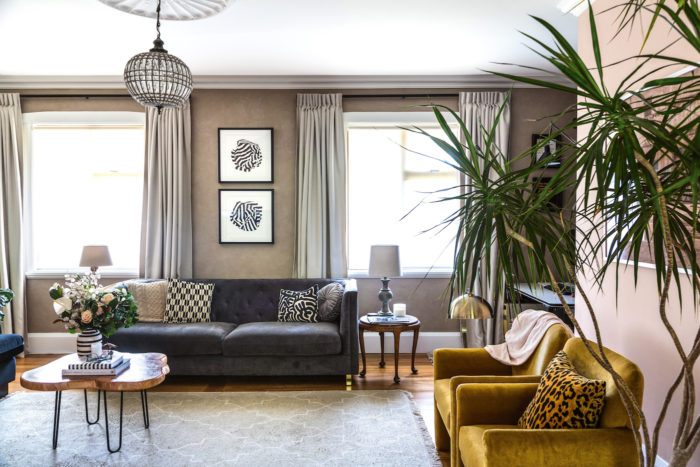 Michelle painted the far wall in Dulux 'Eco Chic' suede-effect paint and loves its "Paris-like effect".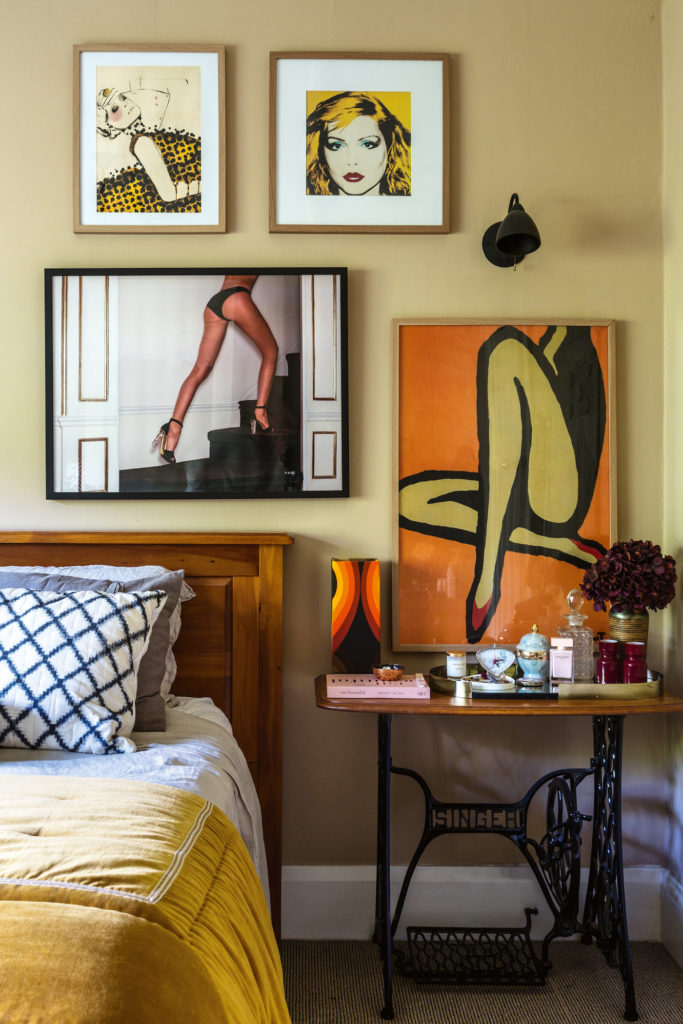 Mike found the second-hand Singer table that they've repurposed as a side table, and the yellow comforter is from Bianca Lorenne in New Plymouth.
Read more about Michelle and Michael's home, along with more New Zealand homes and design in the latest NZ House and Garden.
Details:
NZ House & Garden | Photographer: Paul McCredie