In collaboration with Dulux New Zealand​, this month I'm delighted to share the Le Corbusier inspired home from Christchurch property developer, Felicity Clark. Full of colour and interesting details throughout, this home packs a punch in more ways than one.
With a Bachelor of Commerce degree in valuation and property management and having overseen major developments, Le Corbusier House is Felicity's sixth property venture, coming about after stumbling across the home.
Originally built in the 1970s for Christchurch architect John Huggins as his family home, Felicity immediately saw the potential it held. The highly crafted 180sqm three bedroom home was inspired by the architecture and principles of Le Corbusier, reflecting his modernist ideas on the importance of space, light, nature and function.
Far from ordinary or safe, Felicity used colour to transform the interior. Working with local colour specialist Jane Swinard as a sounding board, Felicity was able to have a sounding board to fine tune her ideas and create a cohesive look to avoid a liquorice all sort house. A risk Felicity noted comes with going bold.
Featured in the main bedroom, dining and kitchen interiors, Felicity chose Dulux custom colour – 75% Shy Girl Quarter. "A little bit risqué painting almost the entire interior of the house a soft pink especially when it was going to market." The lounge was painted in Moat to compliment the 70's tiles and in the bathroom Spice Girl was painted in the bathroom vanity, posts and ceiling.
Time, innovation and dedication to detail, has given the house new life whilst still retaining the very essence of the original design. I caught up with Felicity to hear more about her Le Corbusier House and how she achieved this incredible project currently on the market.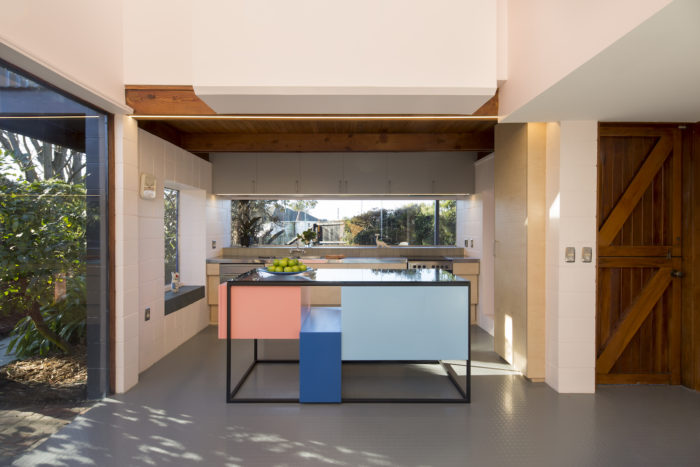 Interior kitchen walls were painted custom colour – 75% Shy Girl Quarter. The one of kind sculptural kitchen island 
is a black steel frame with a 10mm toughened glass top painted in Hot Calypso, Manapouri and Delft China. It also features handle less push to open doors and has that extra special touch being lacquered inside and out. Upper Kitchen Cupboards – The existing design of the upper kitchen cupboards was tweaked, remaking the cupboards smaller so they sit above the window to enhance the views. The original retro handles have been reused and a nifty pull down shelving system was imported from the US, making reaching those high shelves even easier.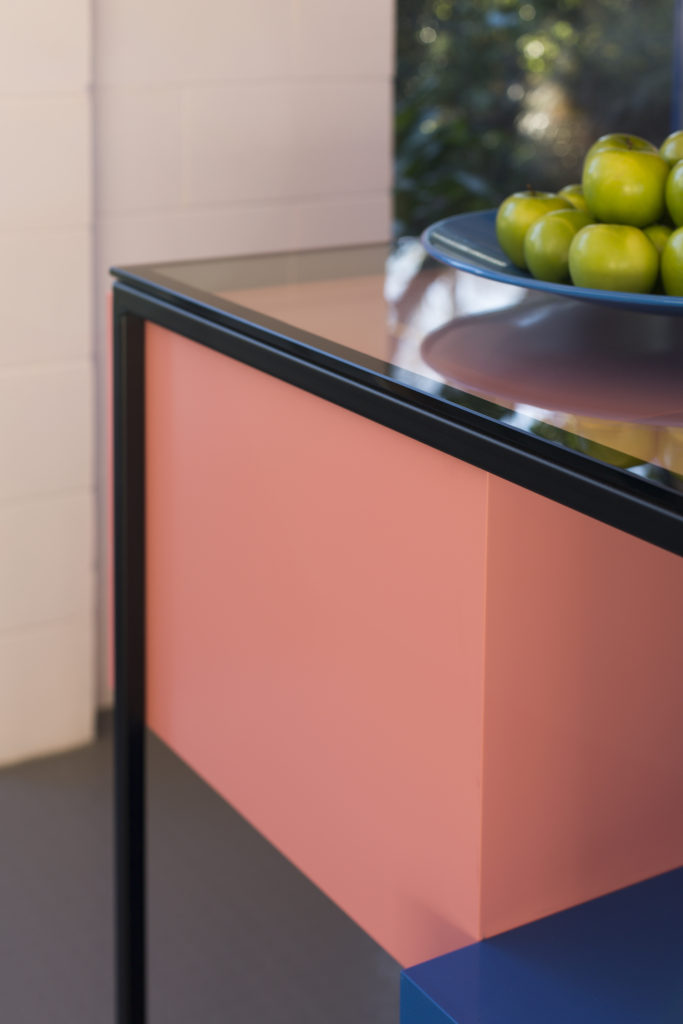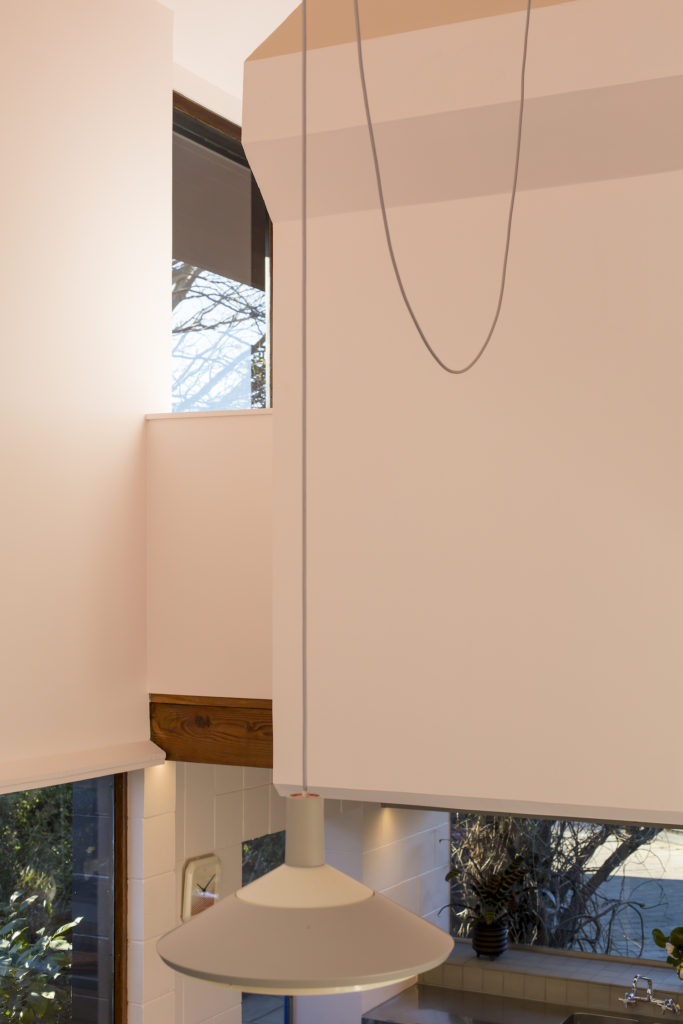 The 1960's vintage dining Pendant was sourced from Louis Poulsen in Denmark.  Most modernist architects were satisfied with following a simple formula: flat roofs, undecorated white walls, pipe railings. Le Corbusier always went further. His white-box villas sprouted voluptuous curves and colours appeared on walls and ceilings.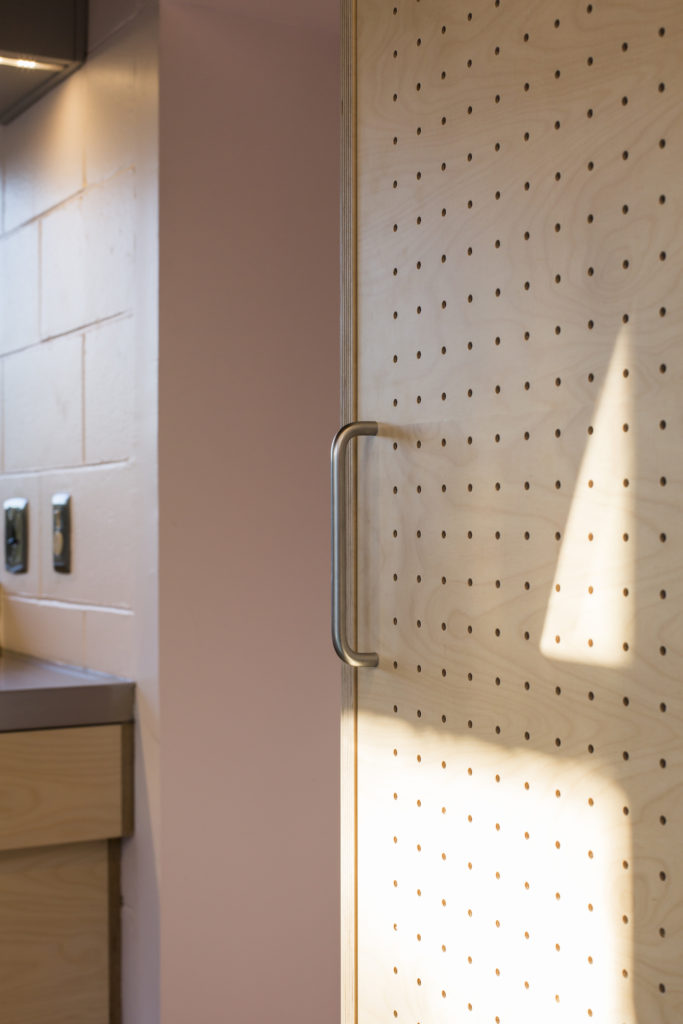 Perforations have been incorporated into the design of the kitchen pantry and the staircase panel. This was based on a dotted pattern which Le Corbusier used when designing a collection of wallpaper in 1931.
How long did the renovations take?
Overall the renovations took 6 months to complete.
Were there any complexities with the property or during the renovations?
This was definitely the most challenging job to date but the one I am most proud of. My mantra is, no problems, only opportunities, and I learnt a lot which I enjoy. I didn't initially realise it would be such a big restoration project which by nature requires a higher attention to detail and is more time consuming to ensure the renovations were sympathetic. Given the bespoke and highly crafted nature of the house, nothing was 'standard'. Off the shelf items were often not suitable and a number of features had to be specially made (even things you wouldn't expect) like the bathroom extractor fan.  It was also challenging finding the right people that shared my vision. Most seemed to prefer standard and easy – as I guess that's what they are use to. For the kitchen I spoke to numerous joiners, who weren't so keen. This is what lead me to draft up my own kitchen plans and then work with Tower kitchens and Joinery Ltd who shared my vision and enthusiasm to recreate Johns Huggins stepped cabinetry design and my idea for the kitchen island.  It took a while but I built up a good base of people.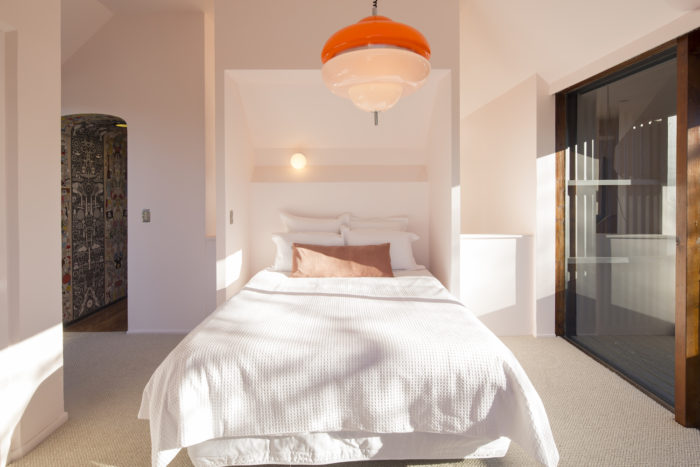 The main bedroom was painted custom colour – 75% Shy Girl Quarter. The 1970's atomic style pendants have been sourced from Slovenia and were produced by Meblo in Yugoslavia, as part of a Guzzini collaboration. The height of each lampshade is adjustable and they give off a wonderful, soft and soothing light when lit.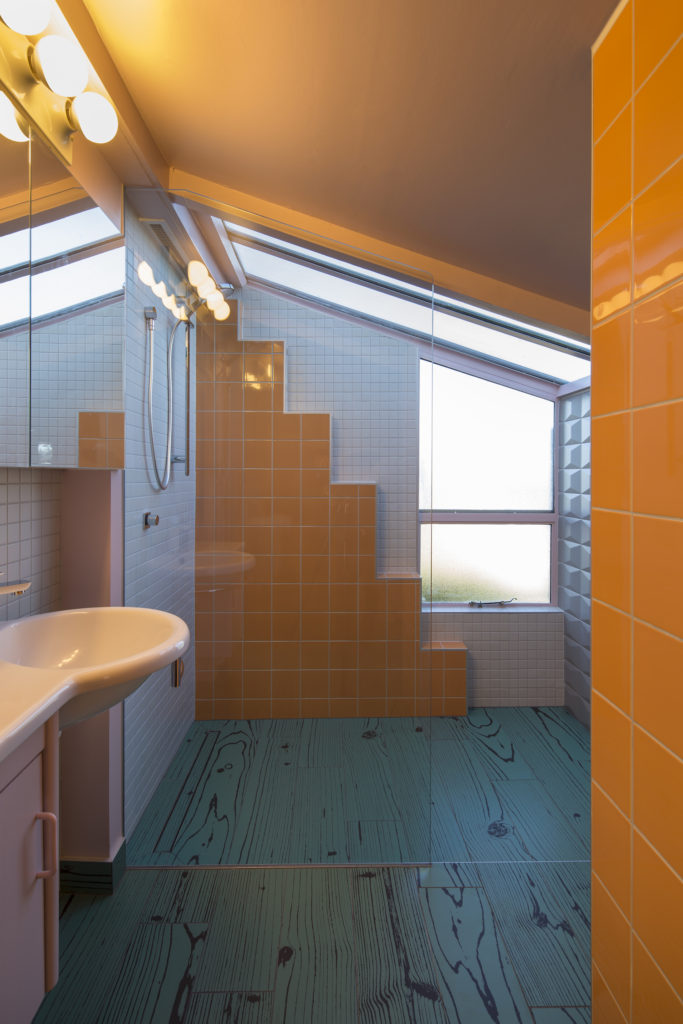 The Bathroom is painted in Dulux – Spice Girl paired to compliment the green Italian Uon-uon Andy Warhole inspired floor tiles. The bathroom light was sourced from France, this 1970's sconce is plastic moulded and in the taste of Raymond Loewy.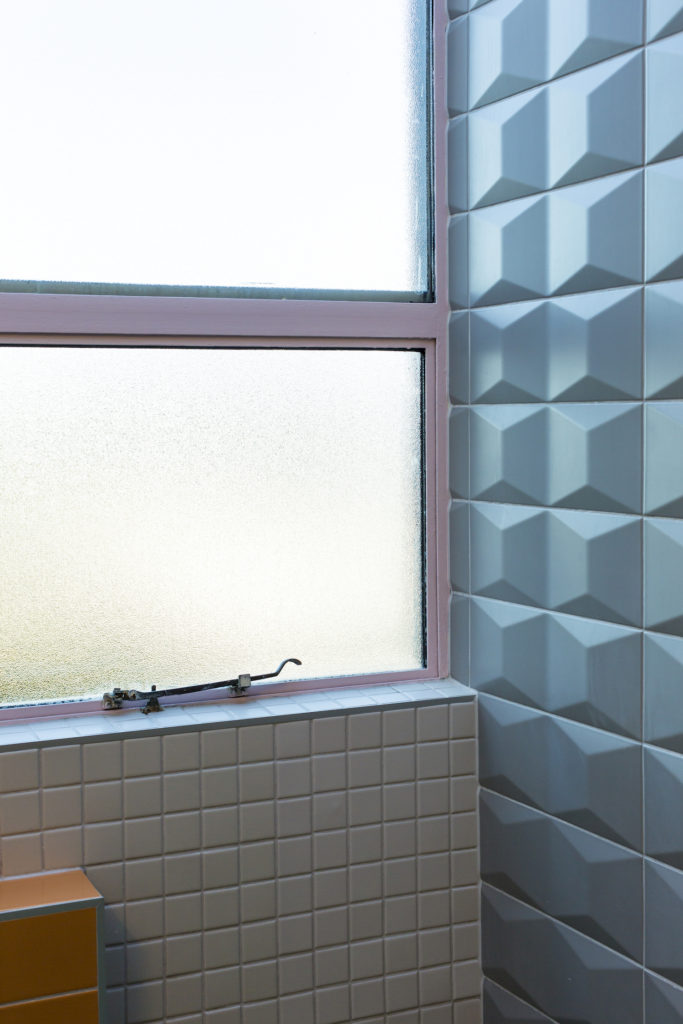 How do you spend your days?
General project management; ensuring the programme stays on track, organise timing of the tradies and ensuring the tradies work in with each other, resolving any roadblocks, collating the relevant paperwork. Sourcing materials and design elements for the house – carpet, wallpaper, toilets etc, obtaining quotes and engaging contractors, sourcing new projects and secure funding, managing existing properties and tenants, and selling down the end product.
Haven undertaken property ventures before, what made you go outside the box and create something so different?
I'm an outside the box person and have a disdain for normal hence I was drawn to this house; I think it was meant to be. The more I researched Le Corbusier and his design principles and how they inspired the architecture of this house the more determined I was to make this pop.  It is so amazing I actually thought I would live here for a while. But now I want to sell it to someone whole loves it and appreciates the architecture as much as I do. This property has sparked a passion in me to find another unique project to once again push the boundaries. I was a little nervous initially about going bold but I am surprised and overwhelmed at the positive response. If I had of known this I may have been even more daring! Now I'm dreaming up more crazy and different ideas for the next one.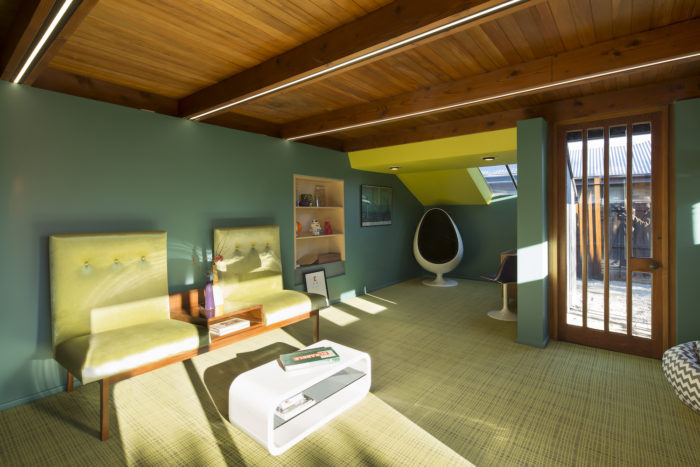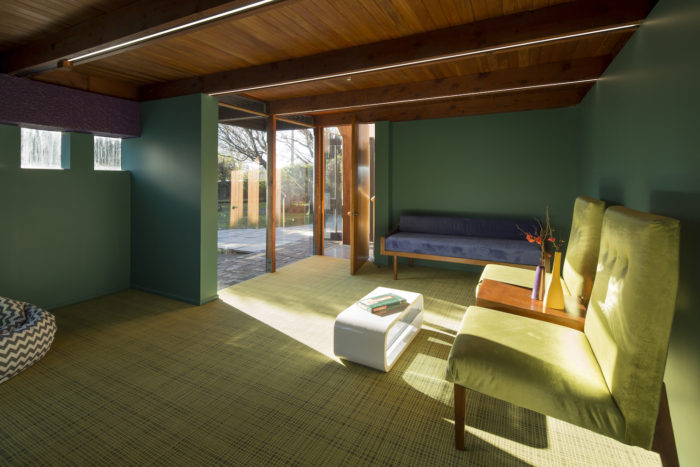 The lounge is painted a deep rich green in Dulux – Moat, to compliment the existing 70's tiles around the window sills and the retro looking carpet. The Balsan carpet was imported from France.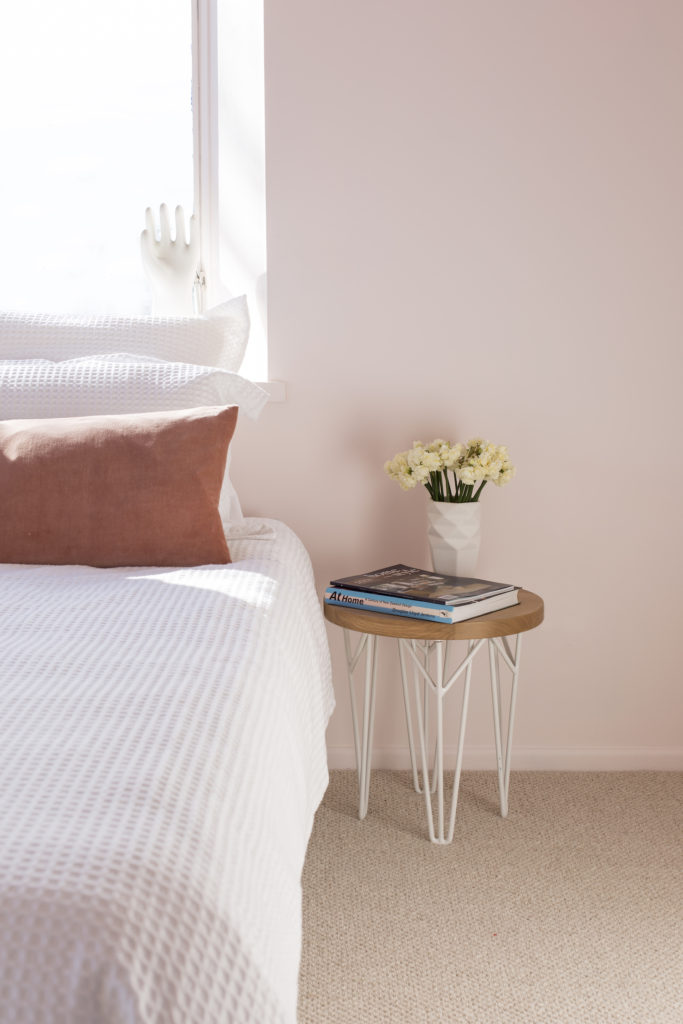 Ico Traders Ohau Round Side Table/Stool compliments the Dulux custom colour – 75% Shy Girl Quarter.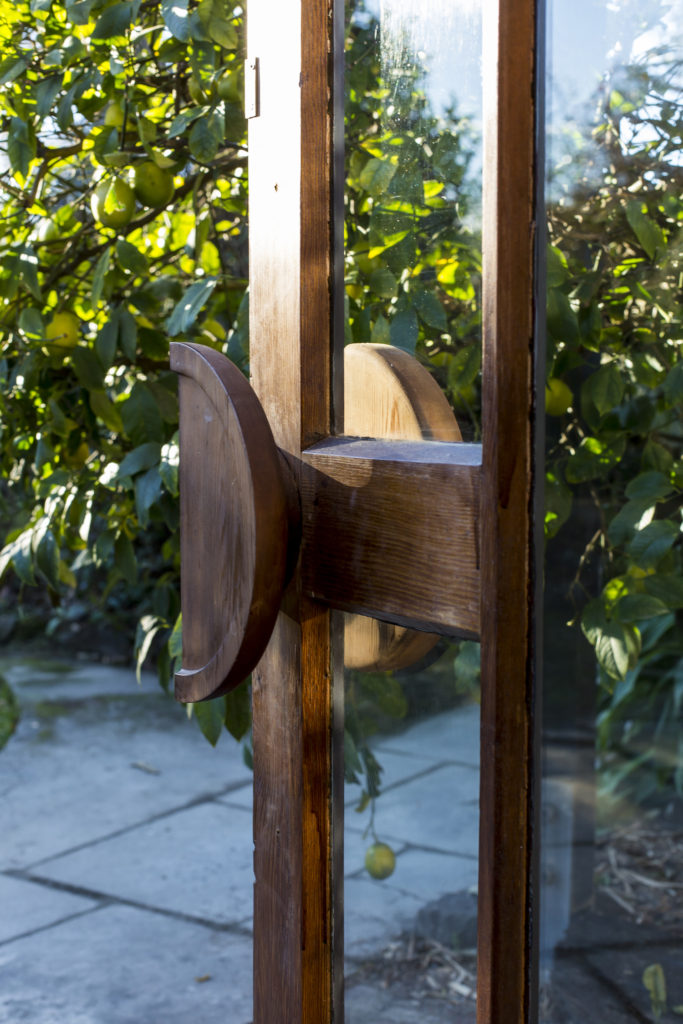 Local wood Turner Rick Bolsh was engaged to craft these standout cedar handles.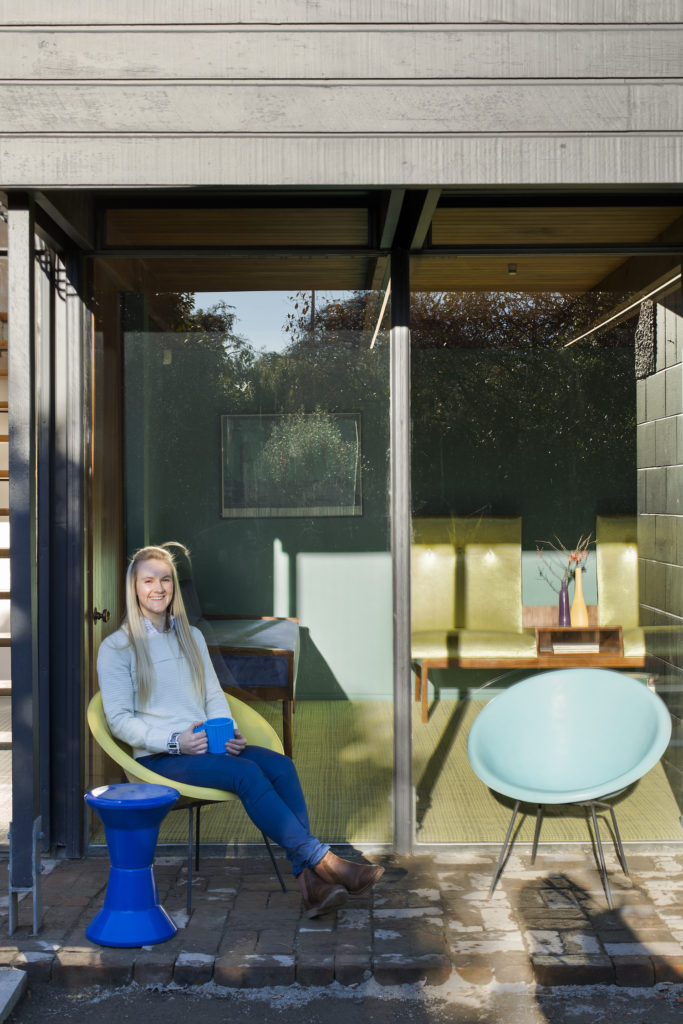 Felicity Clark outside her Le Corbusier inspired house,currently on the market for one lucky homeowner to purchase
How hands on were you in the renovation side of the process?
When I first started I was very hands on, I'm just that kind of person. Through getting involved, I've learnt invaluable knowledge, from understanding how long things take, how to build, and what is feasible. The more projects I complete, I realise it is more efficient if I step back and spend my time project managing and hunting for the next one. However, given the special nature and attention to detail required for this project I have spent plenty of time working on this myself to ensure it turned out just right.
Why did Le Corbusier inspire you for this property?
Given Le Corbusier inspired the original design of the house it was only natural to look to his architecture and principles for inspiration. I wanted the house to be authentically modernised and sympathetic to the original design. There were a few crimes committed by previous owners which made the house look tacky and tired, trying to make it more mainstream which doesn't work on a property like this. I undertook a lot of research on Le Corbusier's architecture which was all so interesting he was very talented across many fields. The pantry and new staircase panel has been perforated to look like Le Corbusier's wallpaper, and unlike most architects his walls always had bold colours. He actually created his own colour system.
How would you describe your Le Corbousier inspired home?
Fun, one of a kind, out of the box and sculptural. Being there, almost transports you to another world away from life's realities; fun- inspiring -wonder. This feeling is further developed with the large glass windows blurring the line between interior and exterior. The house is encapsulated by a magical garden with full privacy so it feels like you're a million miles away from the city.
Details:
Design: Felicity Clark, Le Corbusier House | Photography: Sarah Rowlands
This is a sponsored post in collaboration with Dulux New Zealand.  I only work with products and brands I truly love and use in my own home. 
Images originally commissioned for Avenues Magazine, Canterbury.