After seeing a snippet of Caroline's incredible artwork in the always inspiring 'NZ House & Garden' magazine, I wanted to discover more about the Artists creative pursuits! Read on to learn all about how the art is constructed using natural and sustainable fibres.
Can you tell us a little about your works and how it all came to be?
I've always been a maker, particularly drawn to textiles and when I discovered the wet felting process, I was hooked.  It wasn't until 6 years ago, however, that I began to develop the techniques that I'd been using to create artworks that expressed thoughts and ideas.  It's been my full-time work since then.

Starting with tufts of fluff and using nothing but my hands, a wooden felting tool and soapy water, I am able to form something with expression and form. It feels almost elemental. Each artwork is made up of tufts of hand dyed New Zealand Merino wool, arranged in layers. The final layer usually also features silk fibres which lend a sheen and textural quality to the work that is often mistaken for a watercolour at first glance. Works with 3-dimensional elements can have up to 16 layers of fibre in some areas.
Best part about working with natural fibres – wool / silk etc
New Zealand Merino wool is a high quality, sustainable material – so not only is it a joy to handle and work with, but it also feels as if what I am creating has a deep connection to our land.
What do you love most about creating?
There is something about creating art that helps me to get my thoughts better ordered! As I am working out how to express thoughts as an artwork, they tend to sort of fall into line.
What inspires you?
A lot of my work is influenced by my previous career as an engineer – you will see repeated geological forms and themes throughout my collections. My creative spark seems to be particularly ignited when I visit the beach, though. There is something about the rocks and layers exposed by the energy of the ocean that I absolutely love. New Zealand truely is magnificent – on both a grand scale and in the small, even hidden details.
Your favourite piece to date and why?
That's like asking me to pick a favourite child! If pressed though, I would have to say "In the Land". It is an exploration into our attitudes to the resources that are hidden in the ground beneath our feet. As a consumer society, I think that we rarely take the time to connect these raw materials with the processes and human resources that go into the finished products that we use in our everyday lives. As a result, people and resources are often exploited. I particularly love this piece because it holds a secret – a very slight variation in the surface texture beneath the stitched lines where a design element was included in the process and then removed afterwards. To me, that part of the process – the willingness to remain open to new possibilities on order to progress beyond my expectations – symbolises the essence of creation. You can't press me to pick a favourite amongst my actual children, though 😉
Future plans?
I've recently been asked to contribute works for the opening show of a new gallery in Tauranga called Blueprint Art Gallery. They opened their online gallery during the lockdown in March and it really is exceptional, so I am excited to be a part of their first physical show. The theme will be light, and I have been asked to make a series of my light tubes. This week I've been working on a more sustainable base than the acrylic ones I was having made. I'm looking forward to seeing the prototype in bamboo ply. The creative process sometimes seems like a discipline of problem solving to me because I can't be satisfied until I find the sweet spot that I've been seeking. One thing I always have ticking over In the background is workshops and felting kits. I'm really motivated to encourage others in their creative journey. Just finding the space to be creative is often difficult in busy lives, but creativity is proven to have great benefits for our general wellbeing. It's always fun working on a new kit – I have one of the boutique dyers that I work with preparing a new batch of colours for some beautiful landscape artwork kits at the moment, while I work on sketches for the composition. I get a huge kick out of the feedback I get from people who have never tried felting before, and who are just fascinated by the process and the beauty of what they are able to make. I list my workshops on my art portfolio website at www.carolineburton.co.nz, and the kits are available in my online gift shop at www.createdcreative.felt.co.nz.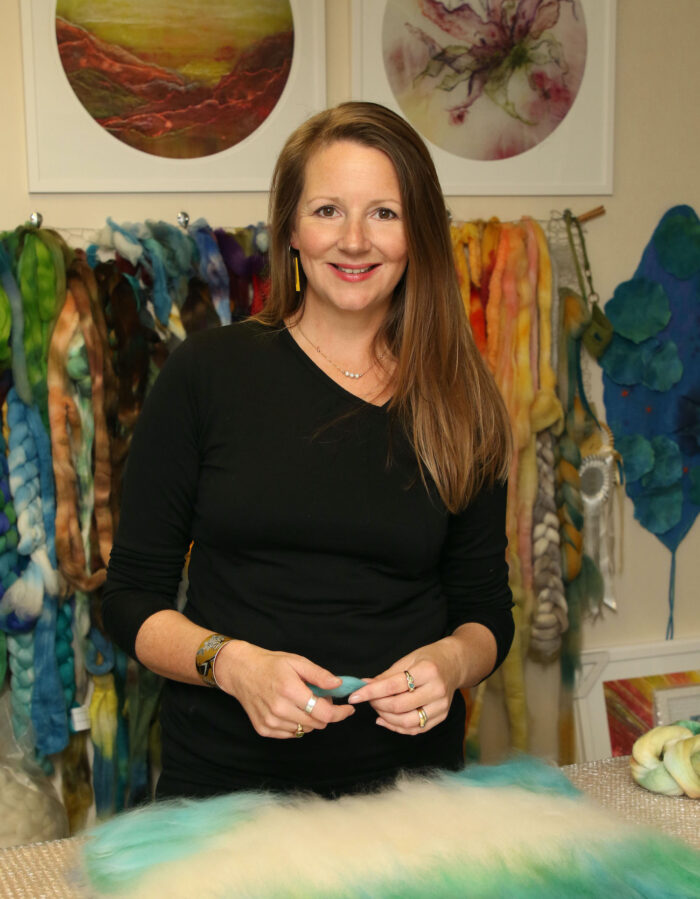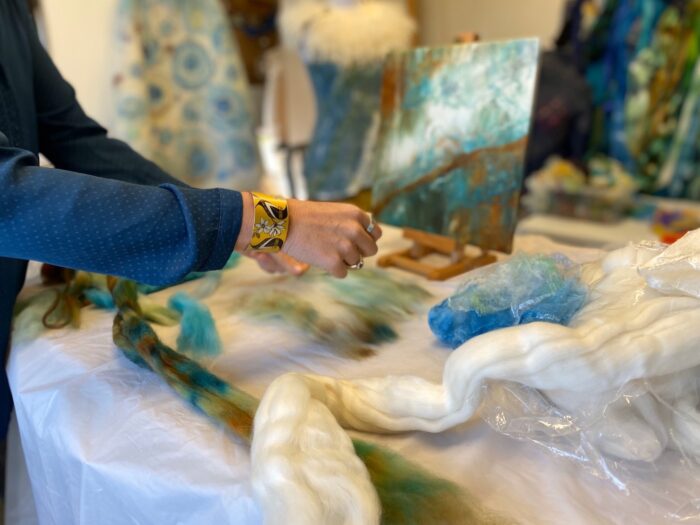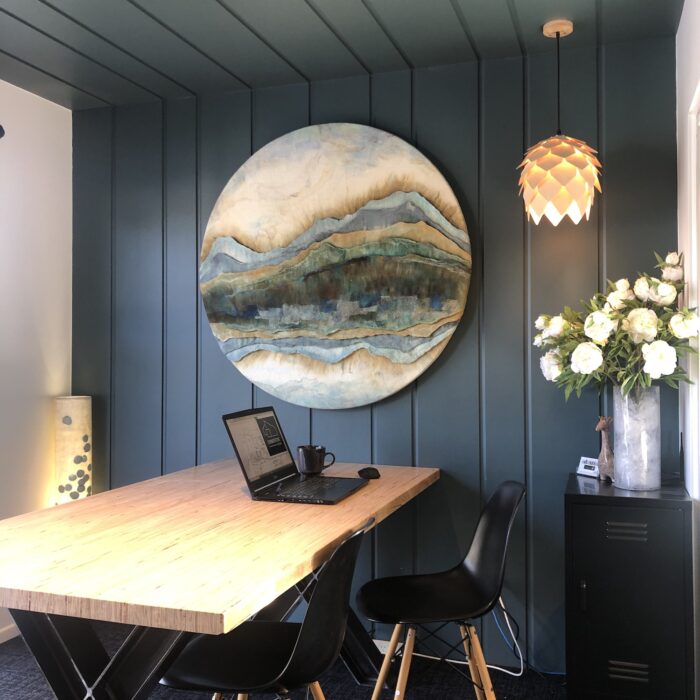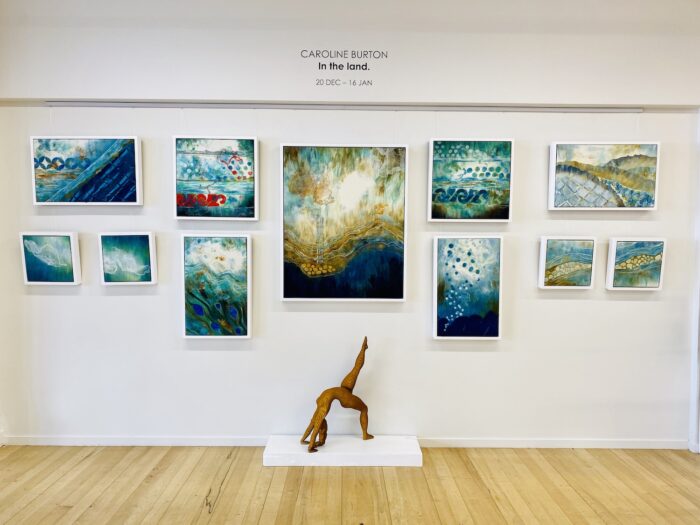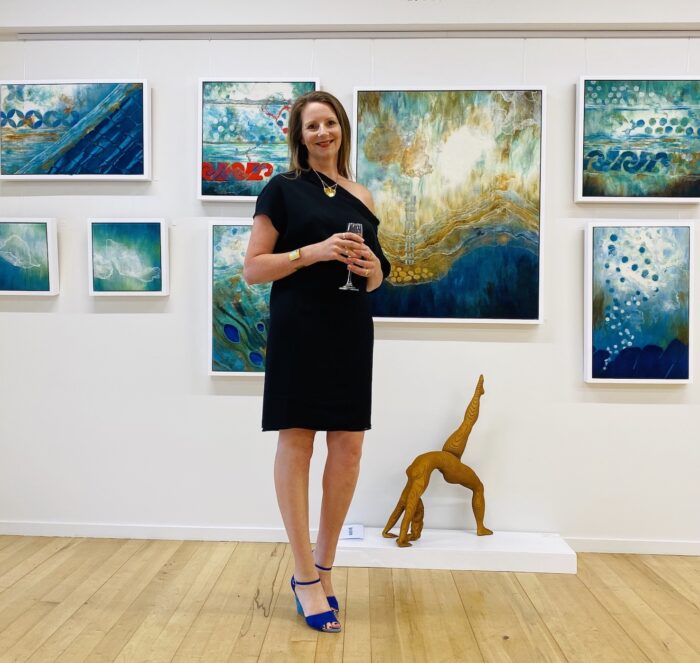 Details:
https://www.instagram.com/caroline.burton.fibre.artist/