Yesterday I had the pleasure of attending the exciting Dulux Colour Trends 2018 launch hosted at 'The Hall'; home of Jess and Warren of Hall we Need. Having transformed our own home using Dulux colours, I was looking forward to seeing the new colour hues that would delight and inspire.
Presented by Dulux Colour experts Andrea Lucena-Orr and Davina Harper, our senses were treated to four carefully curated themes: Essential, Kinship, Escapade and Reflect. Focused on nurturing and inspiring, colours and textures are drawn from nature paired with zesty shades that hint at adventures in faraway places.
With many of us looking to slow down and find more balance in our lives, expect to see a design shift from the prescriptive to the more personalised in the coming year. Think raw textures and soft neutrals, juxtaposed with rich, luxurious green and playful, tropical brights – a broad- reaching palette that's all about individual expression.
"As we let go of the idea of perfection in both our homes and other aspects in our lives, we are instead seeking to create balanced, harmonious  interiors that stimulate the senses, while simultaneously allowing us to relax and retreat," says Dulux Colour Expert Davina Harper. "Our homes should be a haven, somewhere we can completely be ourselves. Colour is a wonderful way t0 express our personal tastes and passions."
– Essential –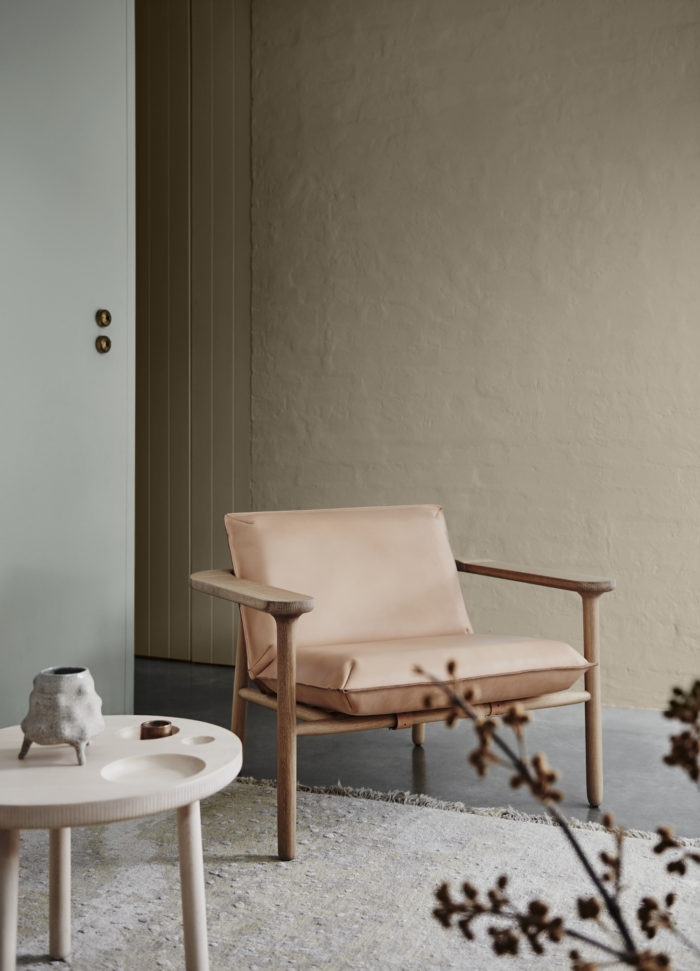 Adopting a Nordic philosophy to be present in the moment and to appreciate the simple things in life, people are becoming increasingly considered to nurture their time, and personal connections to people and nature. The Essential palette takes its cues from the minimalist movement by only owning what you need and what makes you happy; as well as collaborative design to reduce waste.
Imperfect finishes, uncomplicated design paired with interesting textures from new materials created from waste and by-product underpins this movement. Comprising soft warm shades of leather, putty and cooler green-greys, Essential's colours are calming and nurturing with stronger highlights of blues and terracotta.
Colours: Dulux Gnu Tan & Dulux Spanish Olive
Chair and Coffee Table – Hub; Rug – Halcyon Lake; Vase – Scout House; Braonze Dish – Henry Wilson
– Kinship –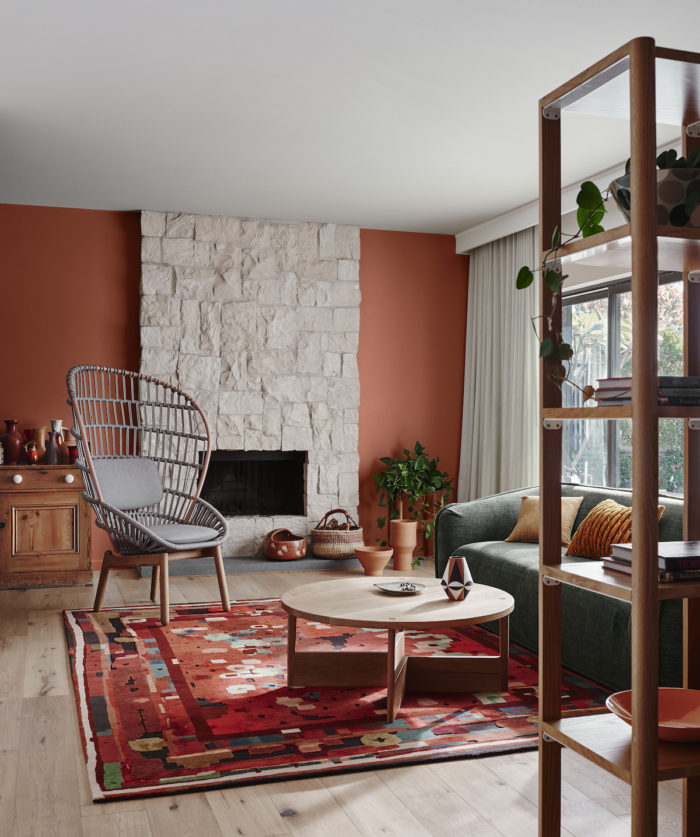 Reflecting our growing need to connect with our community in an age of political upheaval, the Kinship palette, with its warm, inviting tones of terracotta, burnished red and faded green, celebrates cultural heritage in a contemporary way, taking inspiration from folklore details, such as tassels, patterns, fringing, stitching and carving. The colour palette exudes warmth, mixing earthy and rich hues with cosy neutral shades. "Mixing subtle neutrals with bolder hues derived from nature, Kinship is an exciting and eclectic palette that will rejuvenate any interior," says Davina.
Colours: Dulux Very Terracotta & Dulux Cardrona
Product Details: Archair – Mobilia; Rug – Halcyon Lake; Coffee Table – Apparentt; Sofa – Voyager; Cushions – Figgoscope; Vase – Modern Times; Ceramic Vessel and Blanket – Kazari; Set of Terracotta Pots – Hub.
– Reflect –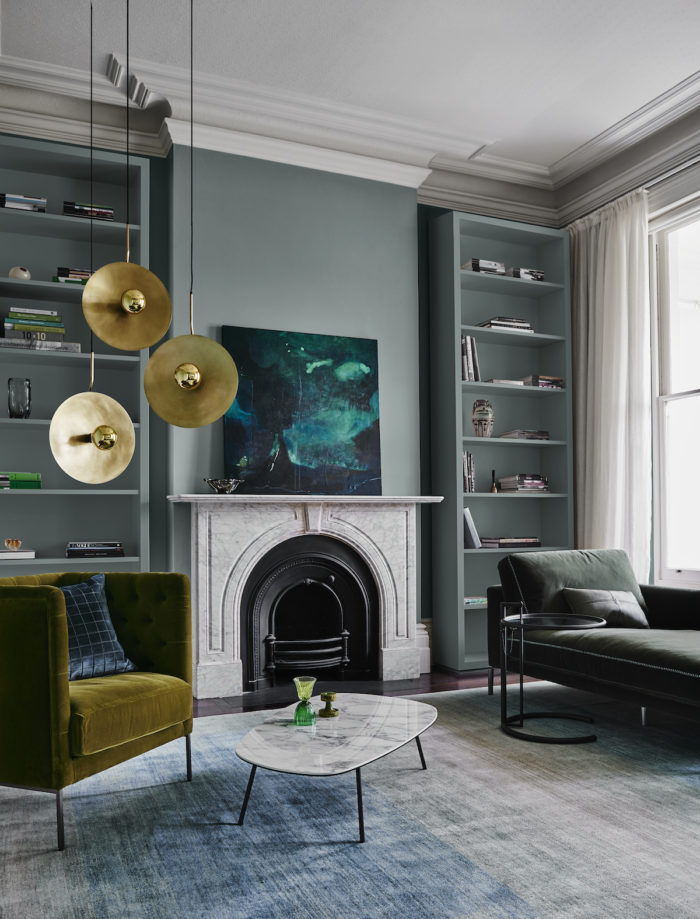 With intelligent innovation and smart technology transforming our day-to-day lives, we find ourselves seeking greater meaning in the things we surround ourselves with forming new connections with the past. The Reflect palette has a hint of nostalgia, revisiting 1970s glamour and 90s swagger, but has been reinterpreted in an understated and thoroughly contemporary way. he Reflect palette showcases rich colours to create moody schemes, focusing on greens and warm shades from pink to greyed-off purple hues, with avocado featuring as a highlight accent.
Colours: Dulux Goyder Green
Product Details: Armchair – Space; Chaise and Coffee Table – Voyager; Pendant Light – Statelight; Artwork – Stefan Gevers; Cushions – Zuster; Rug – Behruz Studio; Side Table – Anibou; Glass (on table) – Franque
– Escapade –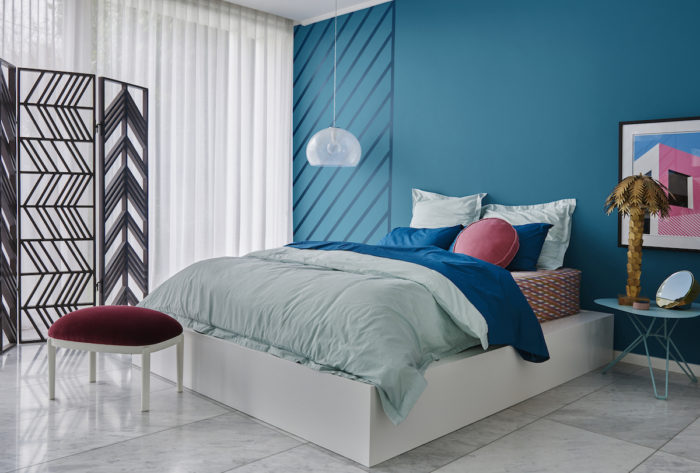 The lines of luxury and affordability continue to blur, bringing people closer to their travel aspirations and dreams. Escapade's style encapsulates luxury Hotel experiences; and the glamour of sundrenched Brazil, Palm Springs and Miami that is playful, colourful and tropical. Patterns include geometric and diagonal lines mixed with summery botanical prints. 80s furniture style is referenced through features of coloured glass and acrylic, while being organic and block-shaped in form. "Escapade is all about fun and adventure, and it's a great example of how the emotional impact of colour can create a playful retreat with an added zest for life," says Davina.
Colours: Dulux Bondi Pink & Dulux St Edmund
Product details: Pouf – Poliform; Divider – Globe West; Quilt Cover set – Linen House; Fitted Sheets and Pea Cushion – Kip & Co; Pendant Light – Space; Side Table – District; Brass Lamp – House of Orange; Artwork – Ben Craven; Mirror Sculpture, Mirror and Jewellery Box – Designstuff
The key to making these new hues work in your home?
"Understand the look and feel you're hoping to create" says Davina. "Establishing this will work well with our most loved whites and neutrals from the Dulux Colours of New Zealand range, so have some fun and experiment."
Details:
Styling: Bree Leech | Photography: Lisa Cohen