A top a hill in Corfu, Greece between two little bays, was a site covered in large rocks and mature olive trees with views across the sea to Albania. The spot would become a Greek island hideaway to English-born Georgina Skinner, 28 and her parents Lynn and Mark and brother Tom.
Three years ago, Georgina and her family were persuaded by Georgina's godfather Dominic Skinner to come for a holiday in Corfu.  Dominic, an architect, had bought a derelict village on the Greek island, and had restored its crumbling buildings for use as holiday rentals. They were only there for a week, but the island's lifestyle quickly captivated them – and then Dominic showed them a particularly tantalising site.
Dominic had a vision – he convinced them they could build a contemporary version of a traditional Greek home, and shortly after they flew home, the sale went through.
Traditional homes on Corfu have small windows, high roofs and exteriors of sand-coloured stone; Dom's design included exposed concrete, stone pillars and plenty of windows.   All the stone came from their own site. Georgina says: "There was this poor guy there day after day chipping away at rocks, but it's really special and worth it because that's what the plot of land was like."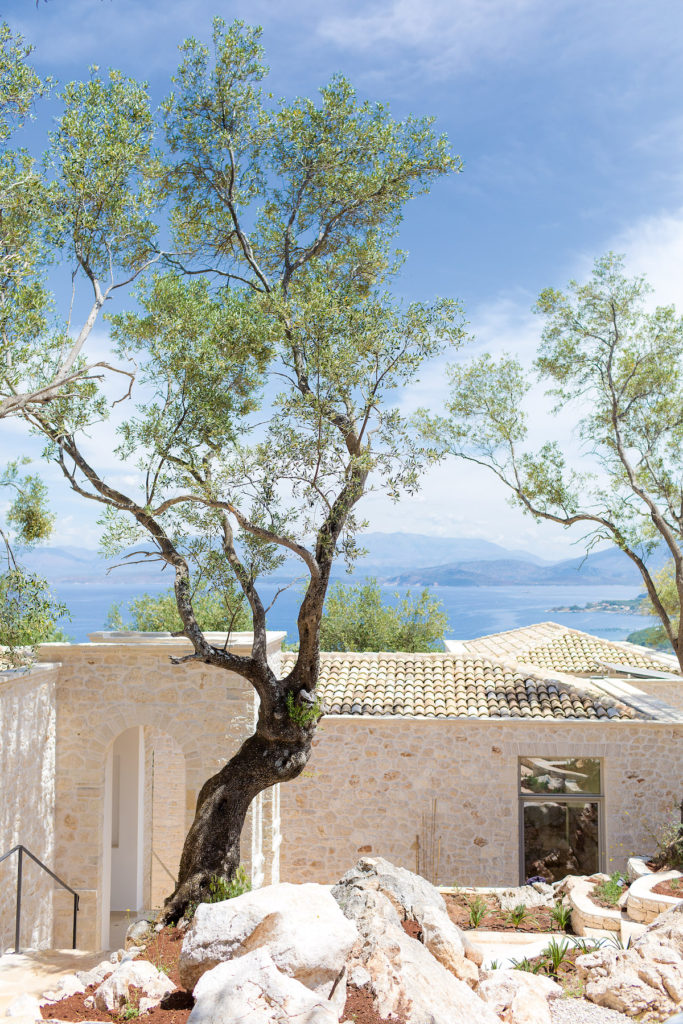 Stone from the site was used for the exterior of the house and built around the existing olive trees; the home's living hub is through the archway.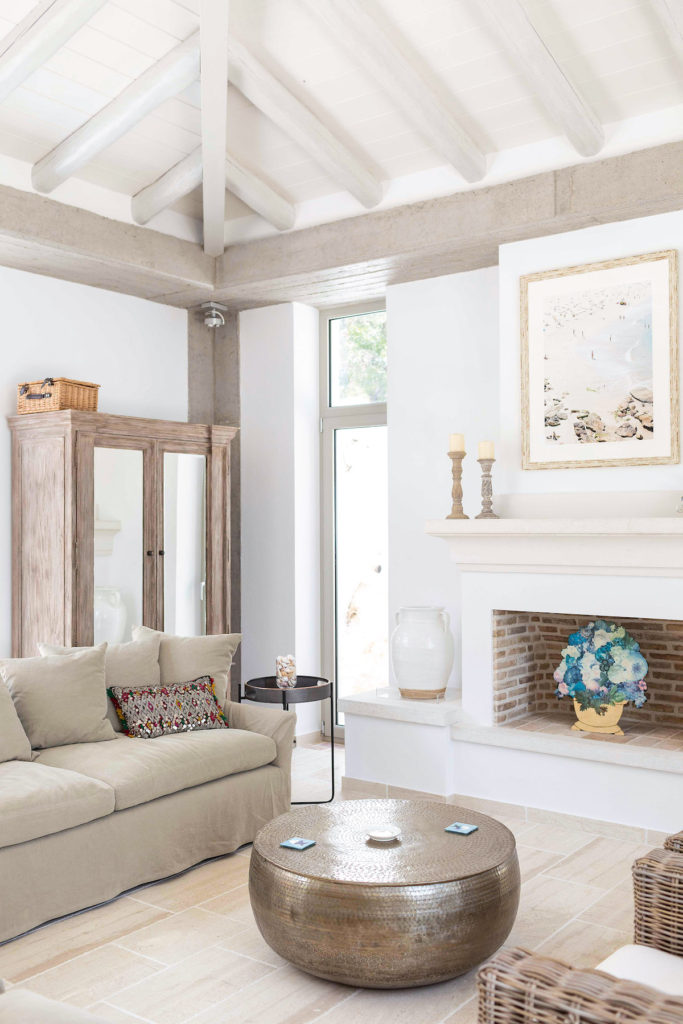 Print by George photograph, taken by Georgina, hangs above the mantelpiece; its colours suit the house: "These pieces make it feel more like a home," says Georgina.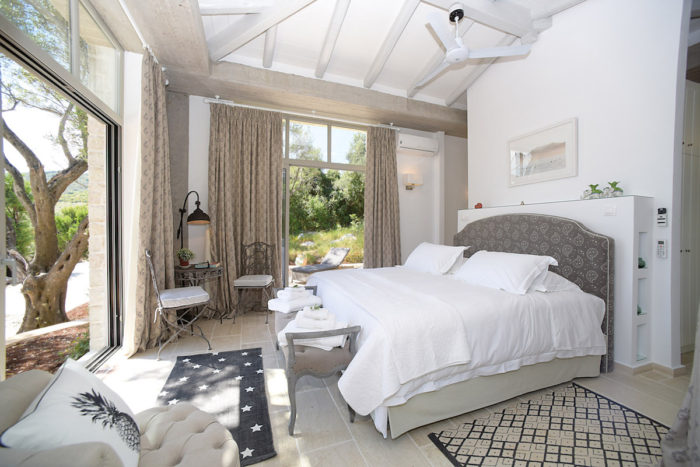 Inside the separate bedroom up on the hill, you can glimpse the driveway on the left; each bedroom has a private patio area and en suite.
Catching up with family is what Corfu is all about for the Skinners. The house itself is an entirely Skinner affair.  Designed by Dominic, Georgina's mother Lynn did all the interior design and Georgina shot all the framed prints for the walls.
The five-bedroom house, which the Skinners rent out when they're not in residence, was built for being together, says Georgina. "It's all about family."
And now there's even more Skinner history in this tiny Greek town, something that has made Georgina feel even more affectionate about the place. Steve recently proposed to her in their favourite bay, San Stefano.
"He shampooed his hair before we left for dinner, which I thought was odd. I think the whole time I've known him, he's never shampooed his hair," says Georgina. But even this wasn't enough to give the game away, and after dinner, walking along the harbour, watching a woman fishing for octopus, Steve popped the question. Georgina, of course, said yes.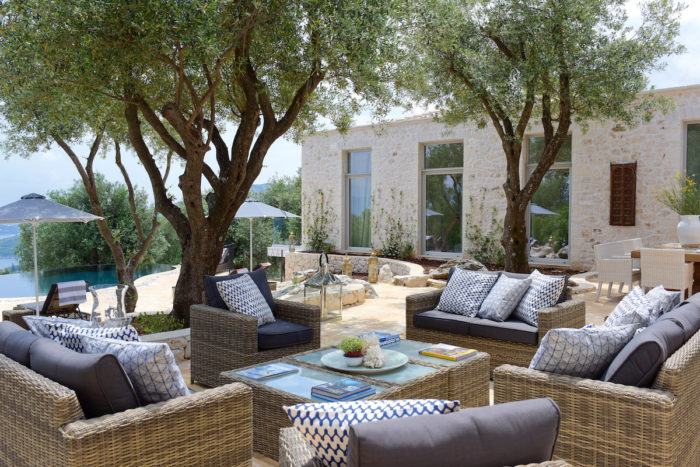 The Skinners sit and have coffee in their robes in the outdoor living area every morning; the sun rises right in front of them and the view is re ected in the large glass windows: "It's spectacular."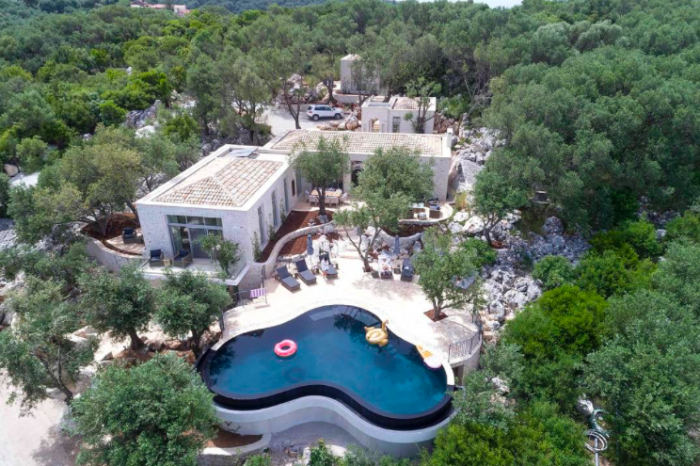 A view from above. Photographer Georgina Skinner shoots beautiful aerial views with her drone.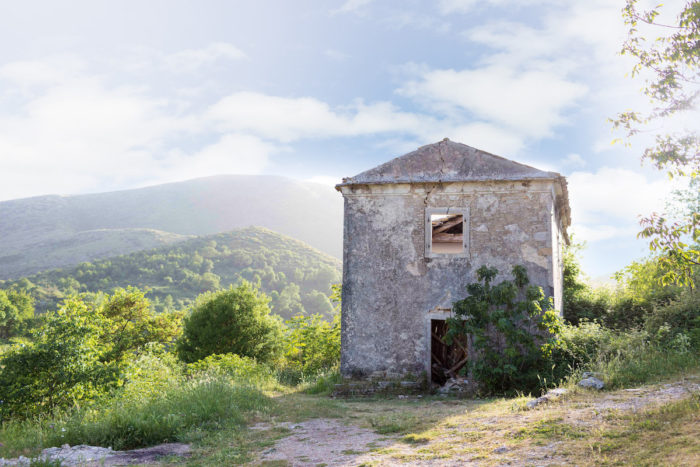 A 15-minute drive into the mountains behind their property is Old Perithia, Corfu's oldest and last remaining heritage-protected village; all the buildings are tiny and beautiful, says Georgina: "Up here you're surrounded by mountains and hills, all the locals go here for their Sunday lunch, so you see generations sitting there together." Kassiopi Bay is a great place to grab a coffee or dinner and sit and look over the water, she says.
Details:
See more of this Greek escape in the latest issue of New Zealand House and Garden
Photography: Georgina Skinner