Two years searching the Auckland property market for their ideal home, Jess Britten and Warren Durling stumbled across a historical hall and immediately saw the potential this grand space held.
With the vision to one day raise a family, Jess and Warren were aware of the overly ambitious task ahead for the two self proclaimed DIY novices. And at just shy of 110 years old, the hall was in need of some serious TLC.
Many late nights and weekends were spent slogging away at restoring the hall to its former glory, all the while documenting their reno journey, Hall We Need on Instagram.  The young couple took this all in their stride as they see themselves as guardians of the hall; ones who will ensure it is maintained and never falls into a further state of disrepair.
After featuring their reno journey last year on HSJ, I revisited the inner city jewel to view the major transformation in person and marvel at all they have achieved.
Delight in the interior and exterior before and after transformations.
Interiors
Before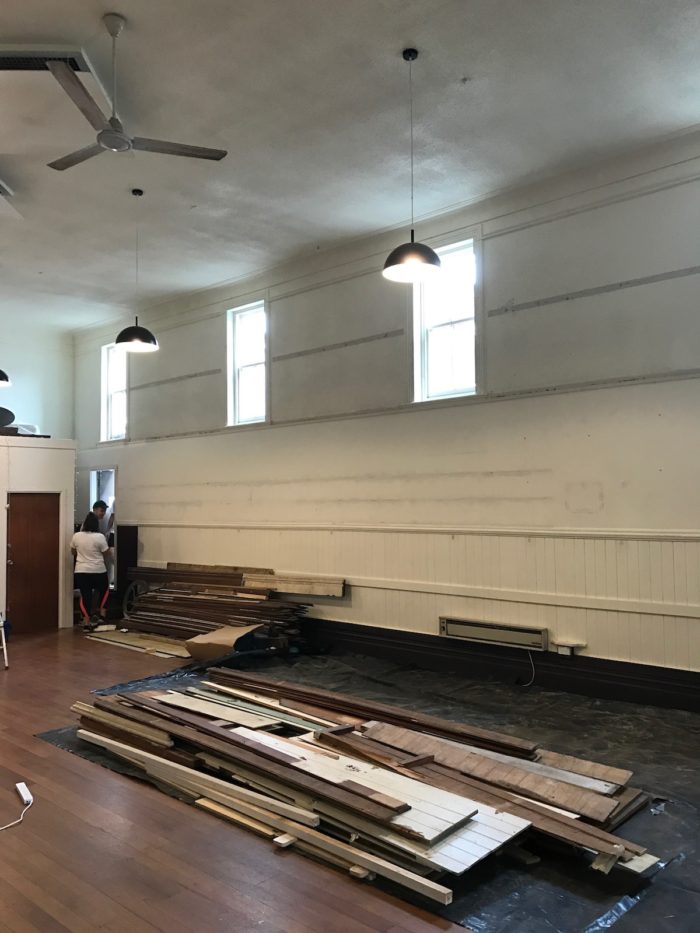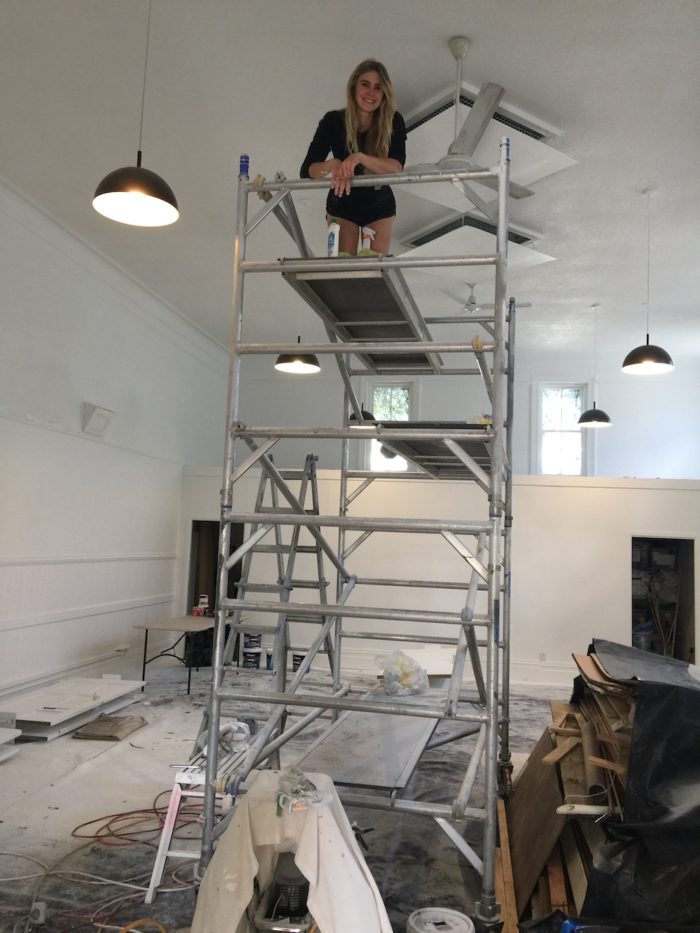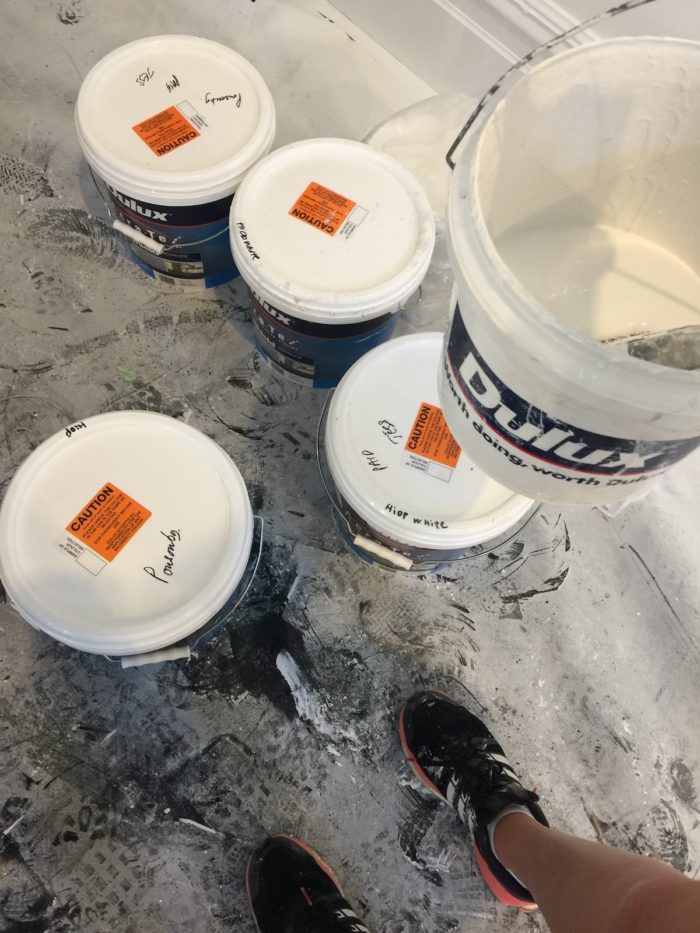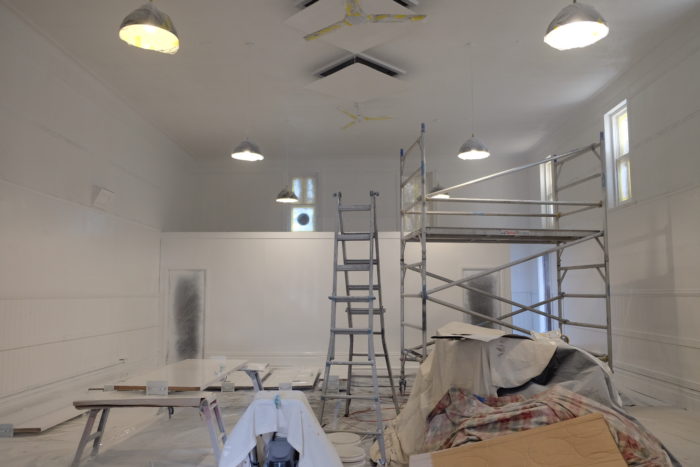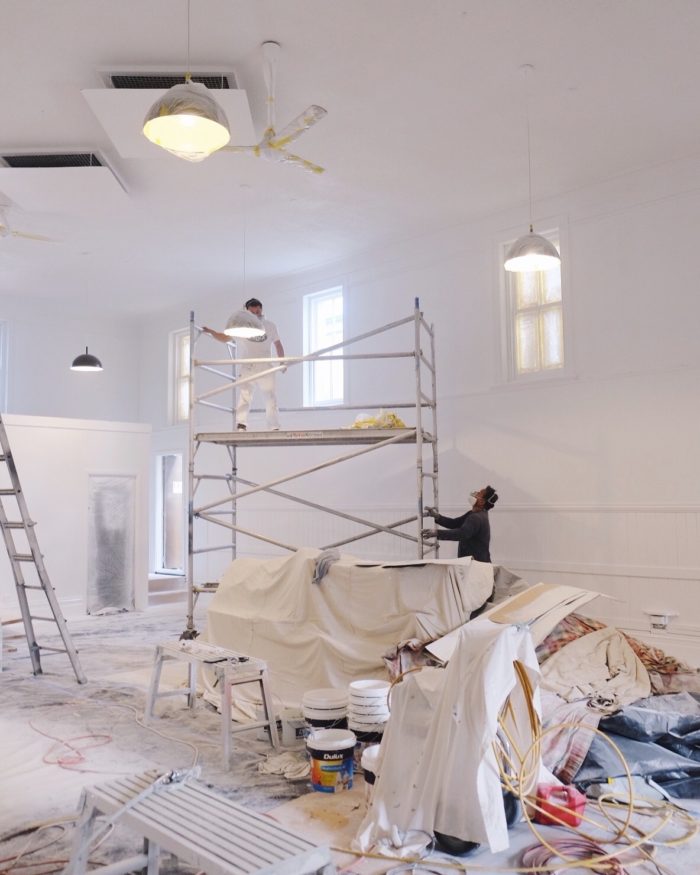 The interiors were riddled with imperfections and had cigarette smoke stained, yellow-ish coloured walls.  In a serious need of freshening up, paint was the obvious place to start to brighten up the building without doing major renovations.
Jess and Warren wanted products that were efficient, effective and easy to apply. Not to mention hard wearing.
Like lots of Kiwis, the pair grew up familiar with Dulux and felt confident knowing their products had been tried and tested over decades by people just like them; DIY novices with big dreams and high expectations! Dulux felt like the natural choice, and Jess and Warren were surprised when Dulux approached them with the generous offer to donate paint to their project.
Davina Harper, Colour and Design specialist for Dulux recalls how her team team jumped at the chance to collaborate with Jess and Warren on their amazing project. "We love the effort, energy and enthusiasm they are putting into restoring such a beautiful old historic building."
With helpful advice and support from Dulux, Jess and Warren finalised a colour scheme for both the interior and exterior.  Wanting a crisp white finish for the interior, Dulux Okarito was the natural choice. Utilising the Wash & Wear for its matt finish and ability to minimise light reflection, the technology helped to reduce the appearance of imperfections which they admit to having a fair few off.
All the furniture and decor was removed and basic prep work was completed, cleaning and priming the doors with Dulux 1 Step Acrylic Primer. Everywhere they didn't want paint – floors, windows, lights, fans and door handles – was masked off.
A professional painter was brought in to help tackle such an expansive space with high ceilings. Utilising his spray equipment, a far more efficient and economical way than using rollers.
After only the second coat was applied, the hall was notably different – feeling brighter and warmer. Now with a blank space Jess can't wait to select art and furniture they love, that feels right for the space.
After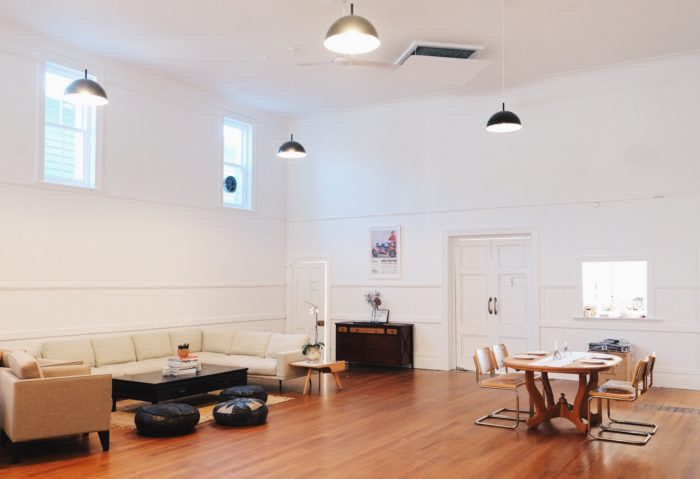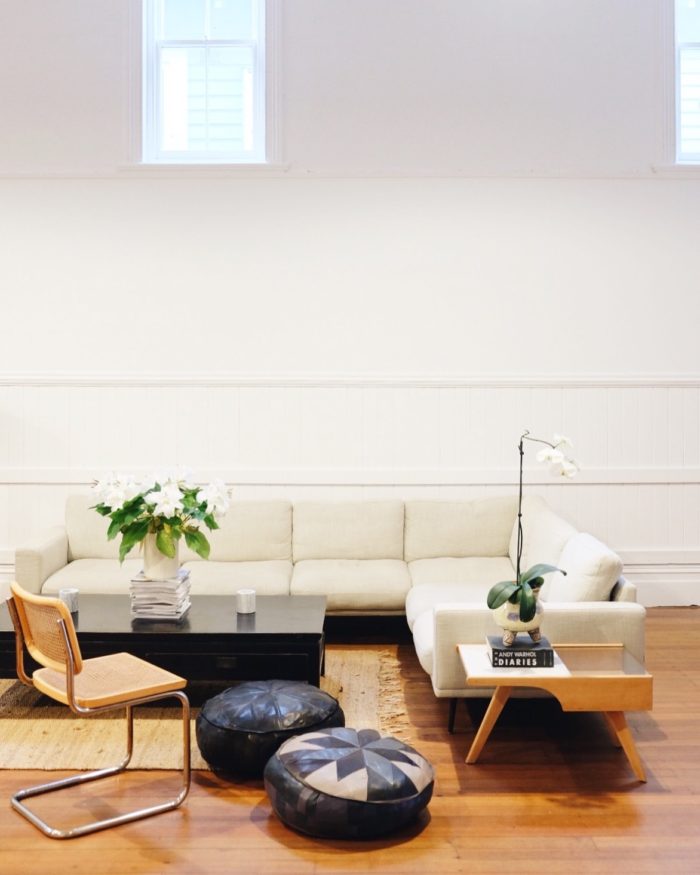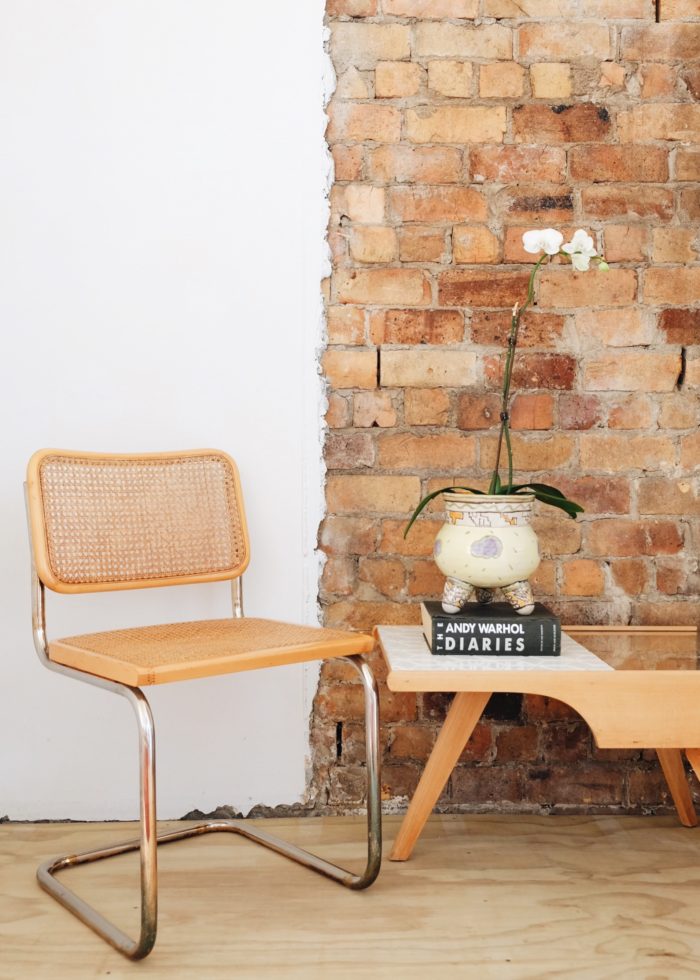 Exterior
Before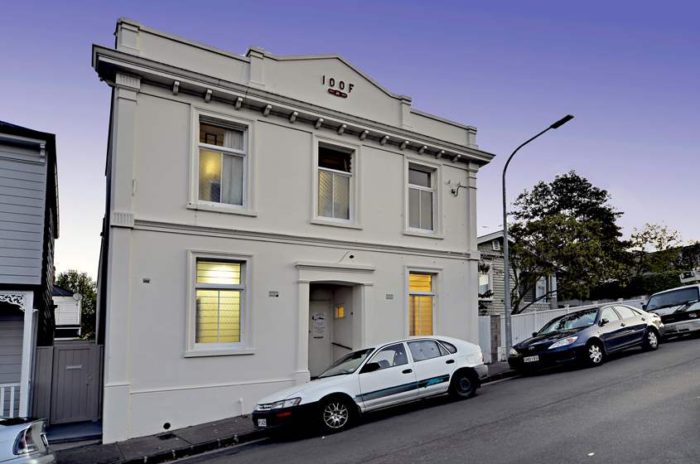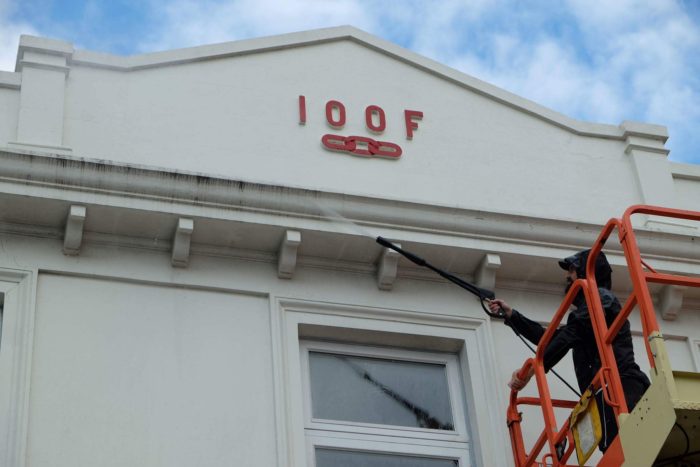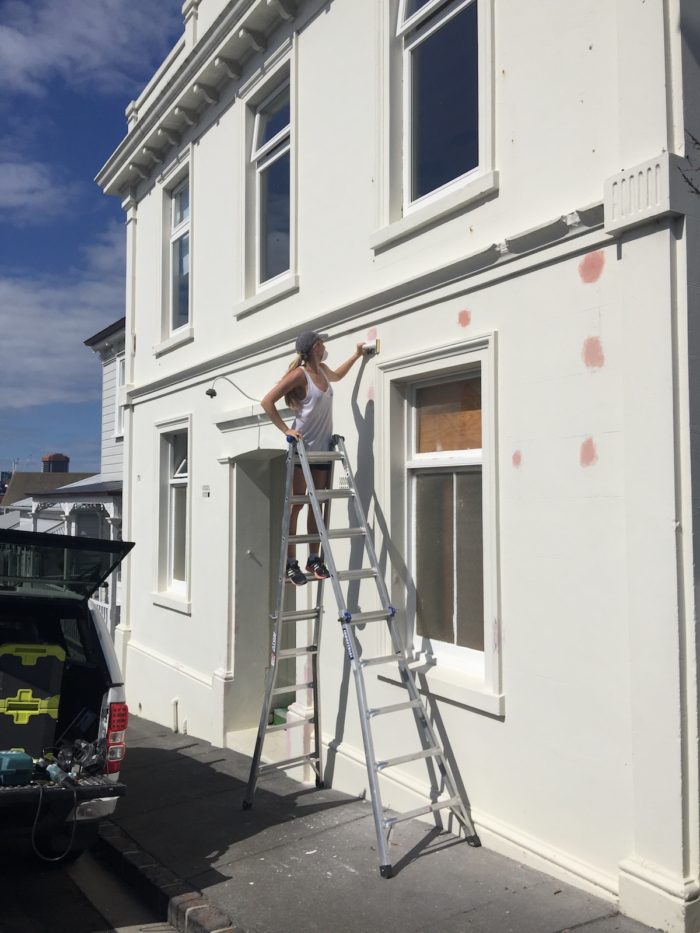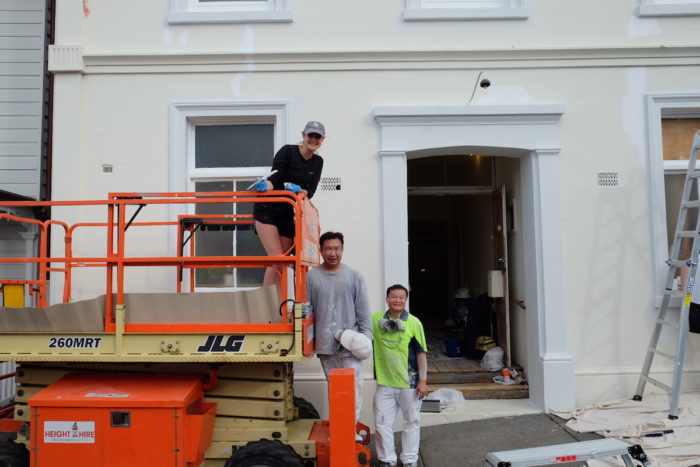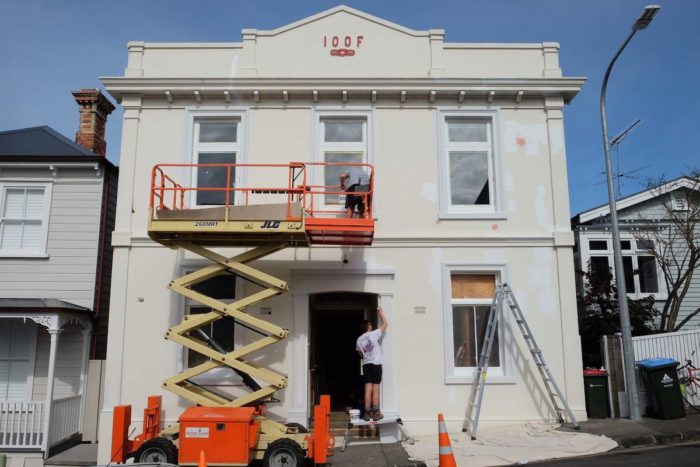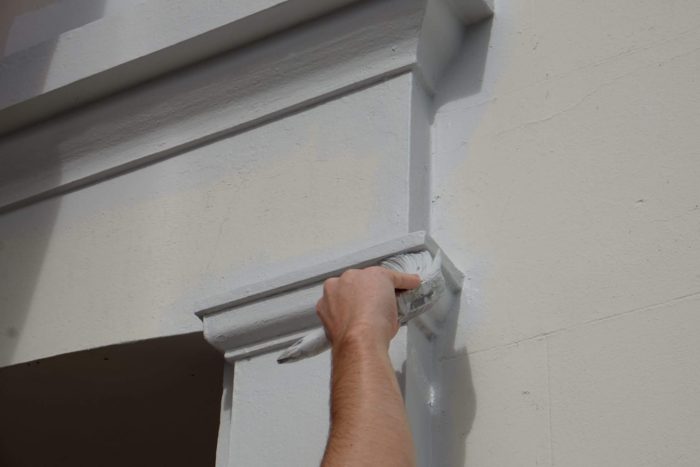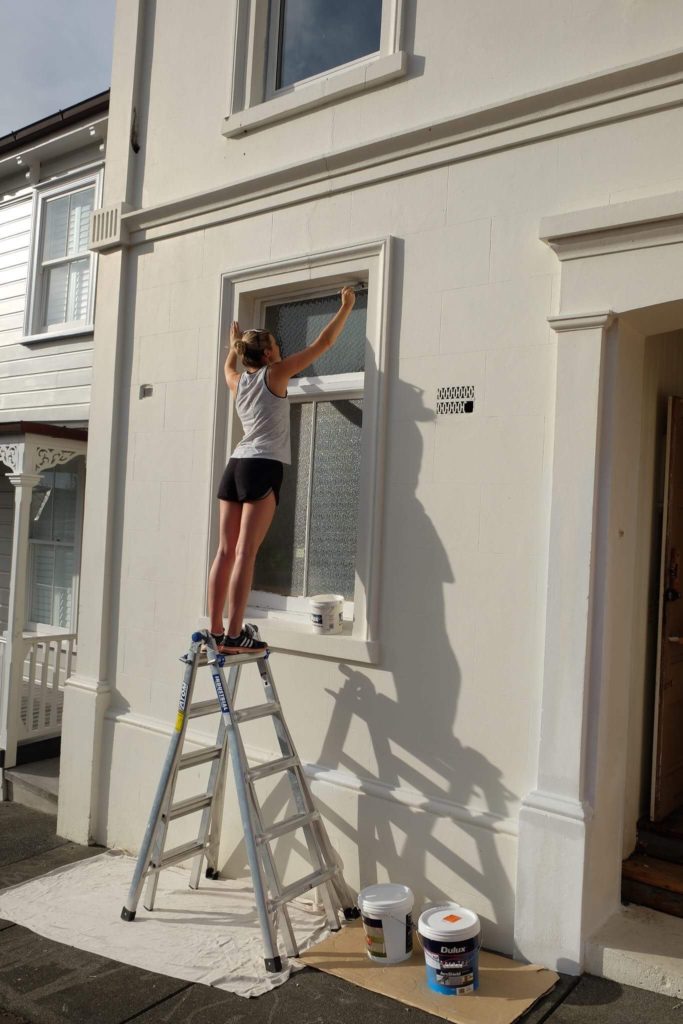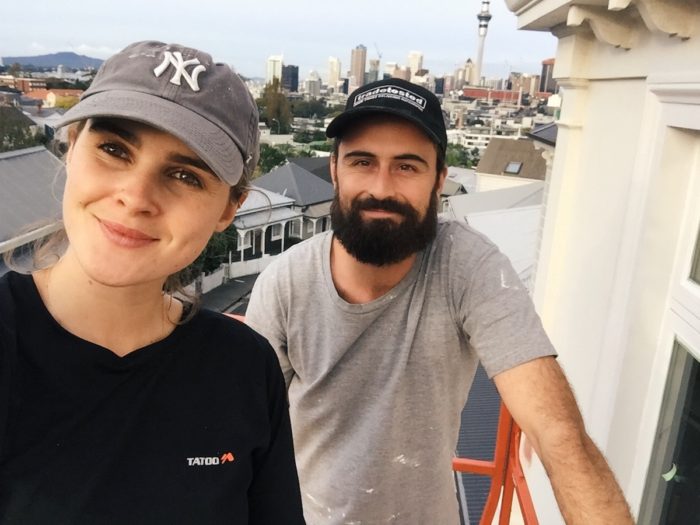 For the exterior, Jess and Warren chose crisp white Dulux Mt Aspiring Quarter and soft grey Dulux Manorburn for their colour scheme.
Over ten days they got to work rebuilding parts of the facade that had crumbled, sealing the windows, washing the building and filling any holes. Following this, they applied Dulux water-based 1 Step to any areas where they had worked on and had removed the old paint. Acting as a primer, sealer and undercoat all in one, it certainly sped up the process.
Accessing the top of the 10 metre high building was always going to be tricky, but rather than taking the expensive option of scaffolding they hired a scissor lift and had a great deal of fun.
The upstairs windows had been replaced by Jess and Warren, and a coat of water-based 1 Step was applied, followed by Aquanamel semi-gloss (a durable water based enamel that dries with a beautiful soft sheen to it). Around the windows on the masonry, a soft grey colour, Dulux Manorburn was selected. The product is AcraShield which is perfect for masonry buildings as it fills hairline cracks and imperfections.
Special attention was given to the old maroon 'I O O F' detailing at the top of the building. Standing for Independent Order of Odd Fellows, the original owners of the Hall, Jess laughingly admits to having to convince Warren to paint it Gold. Having her heart set on using Dulux Gold Effect, she was confident it would look amazing.
A huge undertaking, but well worth the effort, the exterior makeover looks incredible and is one Jess and Warren are glad they won't have to do again any time soon.
After