Can you tell us a little about yourself & the art you create?
Hi, my name is Ngaio Blackwood and I'm an artist. I grew up in Dunedin and studied Fine Arts at Massey University in Wellington. I'm now living in Napier with my partner, 6-year-old son, 2 cats and a dog. I create art using a mixture of paint and thread, I'm interested in how these two mediums combine. You can read more about me here http://ngaioblackwood.com/about/

What inspires you?
I'm inspired by our home environment. I live by this quote from William Morris "The true secret of happiness lies in taking a genuine interest in all the details of daily life" I love the things which we use make our houses into a home, our plants, textiles. This is where I find subject matter for my work. Last year I did a 100 days project that involved drawing flowers. I'm now using these flowers to create collages. I love the overlapping edges, reflections and repetitions of arranging these shapes using digital tools. It's really important to me to embrace hand-drawn and imperfect lines as I think this is far more interesting than using a computer to arrange everything spot on. So a lot of my work is eyeballed and a bit off which gives it a quirky finish. I embrace these quirks in my embroidery too not worrying about getting the stitch perfect. 
What is your favourite piece and why?
My favourite piece is almost always the next piece. It's the piece I'm waiting to create. Once I've made something I'm done and ready for the next one. But if I had to pick one piece it would be a stitched typography piece "you're never going to feel like it' I just love this phrase I find it so motivational. You can't wait for inspiration you just have to get working. https://www.instagram.com/p/BnGDWjYh9gr/ It hangs in my studio and has pulled me out of many a slump.

What do you love most about creating art?
The process. I just love working with my hands. I find I have to find ways to make my art in a way that is discoverable for me. I can't paint by numbers of just follow a pattern, I get bored too easily. this is one of the reasons I enjoy guiding people in a workshop setting to help them find play in their creative process.

Biggest highlight of your career thus far?
Being asked to participate in 'Made of Snow'. I was in a group show with one of my favourite painters, 'Seraphine Pick' This show was held at the Franklin Arts Centre in 2016. I would love to participate in more group shows they are such fun.
Best advice for a novice interested in creating / art / design?
Just start. It doesn't matter what you start making. One thing will spark something else and that is just the artist journey. Make art every day. Being an artist isn't a 9-5 job it's a way of living and seeing the world. There are some great books to help you along the way. Big Magic by Elizabeth Gilbert, the Artists Way by Julia Cameron, The Artists Journey by Steven Pressfield are some of my favourites. know that you will make lots of work that you're not happy with and that is just part of the process
Future plans for Ngaio Blackwood Art?
I have so many plans! I've just started offering custom stitched homes with painted backgrounds. You can find out more about how to order a little embroidered home here. http://ngaioblackwood.com/work-with-me/commissions/embroidered-house-portrait-2/

I'm currently doing a 100 days project called my stitched rainbow. Basically, I'm using 100 different stitches to stitch a rainbow. I'm adding in paint along the way for the different coloured sections of the rainbow. I'm learning a lot, there are so many stitches I've been meaning to try and I've always loved samplers. So I'm finally making my own. You can follow along a bit behind me on my blog here. http://ngaioblackwood.com/stitch-along-my-stitched-rainbow/ The only other sampler I've done is for the exhibition X-Marks, Conversations in Cloth, held at the Waitangi Treaty Grounds, which also showed at NorthArt in Auckland in 2018. You can view the piece I created for this here http://ngaioblackwood.com/2018-sampler/

I'm well overdue to complete a new body of work so I'd really like to finish a group of pieces! I have only just realised combining paint and thread doesn't just happen on fabric and I've started to bring the mark making from embroidery into my painted pieces. I'm hoping to release a set of pieces on paper this spring and finish a new body of work for 2021.
I had an embroidery workshop for teens to be held at the MTG in May but with the COVID-19 situation, this is looking to be held later in the year.
I'm also available for custom stitching on denim jackets, I recently completed a jacket for a bride (https://www.instagram.com/p/B_jSO2gjXN3/). Such a lovely memento and something that you can wear all the time, unlike that wedding dress!

I have so many ideas but working (Publications co-ordinator and library manager for Hawkes Bay's largest high school) and being a mum means I have to break down my big project into small chunks and try to stay on task.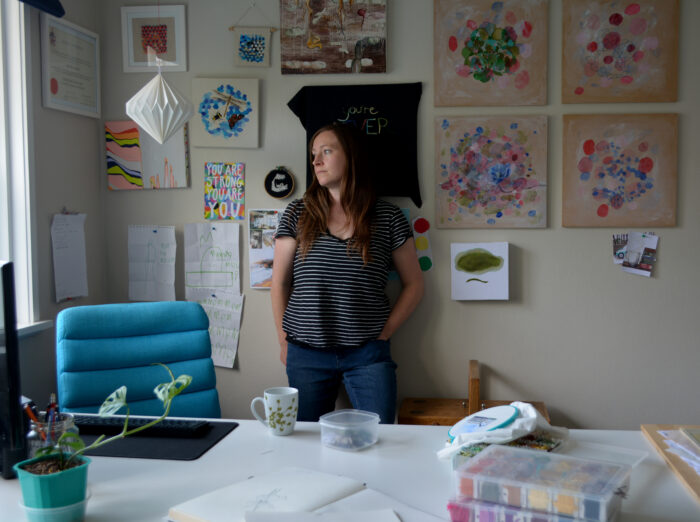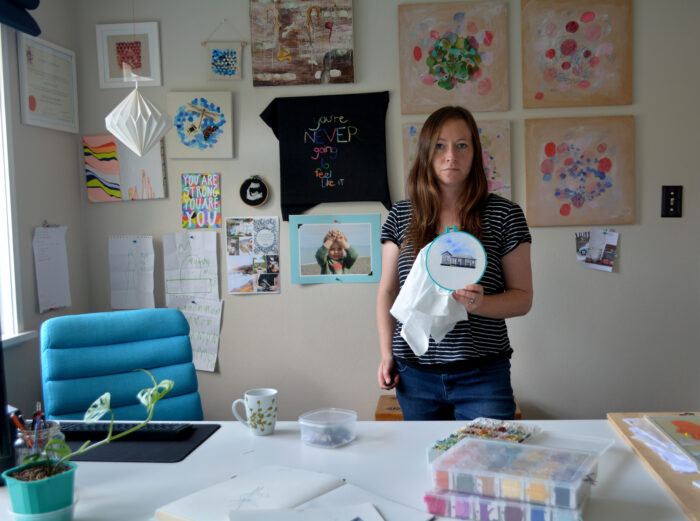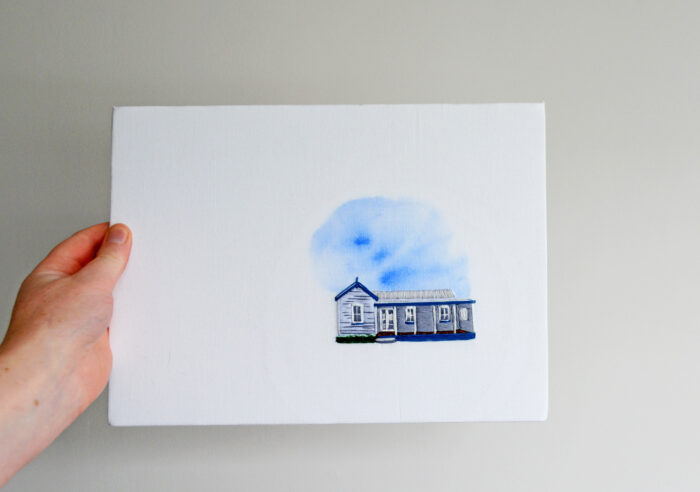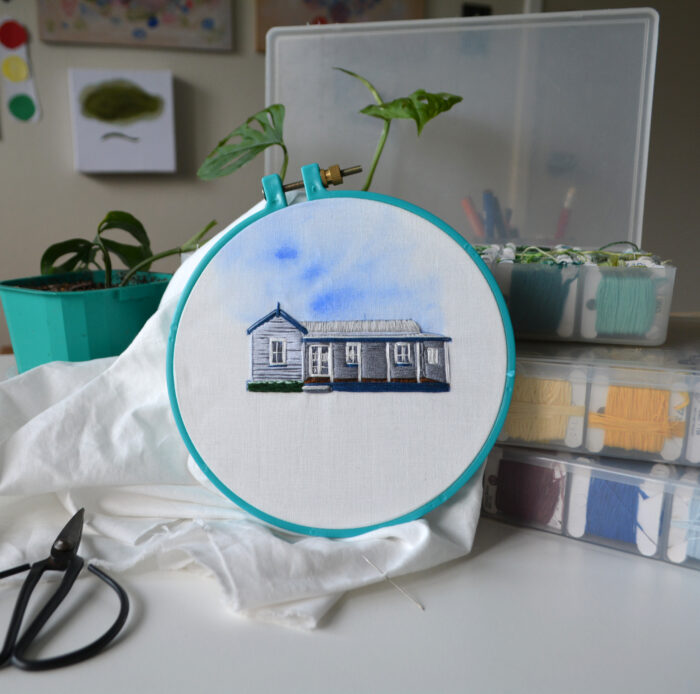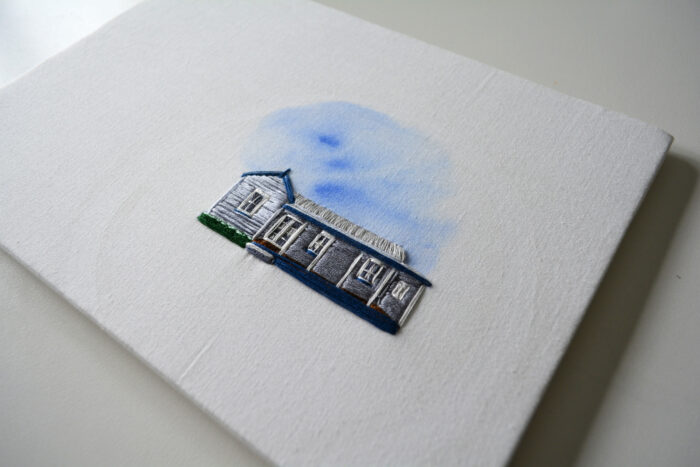 If you are interested in a Custom House Portrait or any other amazing work from Ngaio, head to: http://ngaioblackwood.com/