In collaboration with Dulux New Zealand​, each month I'll be sharing homes transformed simply using colour. The first in this series is the home of Hannah and Dylan Whitehead who transformed they once dark and dated home using Dulux Okarito.
In November 2015, Hannah and Dylan Whitehead found the perfect first family home to make their mark on in Whangarei's Whau Valley. After previously renting, the couple tackled the renovation project head on soon after moving in, while raising their two children Frankie (3) and Leo (1).
Over two years, the 110 m2 three bedroom, one bathroom home was transformed, room by room from dark and dated into a light, airy and calming space. Interior walls were pared back, painted in Dulux Okarito, a crisp, fresh white finish. Step through the entranceway and you're welcomed into a cohesive design aesthetic that is synonymous with Hannah's styling. Spending her days as photographer, stylist and social media curator to children's clothing label Jamie Kay, Hannah also curates her design nous on her site @kinliving_.
And while Hannah has an eye for design, clever handmade pieces created by Dylan (a mechanic by trade) are evident throughout. From the bench seat in the entrance way, to the office nook's custom built desk, and the couples steel frame bed. Dylan even lent his hand to creating replacement decorative battens in the hallway.
The compact design provided an opportunity for thoughtfully considered details while reconfiguring the homes layout maximised the space. The master bedroom now occupies what once was the living room, while Leo's nursery resides in place of the original master bedroom.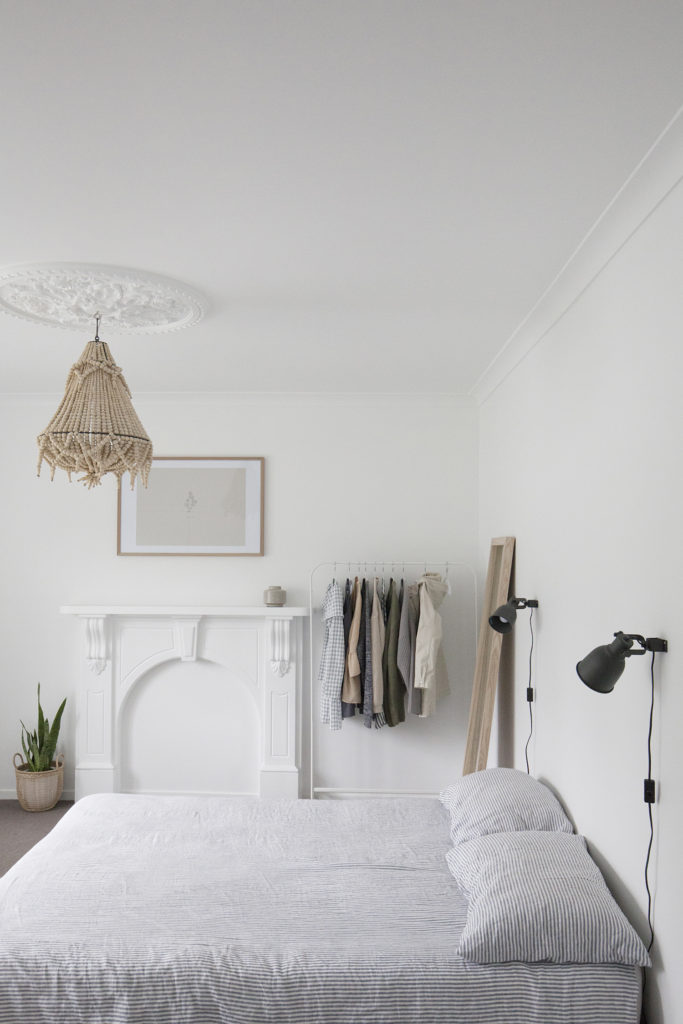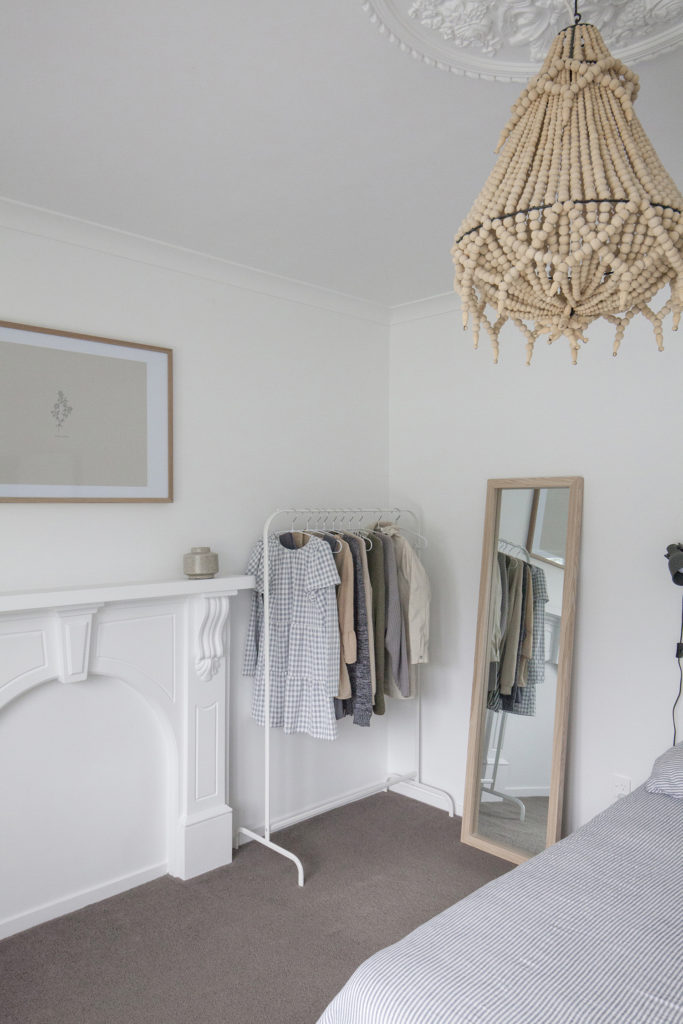 Originally the living room, the large space was perfect for the couples master bedroom. Hannah found a fireplace surround through trademe and fixed this in the location of the original fireplace that had been boarded over by the previous owners. Adding a built in wardrobe, beautiful large ornate ceiling rose and feature light from Norsu.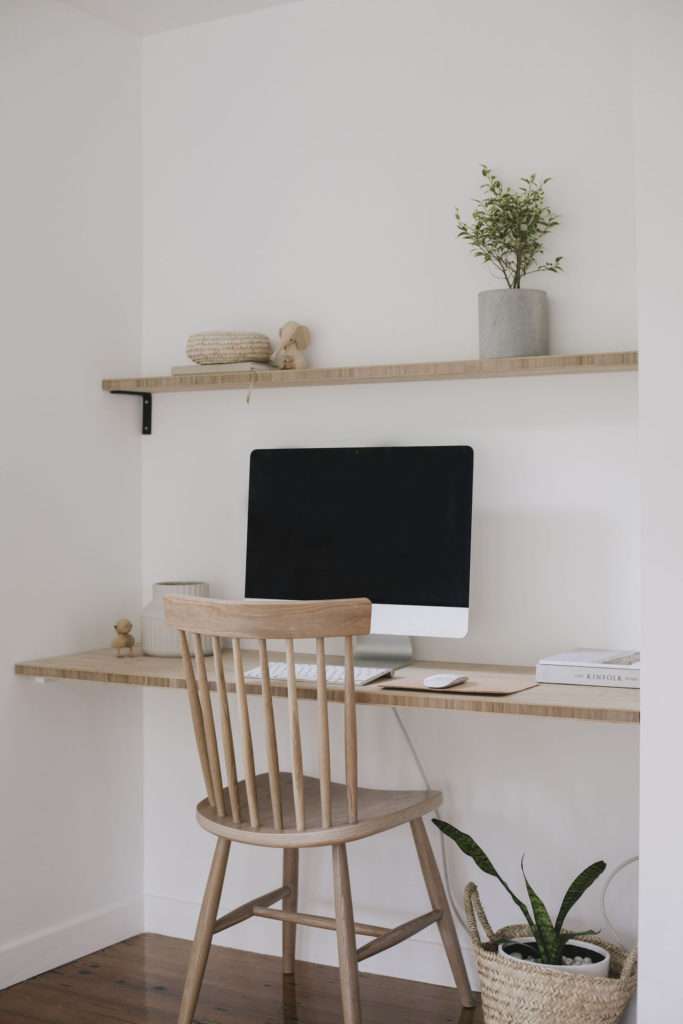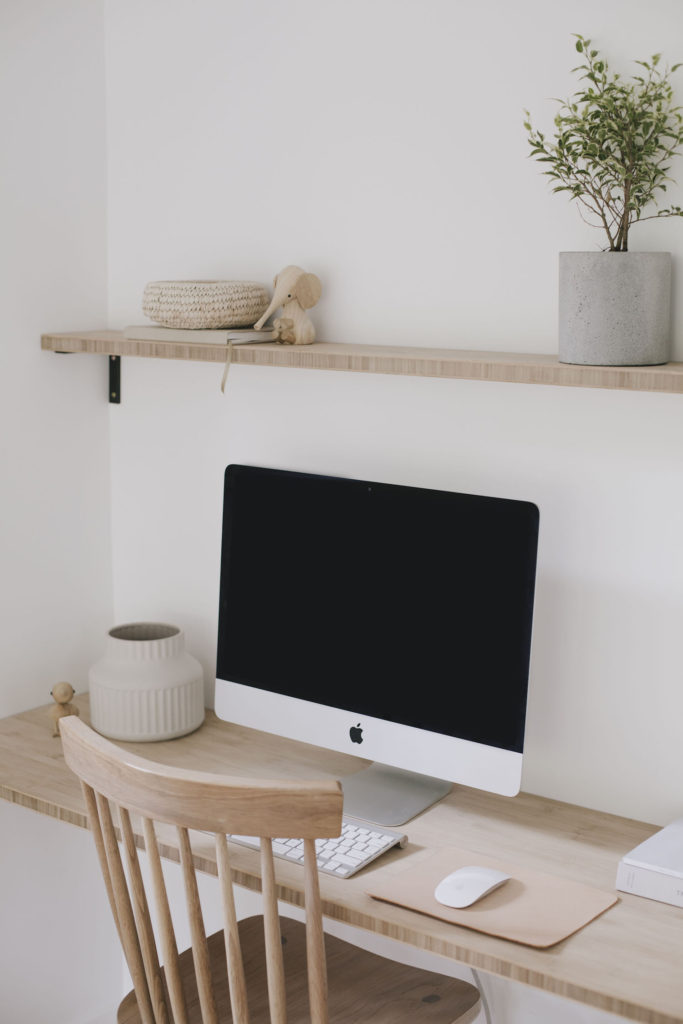 A home office is a must for Hannah's work with the nook space in the dining area finished off with a built in desk by Dylan.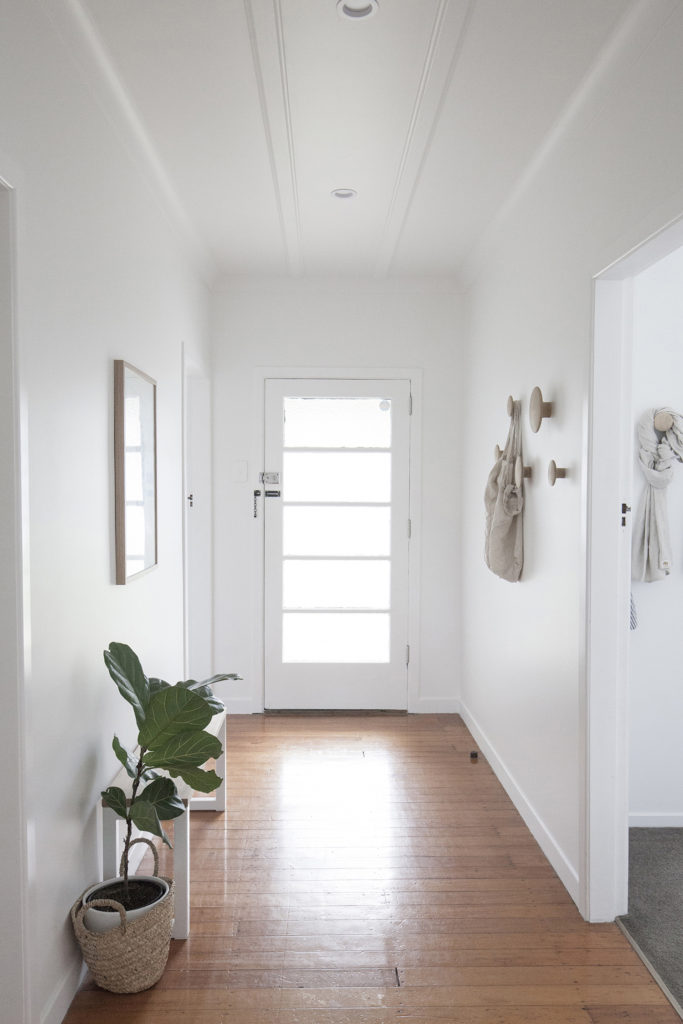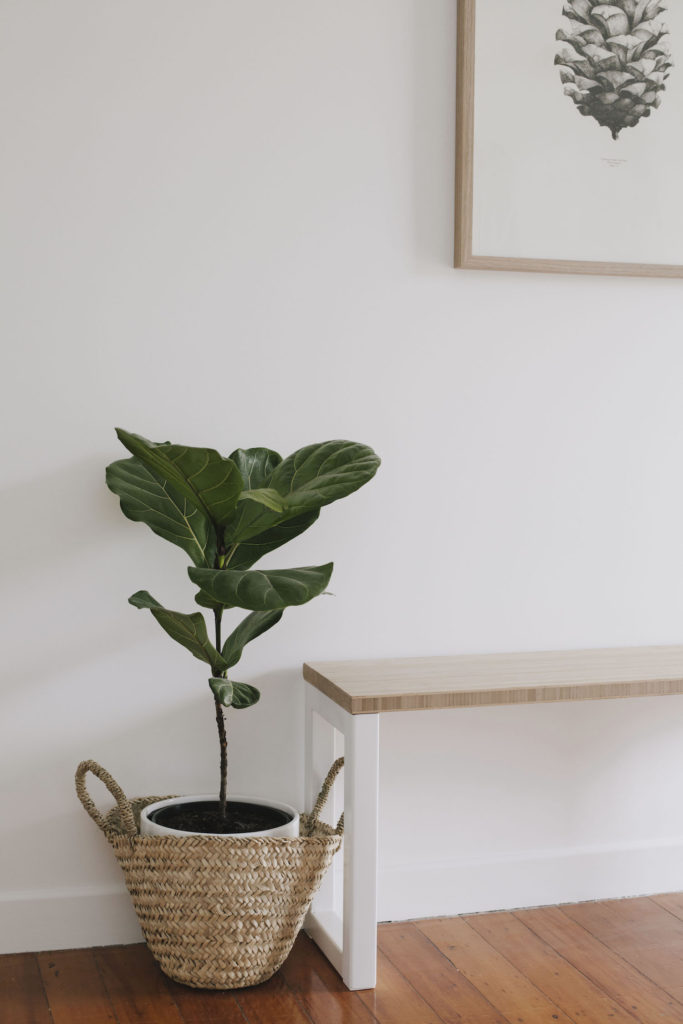 The entranceway was completely gutted and re-lined. In its place a welcoming and light entrance way.
How would you describe your design aesthetic?
Simple but homely. We strive to live a simple life without a huge amount of unnecessary possessions. I guess this naturally evolves into how your way of living looks.
How long did the renovations take?
We moved in November 2015 and started working on the property right away. Overall it's taken just over two years to complete. We funded the renovations ourselves, so it has been slow going, chipping away at the house weekend by weekend.
While 80 percent of the work was completed by my husband Dylan (he is quite the handyman), towards the end of the renovation we hired a builder friend to help us out with the bigger things (like the back deck) to speed up the process to the finish line. In hindsight we possibly could have done this earlier as it really did fast track the completion of the house.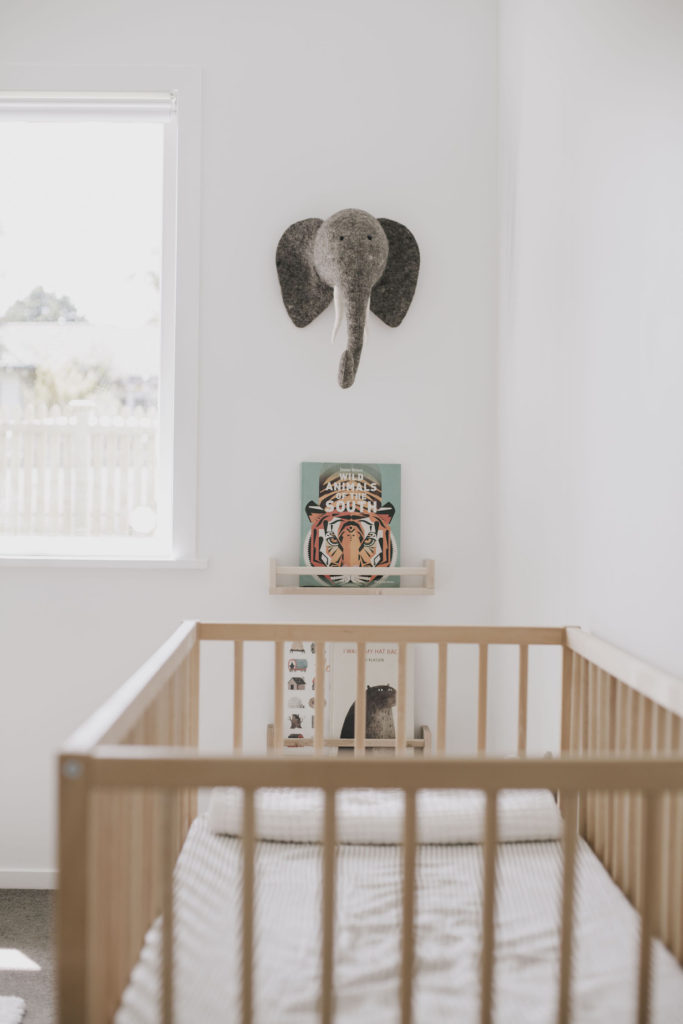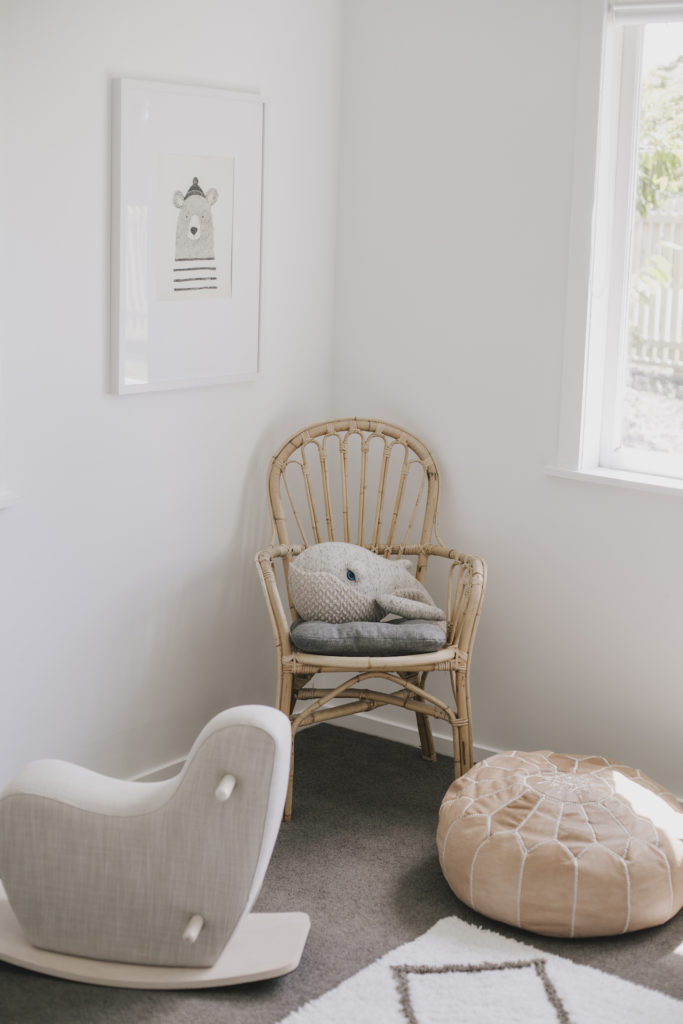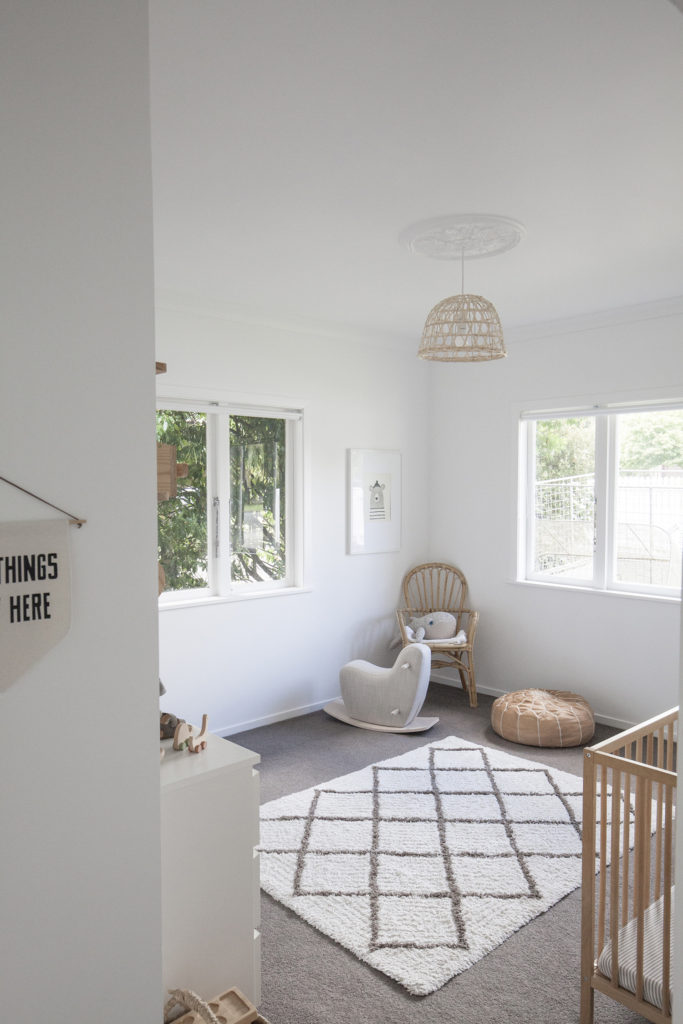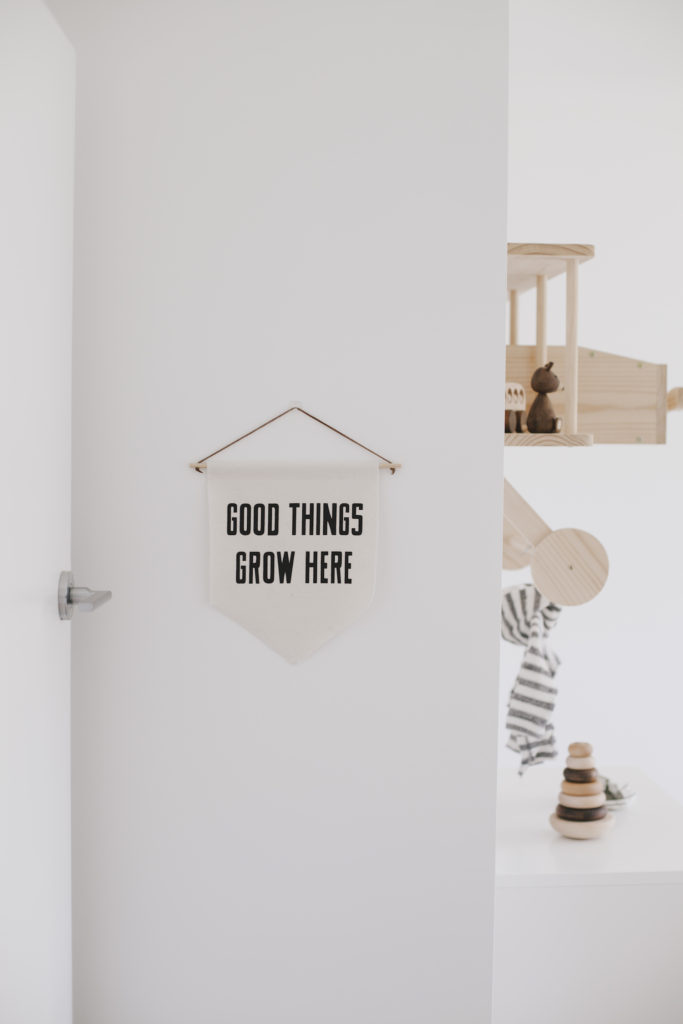 Leo's nursery has a lot of natural light from the two large original windows that were simply in need of TLC. Originally the master bedroom, this become Leo's nursery during the homes reconfiguration.
Were there any complexities with the property or during the renovation process?
We were very lucky with everything being pretty straight forward. We didn't come across any extra little surprises that older homes often bring. This meant we were able to keep our total reno costs nice and low. A massive bonus for our budget.
Where have you sourced your decor from?
Our furniture is a little bit of a mix. We have quite a lot of pieces from IKEA (as they are simple and very affordable), with more special pieces from designers such as muuto. Dylan made our black steel bed frame and wooden bench seat in the entrance and I found a few second hand store gems like Leo's cane chair in his nursery. Because our whole reno has been on a budget we aimed to keep overall costs down and this extended to our decor.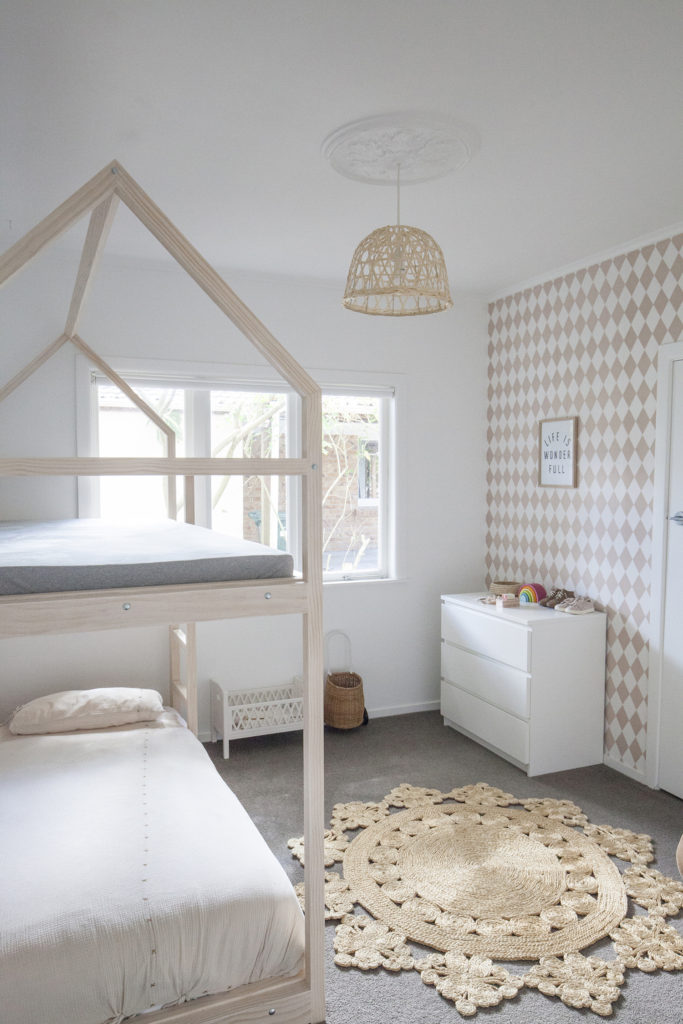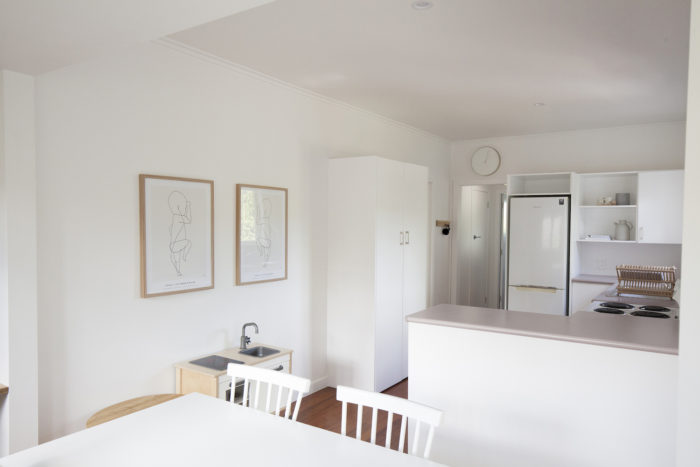 What does a typical day look like for you?
My job is a little more complicated these days as we had a bit of a bump in our life plan towards the end of last year. In December our three year old daughter Frankie was diagnosed with Leukemia which has completely uprooted our life dynamics. My every day 'work' days are now split as mum-cologist (haha) and looking after the photography, web and social platforms of children's clothing label Jamie Kay. My little assistant is unable to attend daycare while on chemotherapy treatment so she now joins me at all of our photoshoots and gives her input into how things should look. As much as I wish it wasn't under these circumstances, we both have a great time working together now. Sometimes my office is my home office, other times it's a room in starship, however, I am very lucky to have a career that allows me to mix work and life in such a fluid way.
Favourite design stores to shop at?
I love sourcing homewares from local New Zealand stores like blackbird goods, father rabbit and citta. Shopping a little further a field, I like norsu, IKEA and scandinavian design centre.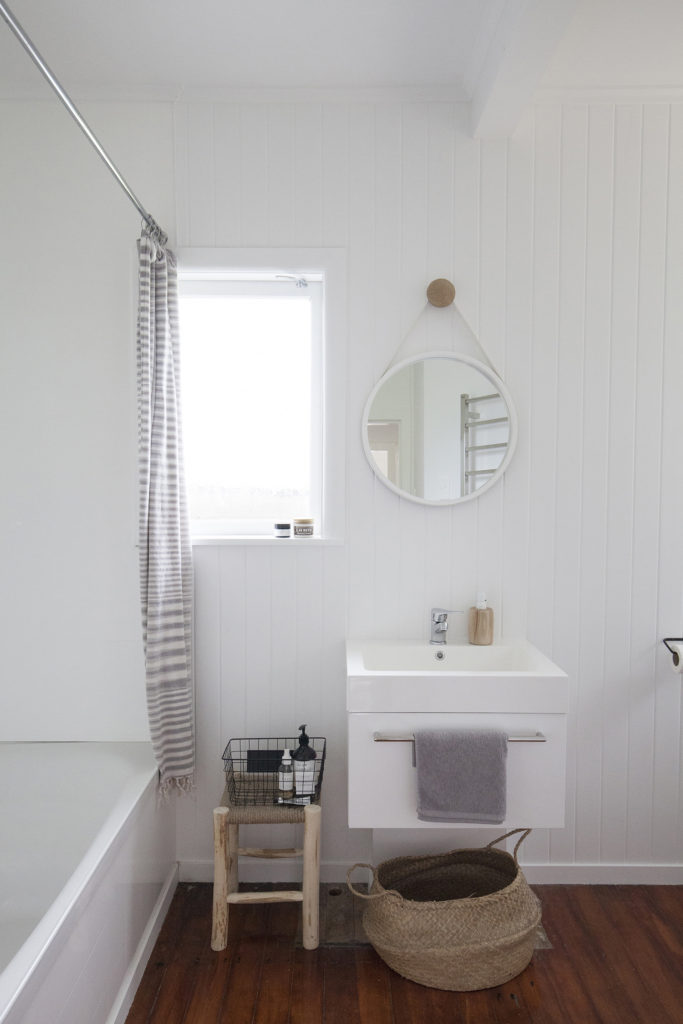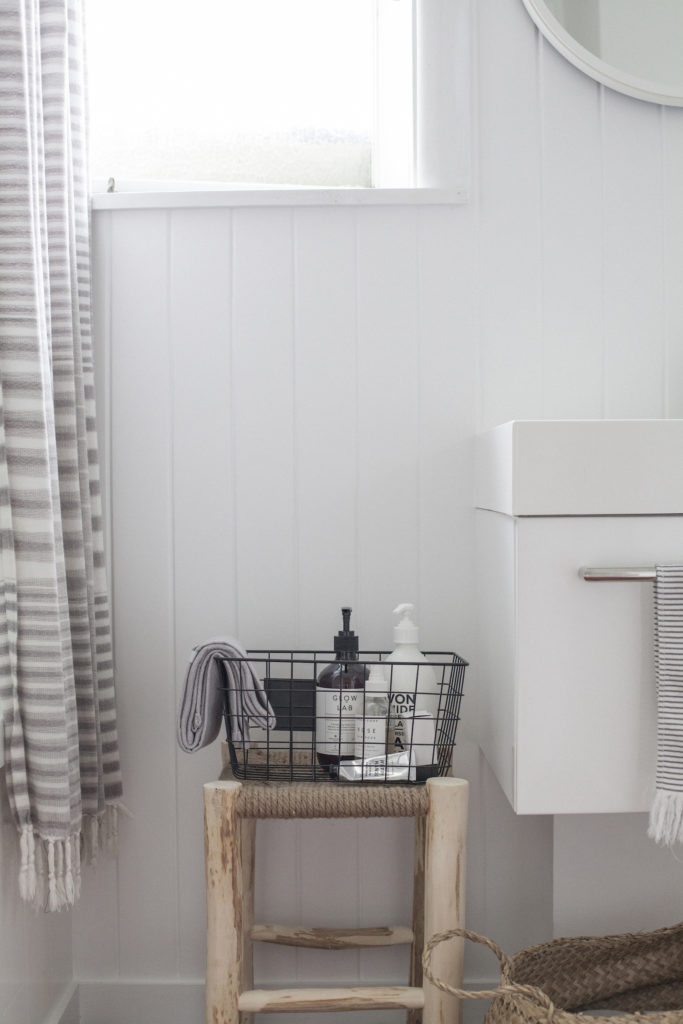 What once was the darkest room in the house due to the tongue and groove wall, the bathroom is now light and fresh. Admittingly, the tongue and groove was a feature Hannah fell in love with when they first saw the home.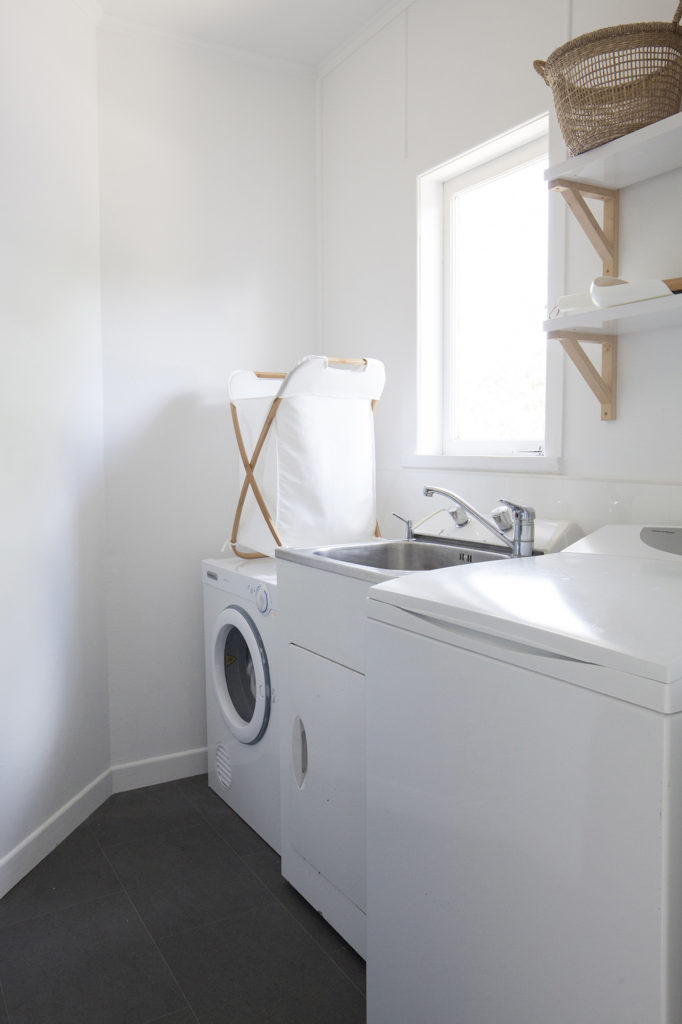 Where do you draw inspiration from?
I find inspiration comes from all over the place. I am a massive fan of home and lifestyle books; kinfolk has always been a great source of inspiration for me. Good old Instagram is another great source to discover inspiring interiors. Personally, I am terrible at knowing what to search on pinterest so I've found following like minded homeowners online has been invaluable.
~ Before ~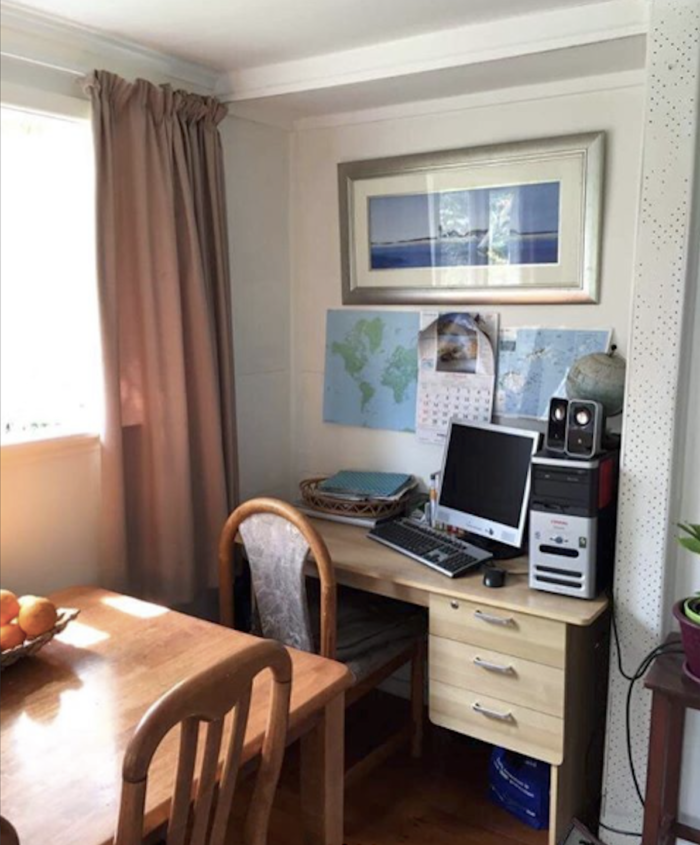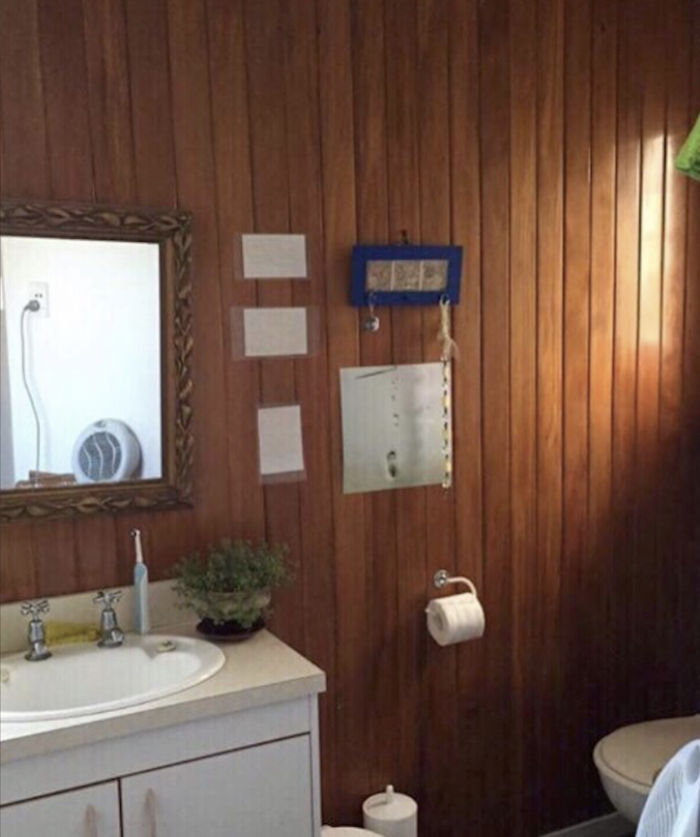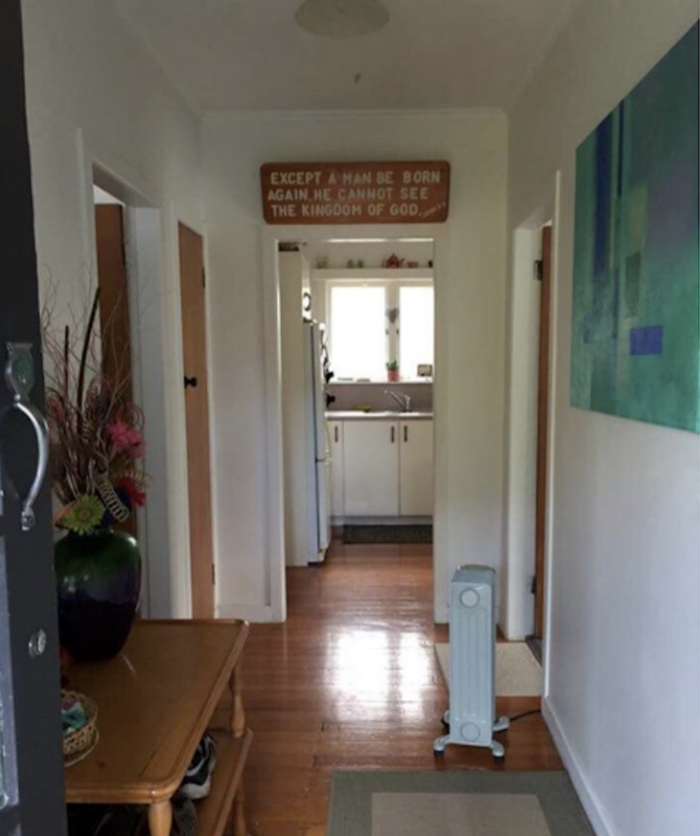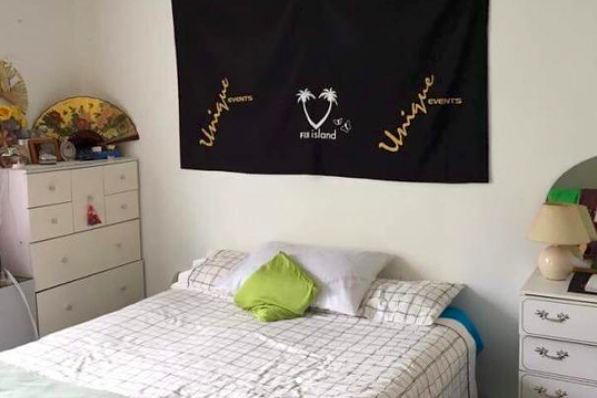 Before images were taken of the previous home owners and their set up. The outdated and incohesive aesthetic has been transformed with a simple overhaul using paint. Crisp white Dulux's Okarito has freshened up the home, creating a modern home allowing Hannah and Dylan's simple and considered design to make all the impact. 
Photography and Styling: Hannah Whitehead
This is a sponsored post. I only work with products and brands I truly love and use in my own home.