After two years spent searching for their ideal home, Jessica Britten, a freelance creative PR and marketing consultant and Warren Durling, a financial controller were finding it hard to get their foot in the Auckland housing market.
With what was becoming a tiresome process, Jessica and Warren switched their search to include properties others were perhaps put off by with the move paying off, uncovering a hidden gem in their historical hall – 'Hall we Need.'
At the time, Jessica's focus was on achieving a lifelong dream, designing her own fashion label. The financial undertaking of pursuing both fashion and the Hall were challenging and so restoring and renovating the Hall become her key focus, for the immediate future anyway.
Hall we Need, a web and social platform dedicated to sharing the challenges and process involved with renovating the old hall shows how much this young couple have fallen in love with their space and as Jessica recently told me, is beyond their wildest dreams.
Enjoy this look at Hall we Need and get to know more about Jessica and Warren.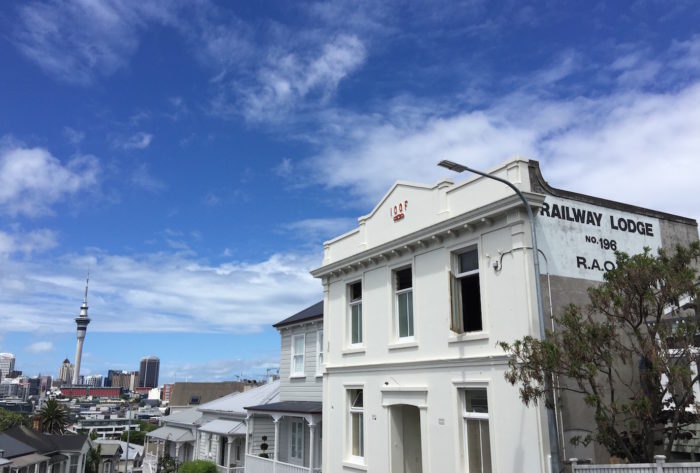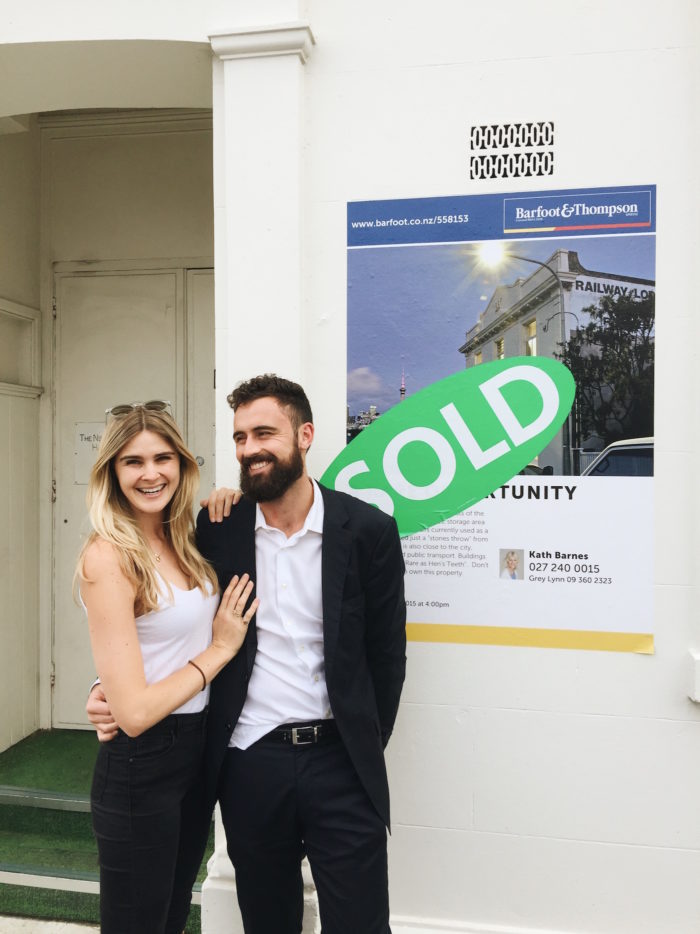 + How long before you found the Hall?
We were hunting for around two years. During that time we looked at what felt like everything. The process grew pretty tiresome but we didn't want such an exciting step to become a negative experience. We tried to take everything in our stride and enjoy the hunt...easier said than done.
As anyone who has house hunted before can tell you, searching is often a long and disappointing task. We missed out on a place before we got the Hall and at the time I was pretty gutted. Now I look back and sigh with relief because the cliche old saying came true for us; it all worked out for the best and we ended up finding a place that was beyond our wildest dreams!
+ What were you both ideally hoping to buy?
We were open to anything. Houses, units, apartments; if it had four walls and a roof we didn't rule it out! We were looking for somewhere to live, and ideally a place that we could start a family in, in the next 5-10 years. We loved the idea of adding value to a property and figured we might be able to make our money go further if we looked at properties others were put off by due to the sheer scale of work required.  We may have taken this concept a few steps too far with the hall!
We kept an open mind throughout the whole process, which was key for us because during these two years the market changed.  The last stage of our hunt we switched our focus to search for something small and central. Searching for 1-2 bedroom apartments or townhouses was how we found the Hall. We only found it because it was listed as 1 bedroom, which I guess it technically is! Living in a hall after searching for a 1 bedroom place is the height of irony.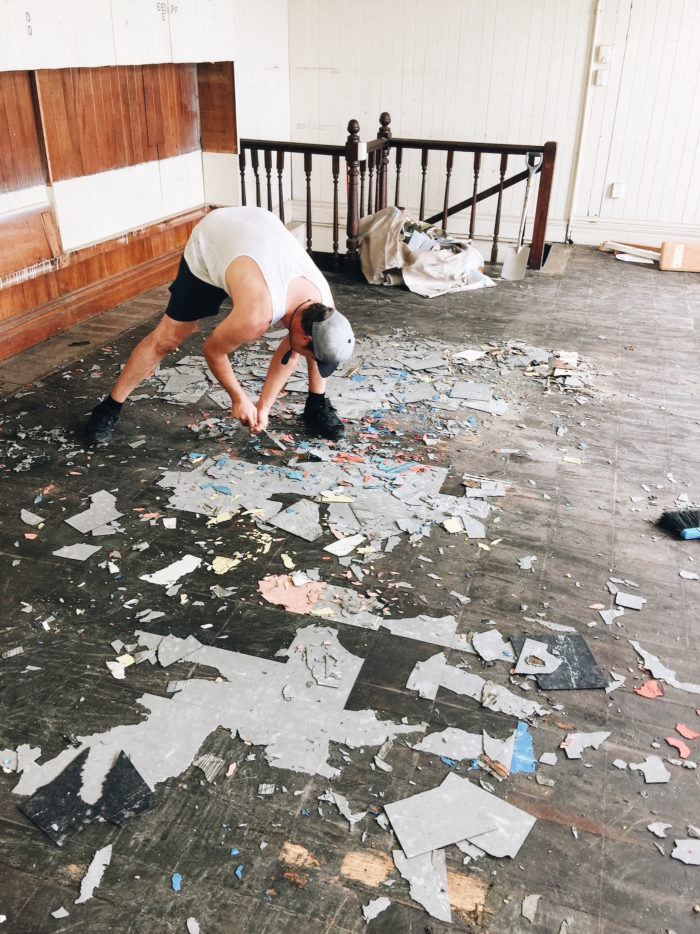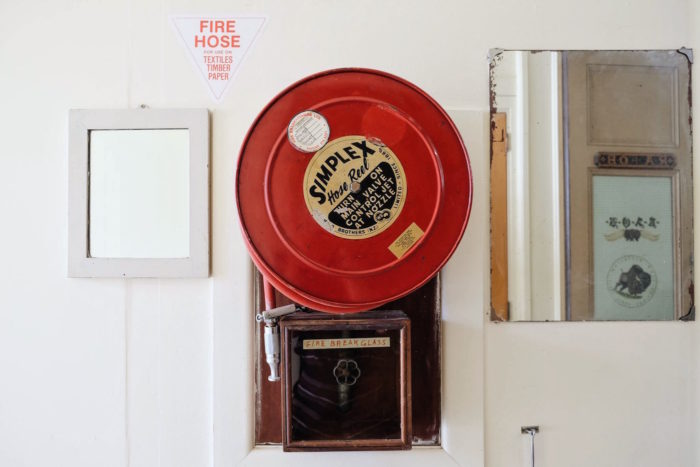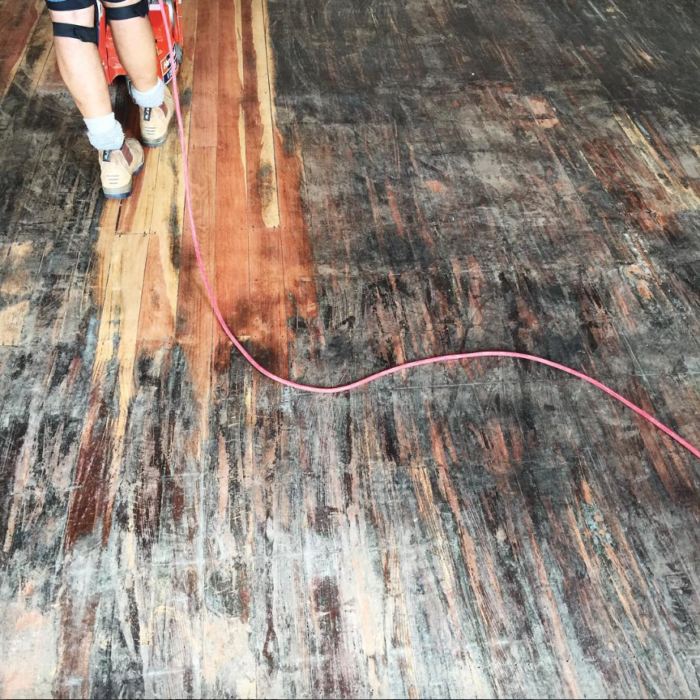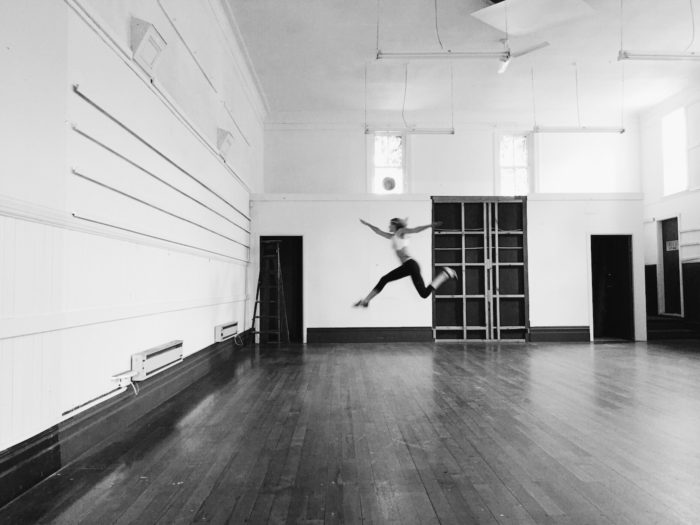 + Did you ever imagine a hall would become your first home together? 
Never ever!! I always envisioned myself living in a unique, character home one day, possibly because I was fortunate enough to grow up in something similar. But it was a pretty tough dream to make happen, so it wasn't something I ever thought was remotely possible. I still have pinch me moments and feel ridiculously blessed.
+ Can you share any historical elements?
From a technical standpoint, the hall is a listed heritage building with both Auckland City Council and Heritage New Zealand. These two groups work together but are essentially two different entities, for example a building can be listed with one and not the other. Our place is listed on both and we've been really fortunate to work closely with both of their amazing teams who have helped us gain an understanding of the limitations and great possibilities that are involved in owning a heritage building in NZ. The hall is has a 'category A' protection. This means we cannot remove or alter any original heritage features on the building – both inside and out – not that we'd want to!! The way we see it we're pretty much guardians for the hall, here to restore it to it's former glory and keep it maintained so it doesn't ever fall into a further state of disrepair.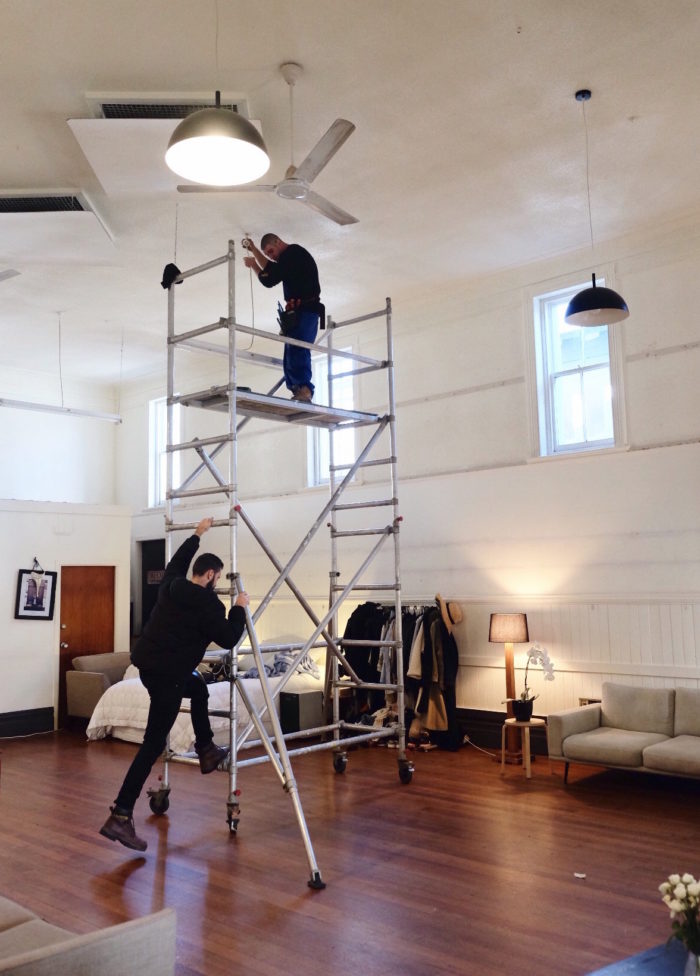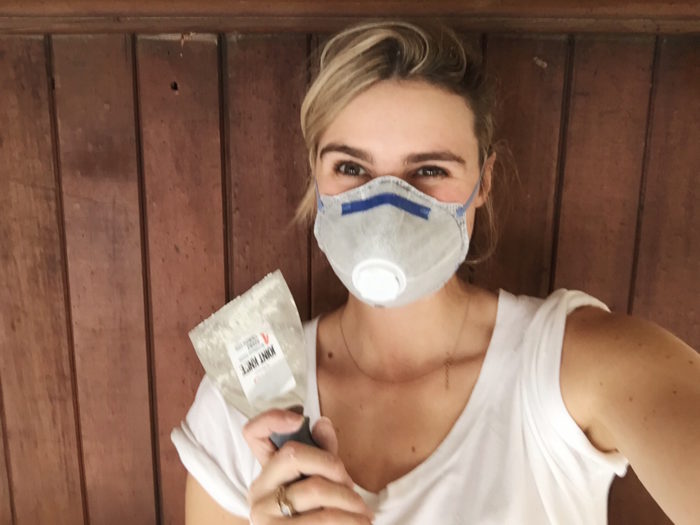 + What did you imagine the renovation process would involve?
I thought it would be energising, exciting and rewarding. It has been all of these things, but it's also exhausting and the sheer amount of work ahead can be daunting at times!!
+ How is that different to the reality?
I always thought that if we put our minds to it we could achieve anything and while I still believe this, I am now much more aware there are lots of elements that you can't make move any faster, no matter how much time or energy you invest. Being patient has been a big one so far!
+ Biggest learning curve?
Nearly everything we do is a first for us, so it's difficult to single out one experience because they've all been equally challenging. From getting our heads around preserving heritage features, designing spaces, building and resource consent applications, sanding floors, plastering, stripping paint, and learning to talk to tradies without sounding completely clueless! We've made lots of little mistakes, but nothing that's cost us anything other than time, yet!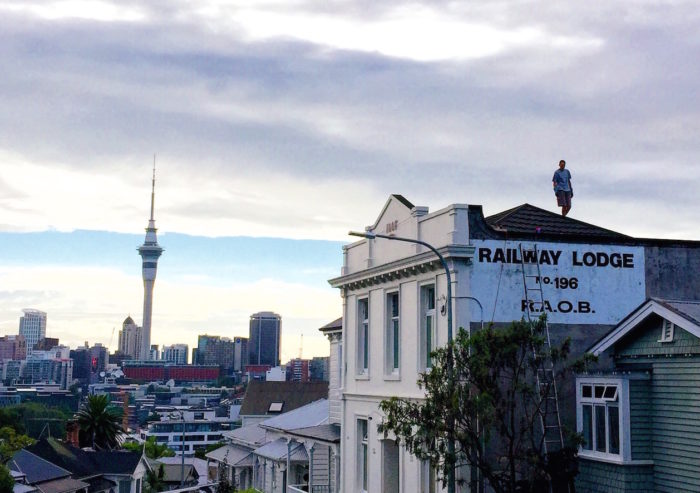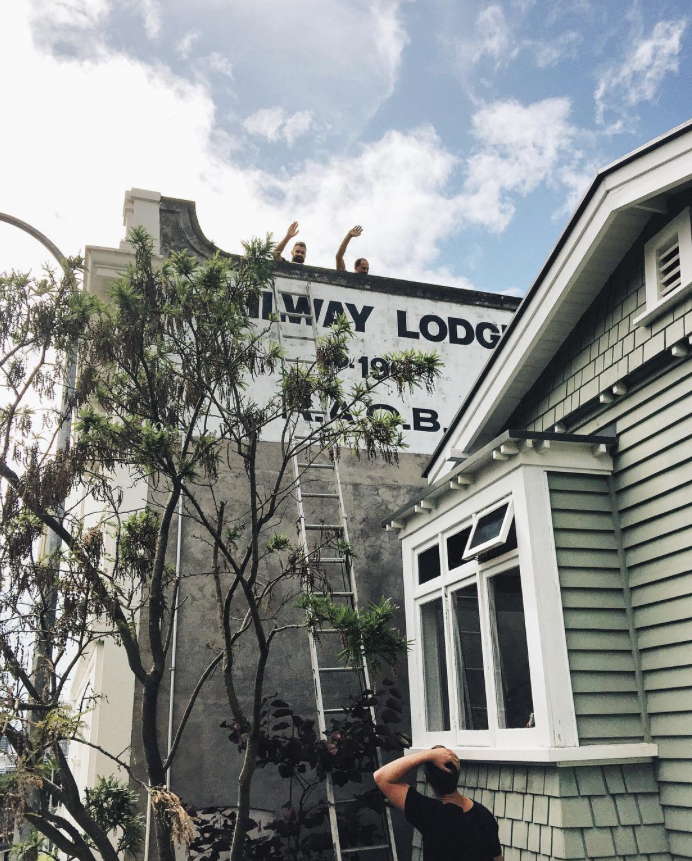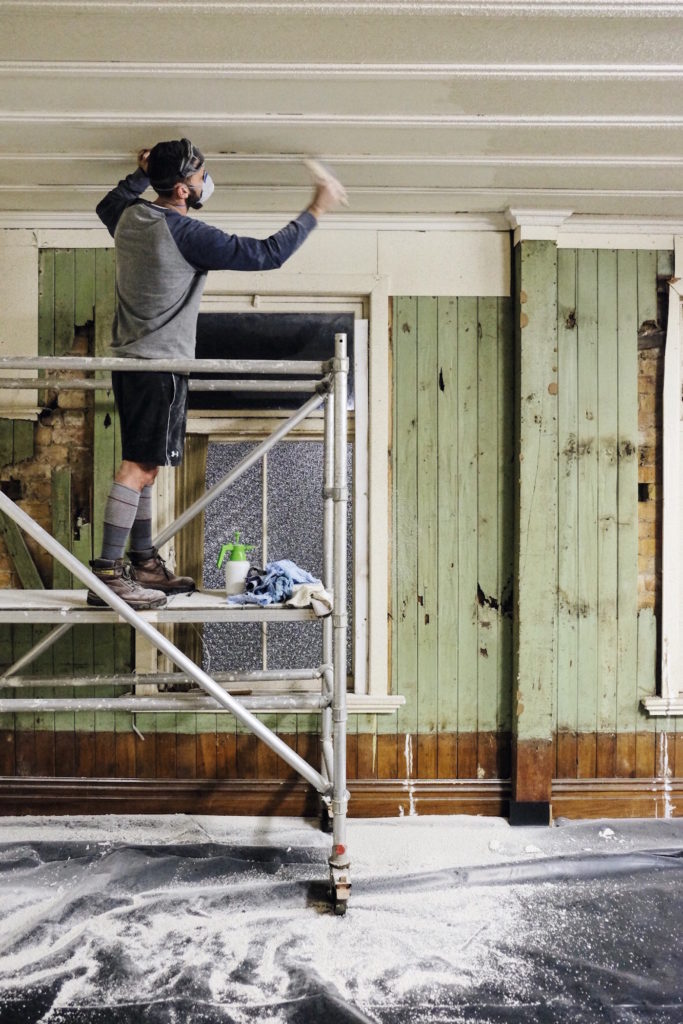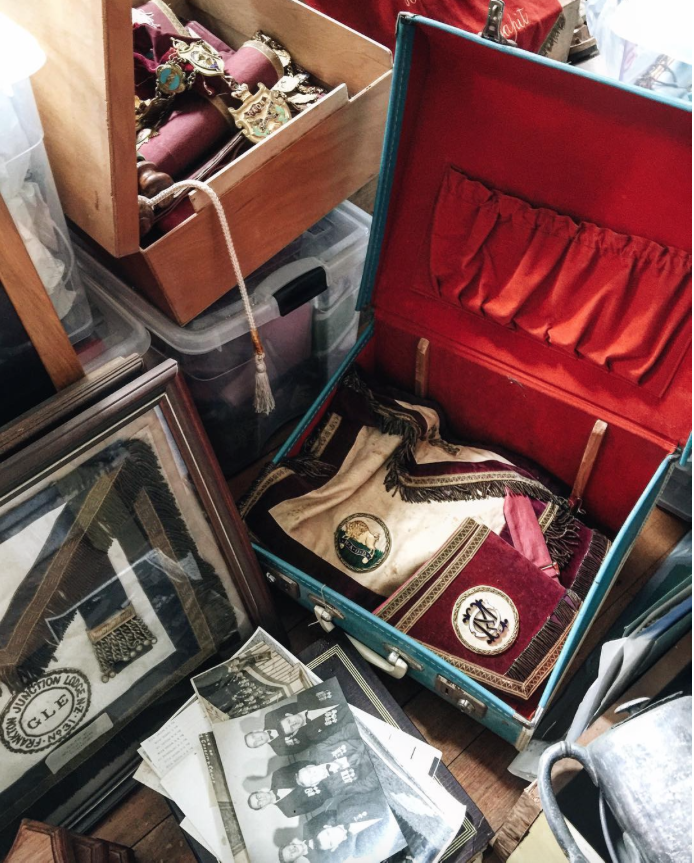 + If you could pick one favourite feature in the Hall, what would it be?
Where to begin!  The entire building is just so magical, I'm a little in love with it all.   The grand scale of the main hall as you step inside still takes my breath away!
Many of the Hall's finest features have been hidden away gathering dust so we're working hard to breath new life into each and every one. My favorite thing about owning this incredible piece of history is opening up what was previously shut off to the public. Hall We Need is our way of sharing the magic we experience everyday.
Fall in love with the process and Hall We Need and delight as they convert a historic hall into the home of their dreams.
Details:
Hall We Need | Instagram: @hallweneed