Not everyone has the pleasure of living in a spacious, expansive home with wide open spaces to entertain while the kids run around, or for that matter owning their own home.
We've been lucky enough to have owned our first house from the tender ages of 22 & 23 after forgoing the popular OE for homeownership. The place we've called home for nearly 12 years now.
In 12 months time, hopefully that dream of a large spacious home will be realised for our family as we look to move on and purchase a new home; our second home.
With so many people currently trying to get in to the housing market or looking to purchase their next stage home, I thought I'd share our journey with you.
My husband and I purchased this home before we had our first son as a way to invest in our first home and a renovation project we could get stuck in to, naturally with our joint love of building and design.  At the time, aged 22yrs, we spent a number of months researching the market and looking through open homes with a great deal of  disappointment.
We weren't impressed with the homes we were seeing from overpriced hot messes to sloping floors you could roll a ball across; until one day a 1950's ex-state home with polished wooden floors and open plan living caught our eye and we snapped it up within a week. Just a little overwhelming at the time.
We saw the potential in this tired old house and could see us raising a family there.
The spacious backyard allowed for plenty of green space, although it did take two summers to clear back the overgrown gardens and all the interesting things we discovered in the back yard (think purple toilet for plants hidden under bush and old tyres).  But now as our children get older we want our house to be the space their friends choose to come and hang out during their teenage years and host our own numerous dinner or garden parties.
My husband has poured his heart and soul into our home and what was a dark, outdated house is now a light, airy and warm home. Buying a doer-upper has brought other joys; our boys have discovered the fun of getting on the power tools, ripping down walls, painting and being able to say "I helped make that".  I love looking back at photos of themselves aged two on the drill with mini tool belts and that joy in their faces.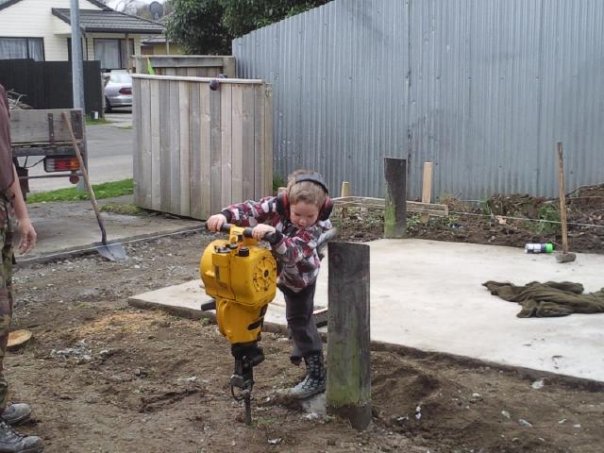 The kitchen, the bane of my existence in its typical ex-state house design, was long, small and dark.  Now with its original 50's cupboards and layout updated to a clean, refreshed white modern design (thank you Jeremy).
Our sons have their own rooms now after forgoing the spare room a year ago where I've loved designing a space that is individual for each of them to retreat to. The master bedroom is large enough to hold two master bedrooms after the original home owners swapped the layout of the house around – great move!
What was originally the lounge at the front of the house is now our bedroom with the lounge relocated to the back of the house to create that open plan living from kitchen-dining-lounge and out on to the deck.
Over the years our love of DIY has played a huge part in our home. Always looking to upcycle furniture items, or transform something purchased into a more individualised item, our style has evolved over the years.
We've learnt helpful tips and tricks along the way as well as developing our own which I look forward to sharing with you in this new series. From tricks on how to make a small home feel spacious, DIY features and inspiration to what to look for when purchasing your next home.
What would you love to hear more about – what would be helpful or just plain interesting?
Stay tuned and I can't wait to share more blog posts to help you transform your house into a home. 
– Kelly