In the restored Union Steamship Co. building located in Gisborne, Flagship Eatery opened its doors 6 months ago bringing with it a clean and fresh aesthetic perfectly suited to the beach town's vibe.
The cafe's interior hits all the right design features from the exposed brick wall to the blond ply and monochrome details and the abundance of gorgeous plant life throughout.  I recently caught up with owners Christine and Tom, who also run neighbouring USSCo restaurant, while back in my home town for Christmas.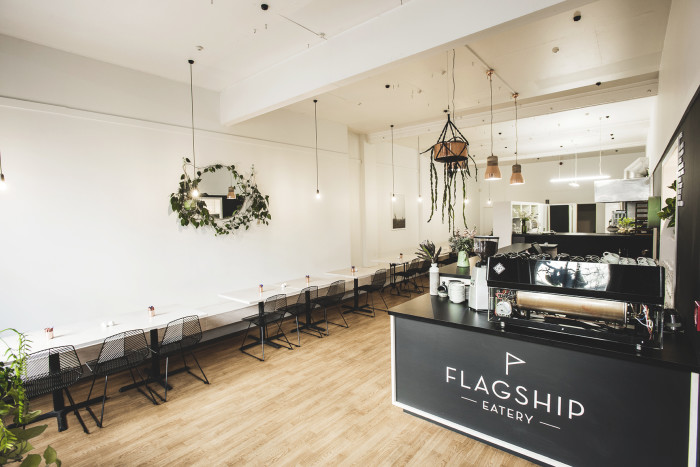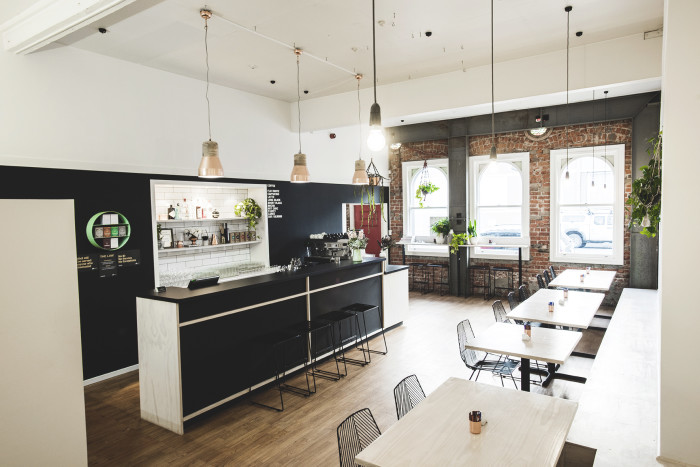 Where did you take inspiration from when developing the concept for Flagship Eatery?

Tom and I have spent years eating out at cafes and restaurants around the New Zealand and abroad. We drew inspiration from lots of our favourite places, cafes that felt relaxing to be in and not overly styled. Having a restaurant that stands the test of time is our goal for USSCo so we applied that same approach to designing Flagship – classic, pared-back but easy to update.
What did the design process involve?
The café had been completely stripped by the previous owners which was a blessing as we knew in order for a new business to succeed in that location, it had to have an entirely new identity.  There was nothing from the previous café we wanted to retain. The key design focal point of the café is the bar/coffee area so constructing that point of sale took up a substantial portion of our budget.
We worked with Shane Kingsbeer from Kingsbeer Architecture to draw up plans for the bar as it was so important that the builder, joiners, plumbers and electricians were all on the same page.  We were on a budget and definitely couldn't afford mistakes!  A huge and costly part of the renovation was setting up the kitchen as there literally weren't even taps. We needed absolutely everything. The space is small and as an open kitchen design we needed it to be super functional whilst also being visually appealing.  We worked closely with Josh Hill from Southern Hospitality in setting up the kitchen and he was really helpful, from assisting us with choosing the right equipment, right down to custom building stainless benches.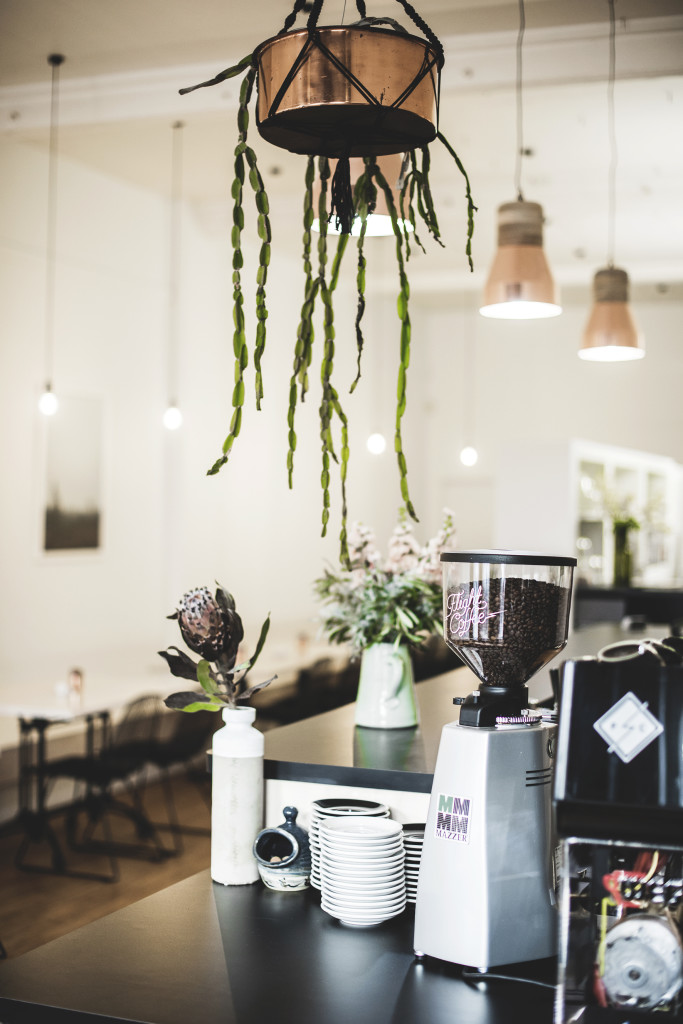 How long did the renovation process take?
From when the builders first started until we opened our doors, it took three months. Prior to the building work even starting, we spent two months thinking the project through and planning. Looking back, we are so grateful we had the time to do that as by the time work began, we had refined our ideas and as a result, avoiding any costly mistakes.
Flagship Eatery is housed within the restored Union Steam Ship Co building, what heritage details did you retain internally during the renovation process?

Our landlord did a wonderful job of restoring the entire building 12 years ago with all the best elements retained and enhanced. Inside the front interior of the café is beautiful stained glass portholes, an exposed brick wall and steel reinforcements that all helped guide our design aesthetic.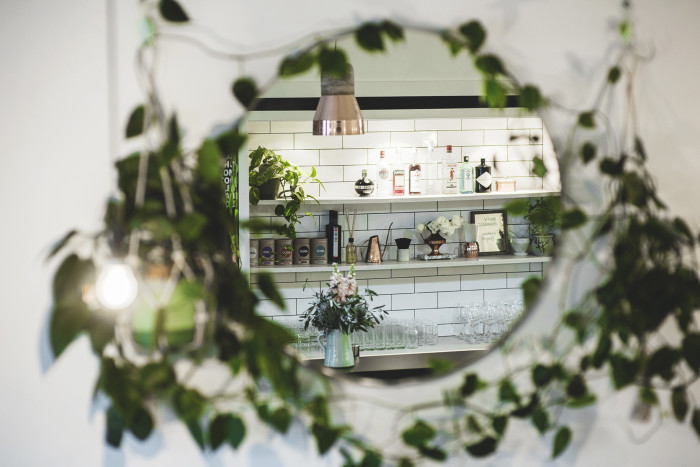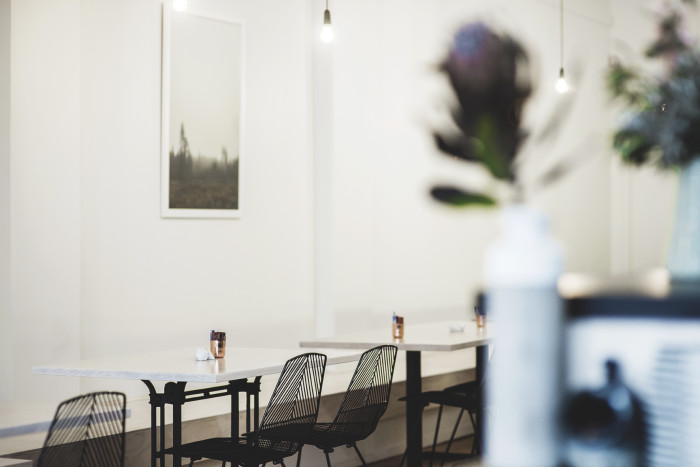 What are your favourite design details from the finished look?
I don't think there are any overly dominant details to the place, but all of the elements such as the copper accents, blond ply, subway tiles, and monochromatic colour scheme contribute to achieving the clean and fresh aesthetic that we were aiming for. I'm a crazy plant lady so the round mirror surrounded by the heart-leaf philodendrons makes me pretty happy, as I'd been growing them at home for ages before I decided to give them to Flagship. And we also love our Perspex coffee machine from our mates at Flight Coffee.
What are you most looking forward to during Flagship's first summer?

Hopefully being nice and busy throughout, offering people the numerous visitors from outside of Gisborne a new place to enjoy and selling a few plants and flowers. I recently introduced a small range of house plants and fresh cut flowers through Flagship, a perfect complement to the café, making it look and smell amazing.
Being housed next door to your bistro restaurant, USSCo, how do the two benefit from neighbouring locations?

Ussco customers often asked us about opening for lunch but we thought it could be detrimental to our dinner trade, so it is nice to finally have a daytime offering that doesn't detract people from dining with us in the evening. Lots of our dinner customers now dine at the café for breakfast and vice versa. Then of course there are the practical benefits like sharing stock across both locations, offering flexibility of hours to our staff and if we run out of anything we have a whole other kitchen next door. It's super handy!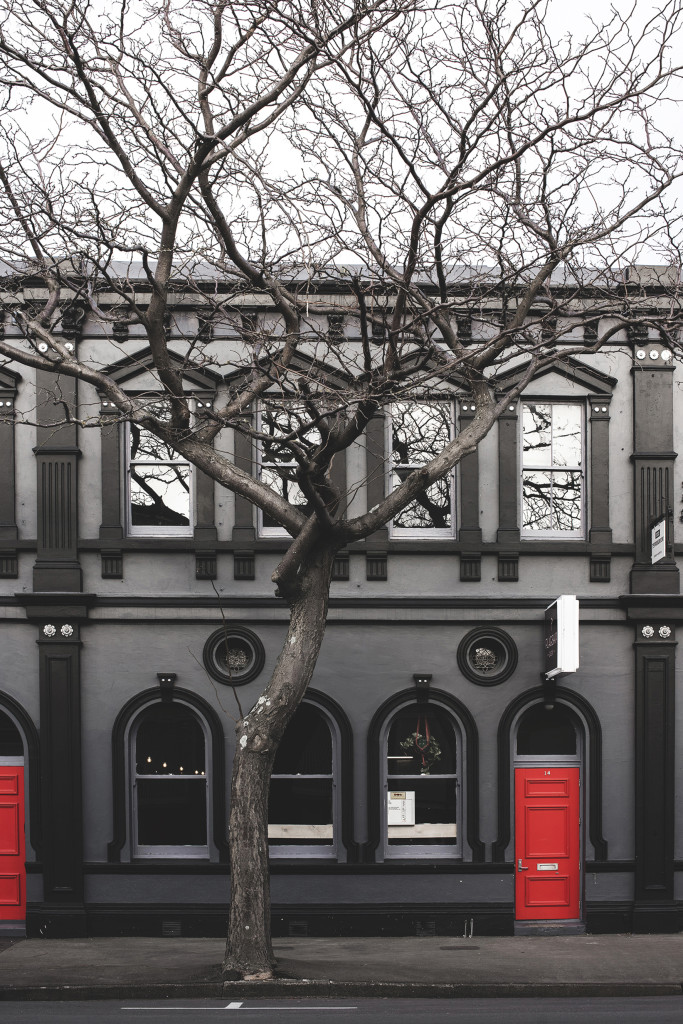 What's next in store?
After recently introducing Temple of Flora – the botanical aspect to Flagship Eatery, I hope to expand this business aspect this year. With a 3 year old and 11 month old with a baby on the way, I really enjoy the botanical side of the business so I'm excited to do more with it once things have settled down a bit with the new baby.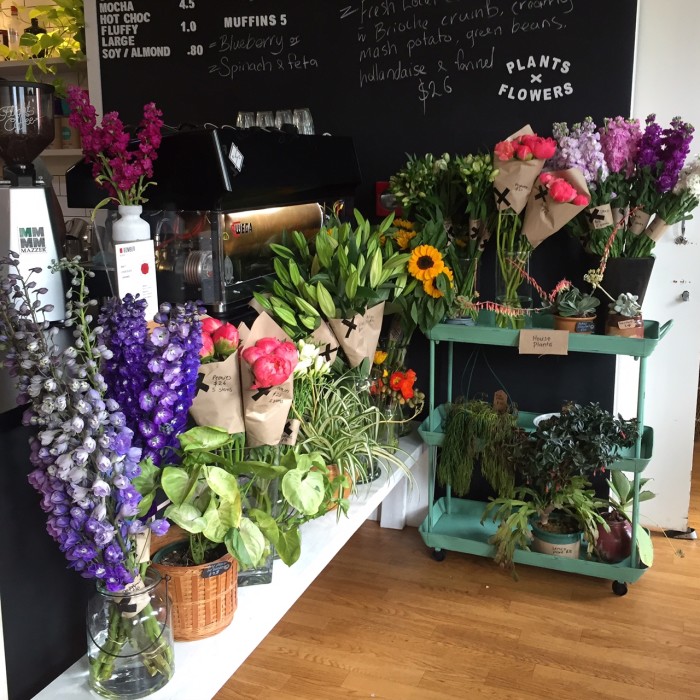 A gorgeous beach town and laid back summer spot, if you find yourself in Gisborne, make sure you drop by Flagship Eatery and tell them THS sent you. 
Details:
Design & Styling: Christine & Tom Boyce  | Brand Identity: Jaimee Clapham | Joiners/Tiling: Maurice and Shane Clayton| Builders: Wayne Bartram & Torleda Murray | Painters: Mitch Teesedale, Swift Painting | Electrician: Marty Lloyd | Photography: Strike Photography